I haven't made risotto in a while. I think I first made it because Giada did, and I watched and saw that it's not difficult. I like risotto, because unlike other rice dishes, it actually has some flavor (ah, cheese, how I love you). I started making it and having fun with it. I made it with sausage and tomatoes (um, don't use maple sausage for this, it's strange with tomatoes), ham and fresh peas, and butternut squash. Yum. A friend has been trying to perfect risotto with her boy, and I hear her talk about it sometimes, and think, I should make risotto. I could make it with the contents of my pantry and freezer, so why not?
Yesterday in lab I was trying to think of what I could possibly have for dinner, and someone gave me a bag of fancy risotto rice (she said it was the "good stuff, not arborio, but better." I forgot to read the label and see what it really was) when she moved to Illinois, because why bother carrying rice halfway across the country? I also had freshly frozen corn in my freezer, so I decided on corn risotto. Then Clint's a saint and picked me up some bacon at the grocery store- I once had corn chowder with bacon in it, and it's a really great combination.
I had my doubts. You see, yesterday was nearly the suckiest day that ever sucked, and I was brain dead by the time I left. Luckily, my advisor came by and we went over the figures for my paper, which actually cheered me up a bit. I was sure I'd never have the strength for a time-consuming (although really quite easy) dish like risotto.
Yay, I was wrong.
I used Martha Stewart's squash and squash blossom risotto recipe from March 2002 (maybe 2001) as a template.
I cooked 1/4lb of bacon (cut into bite-sized pieces) in a pan, after trimming all the large chunks of fat off. I might suggest using more bacon than this, especially if you get Bacon of Awesomeness like Clint did, you'll want to snack on it while the risotto's cooking.
After it was cooked, I transfered the bacon to a paper towel-lined plate, and sauteed 3/4 of a large white onion in the bacon grease- which actually was very little bacon grease, from trimming the fat.
Season with salt and pepper, then once the onion's soft, add 1 and 1/2cup of risotto rice (i.e. arborio)- over medium heat. Stir constantly until it's kind of opaque (or 2 min), then add in 1/4cup of white wine(and add a 1/4 cup of wine to a wine glass for yourself- this'll take a while), stir constantly for 2 min, until it's absorbed, and then add in about 1/2 cup of a mixture of 2.5 cups each of water and chicken broth that you set to heat when you started the bacon (um, make sure you turn on the burner you set the pot of broth
on
, and not a different burner like I did, because then the broth isn't warm and you burn your wooden spatula you were using for the bacon).
Stir frequently until the liquid's absorbed, then add anohter 1/2 cup, stir, add more, etc etc, until you've added nearly all the liquid, or all- I added 4.25 cups of liquid, and you'll know it's done when the rice grains are of a uniform color, are soft but not mushy- al dente, I suppose. It takes about 20-30 min.
Then add in some corn (I think I did 2 ears' worth), the bacon that's been set aside, and some chopped fresh sage (2T should be good). Stir that together, then add a handful (i.e. 1/3cup) of grated/shredded cheese- I used my handy-dandy fondue blend of ermentaler and gruyere, which I always keep on hand).
I didn't add all the bacon, and sprinkled some pieces on top of each serving of risotto. Clint also pan-fried some cajun catfish, which made for a tasty dinner. I neglected to take a picture, which is too bad, because I'll take a picture when I heat up some of the leftovers (I think this'll be 4 more meals for me, at least), but I don't have any more bacon to garnish.
Try risotto, it's good. I like the
recipes
from Williams-Sonoma, but I bet Giada also has some good ones, and plenty of others would, too.
This morning we went to the farmer's market. Clint bought some elk, because that's what Clint does at the farmer's market, and I got baked goods for breakfast (spinach and cheese croissant, which is good, but the ham and cheese one is better- which is why it's been sold out for the past 2 months when I get to the market) and 2 lbs of heirloom tomatoes. I got the purple-ish green ones, which I believe I will use for this
tomato bean salad
. I'll also make some fig-balsamic reduction and have a tomato, basil, mozzerella salad.
Speaking of beans, I noticed the other day that I have like 6 cans of canneloni beans in my pantry. It's kin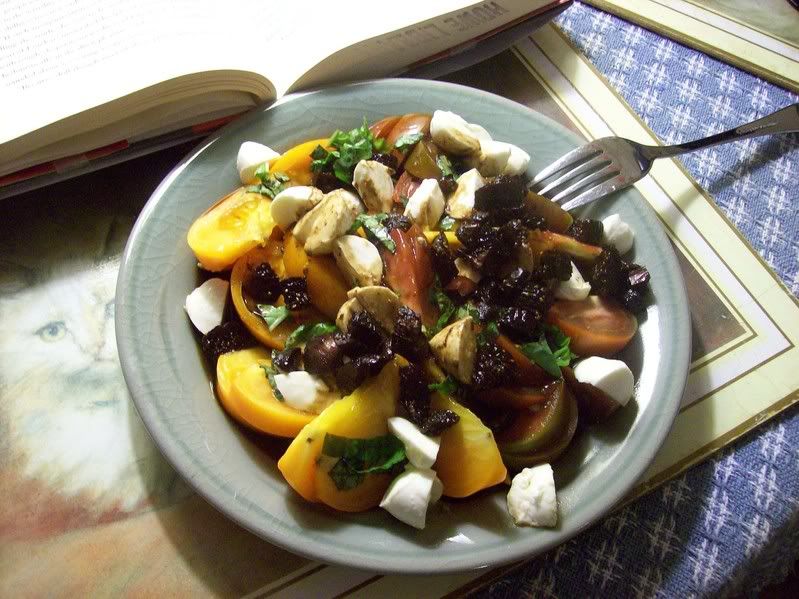 d of odd, I like them, but only ever eat them on salads. So I'm going to try
this recipe
so I can clean out the pantry (but I have no zucchini, so I'll substitute in whatever veggies are in my freezer, perhaps peas, and I'll use the fondue blend instead of parm).
Brief knitting update: working diligently on my slippery socks for the Tunbridge Fair (although unfortunately, I also need to work diligently on my
thesis

)
and I found a nearly-finished baby sweater that I started last summer, ran out of yarn, so never did the sleeves. The sleeves are all it needs! And I found more of that yarn! So I'm going to finish that for the Tunbridge Fair. Also considering entering my clapotis, but that'd be 6 knit items to enter, that might be excessive. For the baked goods department, I'm entering: jam squares, coconut macaroons (instead of duck sauce cookies),
chocolate cherry cupcakes
, possibly gingered banana bread (if my bananas go spotty by Tuesday)- and perhaps just a half loaf, and no pie. The two cookies are easy to make at least, and I could make the banana bread in my sleep. The cupcakes are the only thing to really put effort into. The cupcakes and the socks. This is all due Wednesday afternoon! Wish me luck (I may be working from home Tuesday so I can bake....)