I moved! I guess I forgot to mention that.
Our move has all the usual closing date frustration and utilities not working, which I could share, but the only pertinent bit about our house is
I HAVE MY OWN KITCHEN.
It's a lovely kitchen. The appliances are all fairly new (extremely new and fancy and shiny, compared to my condo), there is a decent amount of storage space (the pantry's paltry, but we can work around it), and I have an
island
. Oh, how I love islands. Regular countertops tend to be fairly shallow, and always full of stuff that has to sit upon them. But islands are big, and spacious, and empty. They're workspaces that are
dedicated workspaces
, not something to clear off every time you need it. And it's mineallmine.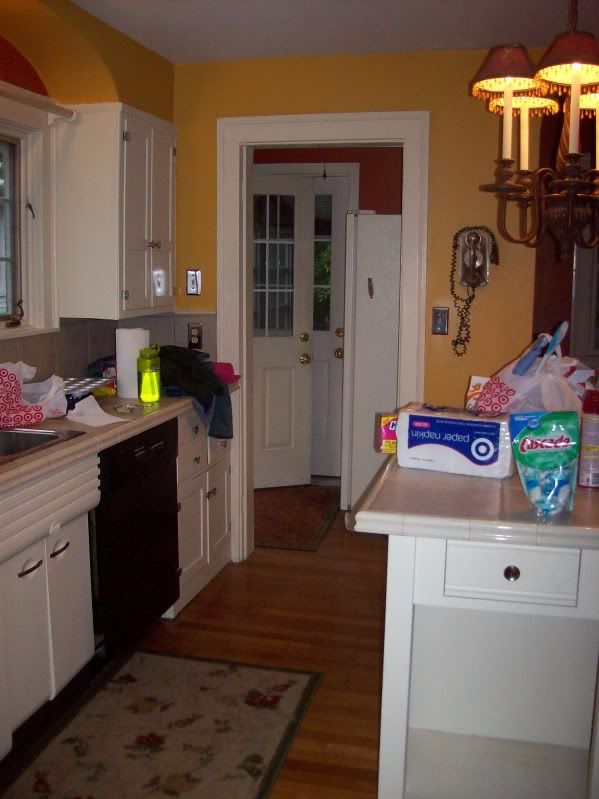 Mine.
These pictures were taken the first couple days we lived in the house (now it's been almost a month, although only about 1/3 of our belongings are actually
in
the house yet), when nothing ws really put away. I will take some more detailed pictures, to give a thorough tour of My Room. (the cat also has her own room, although Clint hasn't chosen one yet- probably the sunroom, which will have the tv, PS2 and card/boardgame table).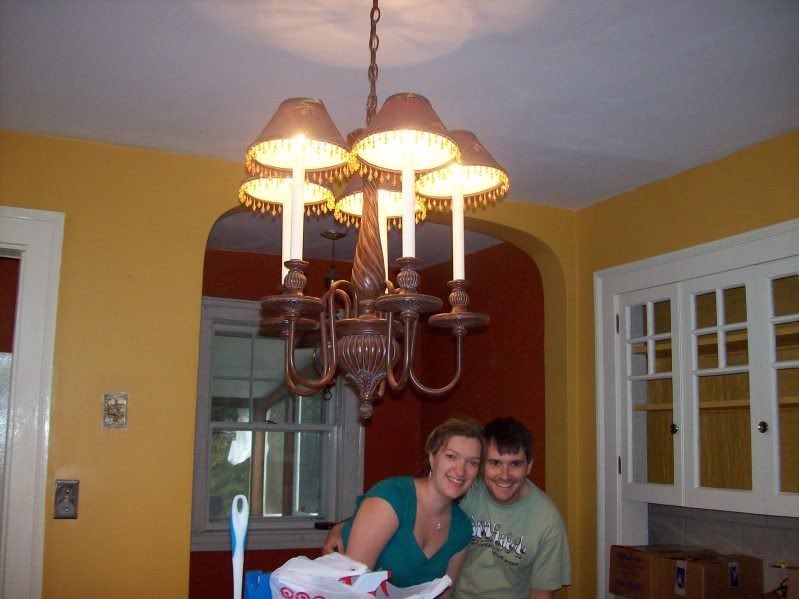 We're very happy to be there, as you can see. Also note the nice light fixture above the island: the previous owners kind of were chandelier people, so we have this one in the kitchen, kind of a similar style, but more formal, in the dining room, and another similar style/formalness in a lighter color in the screen porch. Not to mention the smaller, yet still notable, light fixtures in the hallways and living room (the ones in the bedroom appear to have been installed in the '70s... and we'll be changing those eventually).
Also note the glass cabinet: this is for our every day china. It's not in there yet, because right now our wine glasses are in those cabinets. We need to do some rearranging still.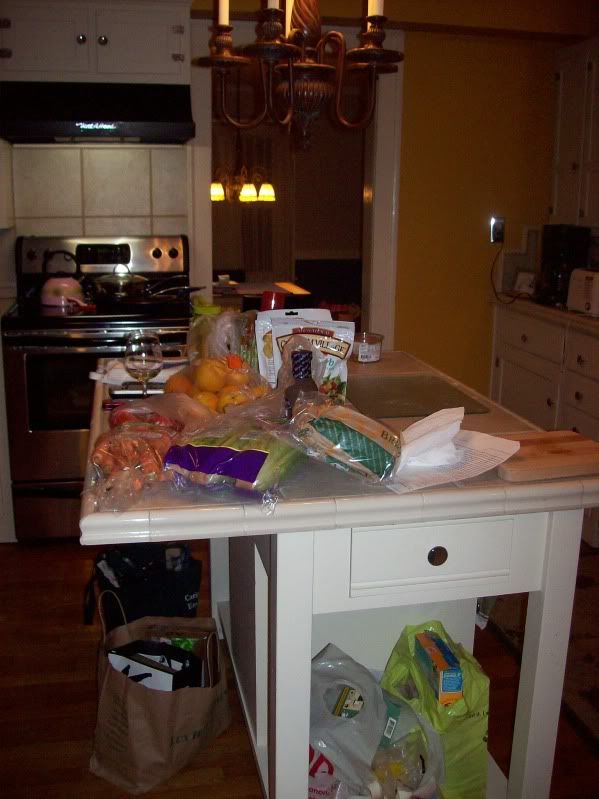 My island. :) It's much less covered in stuff right now, I'm trying to have it only have a cutting board (the glass one that you see in this photo) and a bowl of fruit. Where you see the green plastic bag with cereal: that is this interesting little shelf, presumably for large electronics, such as a stand mixer, or blender, etc. There's another shelf on the other side, which Pansy claimed as her spot- so her food goes there. (I was pleased that she claimed it, since I'd planned to put her stuff there, anyway. but she hopped up and sat there often enough to prevent putting anything there- it's raised maybe 4 inches from the ground, and that's about how far off the ground she perfers to be.)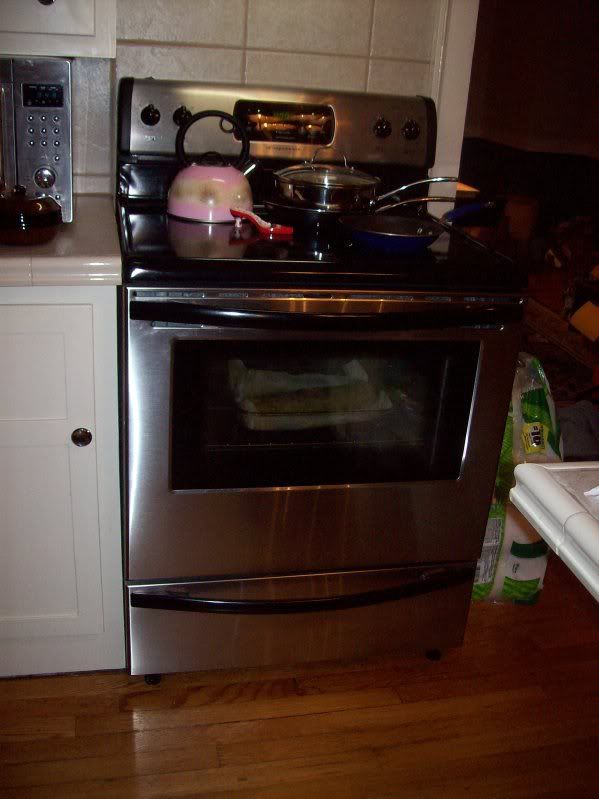 This is my oven. Nice and shiny... it's one of those glass cooktop electric stoves, so far, so good, but we're probably going to switch to gas at some point. We have gas heat/hot water, so it should be fairly straight-forward to switch. Someone has already claimed our oven. Oh.. hey, is there something
in
the oven?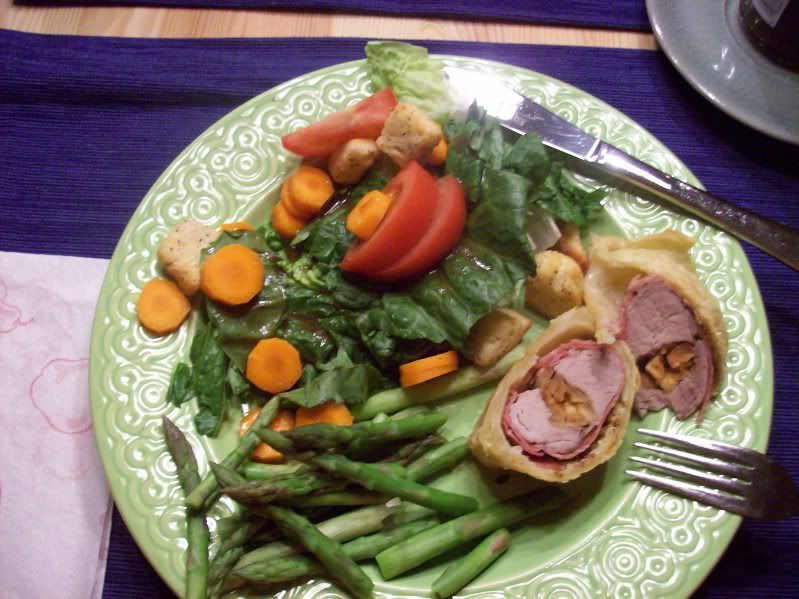 Oh, it was a pork wellington, for our first meal together in our new house! (You
have
to try this recipe, if you like pork)
Pork Wellington
(by Alton Brown)
a 1lb pork tenderloin
4.5 oz of thinly-sliced prosciutto
1-2oz dried apples, finely diced or chopped in a mini food processor
salt and pepper
1t chopped fresh thyme
1T whole-grain mustard
1 sheet puff pastry, thawed
flour to roll out pastry
egg and water for egg wash
This pork tenderloin is stuffed with dried apples, wrapped in prosciutto and then wrapped in puff pastry. It's a serious entree.
Slice into the pork tenderloin (lengthwise) almost all the way through. Stuff in the inside with the dried apples, and fold closed. On a sheet of parchment paper, lay the prosciutto out, overlapping the pieces, to make a column slightly longer than the tenderloin, and wide enough to wrap around the tenderloin. Place the tenderloin on top of the prosciutto, and using the parchment paper, wrap the prosciutto tightly around the pork. Roll out the thawed puff pastry to be longer than the tenderloin, and spread down the middle (lengthwise) with mustard, and sprinkle with thyme, salt and pepper. Place the tenderloin on top of the puff pastry, and wrap the pastry around it, folding it under at the ends. Brush the puff pastry with the egg wash (one egg + 1T water)- or not, but it's prettier with the egg wash.
Bake in a preheated 400oF oven for 25-30 minutes, until the middle of the pork reads 140oF on a meat thermometer. I baked this in a parchment-lined 9x13 glass dish, and I'd recommend baking it in a roasting pan with a rack- my pastry got a little soggy from the juices from the pork.
And you don't need to serve it with anything, it's amazing on its own. (I just added a simple salad and steamed asparagus)