Yes, our birthdays are 12 days apart. It's a little tricky- I go way overboard for my birthday, and my husband is very nonchalant about his. I want a huge party, with lots of food and cupcakes and balloons and streamers and presents, and he wants to go out for dinner and if there happens to cake, that's cool. You can imagine how my birthday might overshadow anything.
Clint's birthday started out as kind of a hectic day. We'd been at the beach for 5 days, got back the afternoon before and had the night of kitchen accidents (I broke a pyrex dish by touching it, Clint cut his finger helping me clean up the glass shards, I bumped/scraped my head and saw stars, we worried I'd concussed myself).
Clint's breakfast was the last of this coffee cake apricot danish thing of deliciousness. With a candle stuck in it.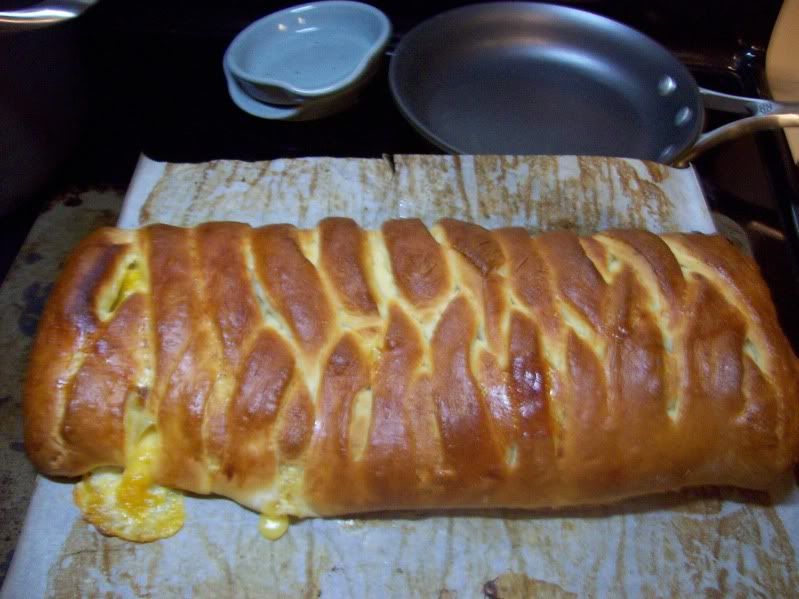 Which was much prettier once I took it off the baking pan and onto a platter, but I didn't get a picture of that. I followed
Smitten Kitchen's recipe
, substituting my apricot preserves for lemon curd, and omitting the pearl sugar (although after I made this danish/bread, I found that I can buy pearl sugar at the Swedish bakery for $4.99, so I'll never omit pearl sugar again). This danish thing was amazing, you have to try it. No, it's not particularly easy, but it's not too bad.
Mr birthdaybirthday had leftover bok choy stir fry for lunch (as did I).
I wanted to take him out for dinner (although when we have a joint bank account, it's really just "I'll take the credit cards points, dear"). I suggested going to the Sole Proprietor, partly because we can walk there, and partly because it was their lobster fest, but he chose Apsara, the new southeast Asian restaurant about 3 blocks from our house (bonus, it's a nice walk). Apsara is on Park Ave in Worcester.
I rarely photograph restaurant food these days- I've read a few things here and there, most recently in Bon Appetit, about how restaurant owners and staff get really annoyed at all the food bloggers disrupting everyone with camera flashes, and are insulted that they let the food get cold before digging in. So. (but oh, did I want to photograph- if it were busy, I would have, but there were only 6 other people in there).
Drinks: Clint ordered the Ha Tien, a tequila sunrise-looking concoction of guava juice, orange juice, pineapple juice, and at least 2 kinds of alcohol. It was tasty (the kind of tasty where you can down 3 of them without realizing they're rather potent). I had the ginger lime margarita, although it was a tough choice between that and the cucumber mint mojito (Mr birthdaybirthday is not a cucumber fan, so I chose the margarita in case he wanted to try). The ginger lime margarita is silver in color, and it was actually a very beautiful drink. And tasty.
Apps: summer rolls, served with hoisin sauce or peanut sauce. These are your typical fresh shrimp, lettuce, cucumber and cilantro summer rolls, very good. Not spectacular, but we were satisfied.
Meals:
Clint: Clint had a seafood and rice noodle soup- I can only remember that it was called Phnem something. It had a salty, light seafoody broth, calamari, scallops and shrimp, and on the side was just about the hottest pepper sauce he'd ever had. He liked, very much.
Catherine: I had shaved beef pho. I was expecting more of a thai-like menu when we got in, but the dishes seemed more Chinese to me. (Technically, it's a Cambodian and Vietnamese restaurant. I'm completely unfamiliar with Cambodian food, and the only Vietnamese food I remember from eating at Pho Pasteur in Boston is pho and summer rolls). Since I dislike Chinese food, I stuck with the familiar pho. Which was the best pho I'd ever had. The broth was anise and spice- sweet (not sugar sweet), the beef was cooked perfectly, and it was served with hoisin and chili sauces on the side- hoisin and beef are amazing together. My pho also had rice noodles, bean sprouts, thai basil (omg yum, new favorite herb) and scallions. (and now I can't wait to make pho again, my
previous batch
pales in comparison to this, but I plan on figuring out ways to improve it)
Dessert:
I wanted the cake to be a surprise, since he thought he wasn't getting any birthday cake. So Mr birthdaybirthday decided to order the green tea and ginger creme brulee- omg yum! I love creme brulee anyway, but this was so much better than plain. It wasn't overpoweringly sweet, and it was interesting. And it had a great, thick and luxurious texture.
We waddled out of the restaurant, and were very glad for the chance to walk off the food (although the hill was unwelcome).
At home, I had to cook a bit to prepare for the weekend, so after a while, Mr birthdaybirthday was presented with 2 cupcakes from the
Crown Bakery
, the Swedish Bakery in Worcester (on Gold Star Blvd).
Cupcake 1: vanilla cupcake with a vanilla whipped frosting (halfway between frosting and whipped cream, and lightly lemon-flavored) with candied lemon peel and berries, and a surprise of lemon curd filling in the cupcake.
Cupcake 2: vanilla cupcake with fudgy chocolate frosting and a chocolate covered strawberry. Surprise- a vanilla custard filling.
Don't you love how they're square?
Beverage: lemonade! Mr birthdaybirthday is a big lemonade-maker (I bought him a juicer for our first Christmas together), but I'd never made it (unless you count Crystal Light). It was a noble first attempt.
1/2cup lemon juice (from 2 lemons)
3/4cup sugar, boiled with 2 cups water til boiling, then cooled
2 cups of ice water (fill up a 2 cup measuring cup with ice, then fill with cold water)
Stir together, pour in glasses with ice.
Next time, I'd like to add more lemon juice/reduce the water. The sweetness was perfect.