I always tell people I write a cooking and crafting blog, and even though I knit just as much (if not more) than I cook, my readers would never know it. I've just returned from 5 lovely, lazy days at the beach, where I did nothing but knit, walk on the beach, swim, and eat. It was perfect.
I finished a pair of knee socks I began in April. I knit these because I love vickilicious' pair. These are "evening stockings for a young woman", from
Knitting Vintage Socks, by Nancy Bush
. I used size 1 needles and Gloss yarn in Winter Night from
Knitpicks
.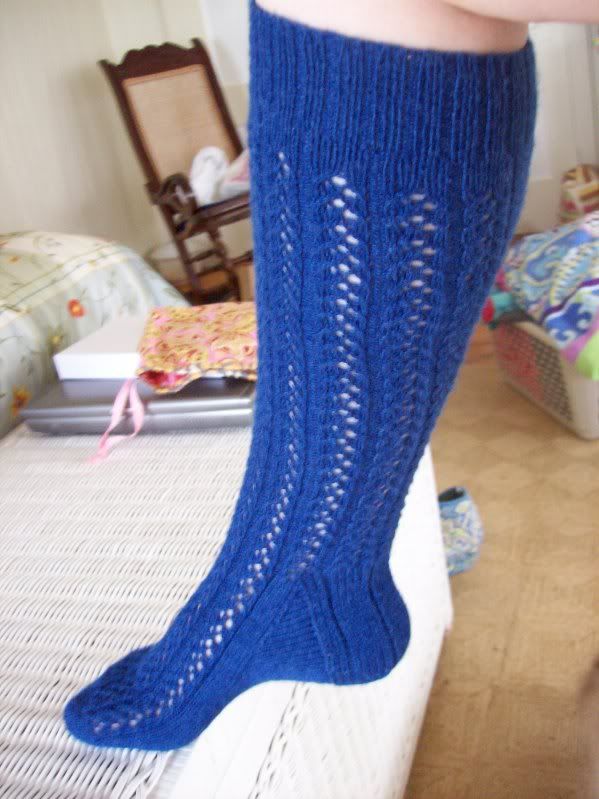 I immediately began a pair of socks for Clint. These are "Gentleman's Shooting Stockings", also from the Vintage Socks book. I'm using size 0 harmony wood dpns and Bamboo and Ewe from Joann's.
I actually finished the first sock last night, and started the second.  That's one sock per week.
I recently sent a red-themed swap package to a girl in Arkansas. She's a crocheter, and said in her questionnaire that she loves knitted socks, but can't knit herself. I thought, pah, I can never knit a pair of socks in time. Then I noticed on my questionnaire that I went on and on and on about how I love knitting socks, and I hardly knit anything else. I'm sure the swap coordinator paired us up for the socks! So I knit her anklets (and yes, I finished in plenty of time- she could have gotten full length socks, sigh).
I'm going away on a trip at the end of the week, so I'm trying to gather up enough knitting projects to get me through a one hour flight, a 5 hour flight, a 2 hour flight, all of the associated airport waiting and layovers, an hour bus/train (haven't decided yet) ride, and 5 full days in the car as we drive all over the midwest and back to the northeast. I think 3 pairs of socks should be sufficient.
I hope to use the pink and yellow yarn from this recent swap package for one pair, but I'm still deciding on patterns. I will likely knit at least one more pattern from Knitting Vintage Socks, but I want to use plainer yarns for those. I have some research to do before we leave.