When I moved into my first very own apartment (after college), I felt very grown up. About a month after I moved in, I decided something to cement my grown up-ness: I threw my first dinner party. This first dinner party was a potluck and involved 6 people. I have no idea what we served, and I only really keep in touch with one of the guests (sadly), but it was kind of a defining moment in my early adult life. I've been thinking a lot about my early grown up life, especially since my 30th birthday is now only 12 days away (I'm sorry, but that's just
bizarre and wrong
. I don't mind growing older, I'm simply confused as to where my 20s went. Same with, how have I been married nearly 9 months?)
Yesterday I had another defining moment: my first cookout
and
dinner party for my family. In some discussions and recaps with my mom afterwards, it seems we have some misconceptions. I used this party to try out some recipes for my big 30th birthday bash, the guest list for which currently hovers around 45 people, by far the largest party I'll have hosted. My mother asked for the theme and other ideas I had for my party, and I said, "it's going to be the typical Catherine-style posh cocktail party," she said, "yes, but what's the theme? What will it be like?" "Mom, it'll be the same as all the other parties I've thrown. You haven't been to a Catherine posh cocktail party yet, but don't worry, it's already thought about and settled on." Mom: " of course I've been to one of your cocktail parties!" "no... you haven't." This isn't to say I throw raucous parties with lots of booze and loud music, dear me, no. My parties are the kind of evening where you dress up a bit and walk around with a fruity drink in a martini glass and spill not a drop, and eat delicious finger food that you can't 1. exactly identify, and 2. believe wasn't catered.
That
is a Catherine-style posh cocktail party.
Anyway, back to the point. Yesterday's party was about family. It was not a posh cocktail party, it was a casual affair with burgers and dogs instead of prosciutto-wrapped fennel and mini quiches, but it still had dishes (yes, plural) that people couldn't identify. And isn't that the goal, to confuse people culinarily? (side note: I'm making name cards for all the dishes at my birthday party).
Because I fed 10 people yesterday (and had another adventure that I'll share after the food), and my extended family doesn't realize the primary use for my camera, aside from taking snapshots of my cat, is for photographing food and I didn't want to endure any teasing, I took very few photos, and those that I took are probably of worse quality than usual.
However
! I'm going to give you all the recipes, and trust me, that's the prize.
The Family Cookout Menu.
Appetizers:
tomato tart (recipe
shared previously
, this time I used 2 pints of small heirloom tomatoes from BJ's, and a reduced fat Italian cheese blend)
low fat healthy onion dip (from June 2010 Martha Stewart Living, recipe at end)
olive tapenade (Hannah's brand)
hummus (Sabra brand)
fresh veggies to dip
Cabot sharp cheddar and crackers
Classic shrimp cocktail (Big Y brand cocktail sauce with extra horseradish)
Sweet n' spicy shrimp cocktail (
Sarah's recipe
, and boy, every recipe I've gotten from her blog has been great). I chilled this overnight instead of for a few hours, and it was a huge hit, second only to the tomato tart.
(photographed before I added the avocado- oops)
Dinner:
hamburgers (plain ground meat, but I should learn to make better burgers- the ones I made should have been called sliders, they were so small!)
Nathan's hot dogs (I'm not usually a hot dog fan, but yummmm...)
chicken tequila burgers
(gasp... I never blogged about these! I made them at least a month ago and we loved them)
Arugula salad, inspired by an arugula and chocolate salad from
Orangette's book
. Mine was half arugula, half green leaf lettuce, a handful of baby heirloom tomatoes, a handful of dried cranberries, and some grated bittersweet chocolate on top
Fennel and apple salad, also inrpised by Orangette's book. 1 fennel bulb and 2 peeled and cored apples, both sliced on a mandoline, and tossed in 1/4cup fresh lemon juice.
Pickled grapes
Mom's bread and butter pickles (next year, will be mom's and my bread and butter pickles, I'm returning to pickle-making after a long hiatus, caused by grad school and a honeymoon)
Caramelized onions (leftover from the onion dip)
Avocado pound cake muffins
Grapenut bread and banana bread, contributed by my kind aunts.
Dessert:
Ice cream sandwiches
Simon Pearce Restaurant's
Lemon Cake with Strawberry Sauce
(conveniently included in last week's enewsletter)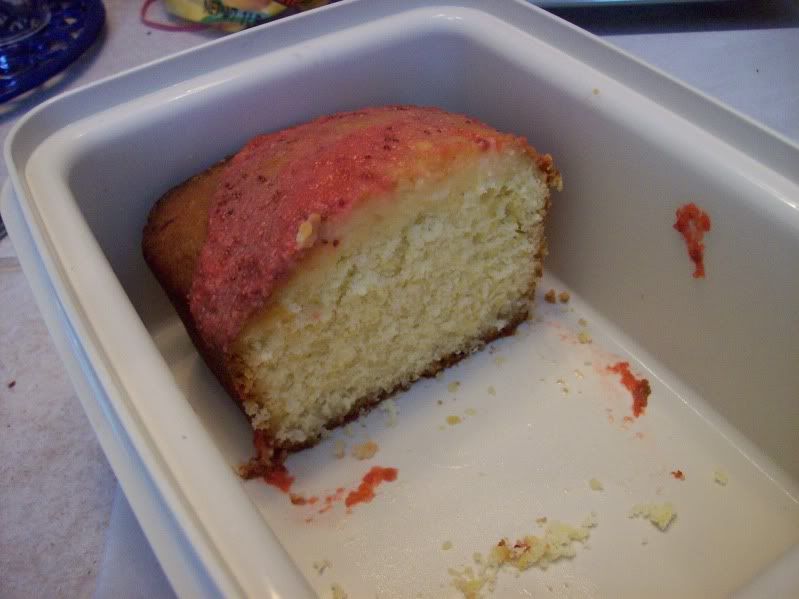 Healthy Onion Dip recipe
3lbs (4 medium-large) vidalia onions, chopped
1T olive oil
In a large skillet, heat oil over medium heat and add onions. Stir often, cooking onions until caramelized- 45 min to an hour.
Add
3T water
to deglaze the pan, continue cooking for 2-3 minutes.
Transfer onions to a bowl to cool (if desired, pull out some to use as a hot dog/hamburger topping)
To onions, add
1 16oz package nonfat plain Greek yogurt
1/2 cup reduced fat sour cream
2T lemon juice
a dash to 1t salt, as desired
dash of chipotle powder (Martha said cayenne pepper, either way)
Stir to combine. Refrigerate at least one hour, or overnight, before serving. Serve with fresh veggies (healthy!)
My Other Adventure.
My husband, parents and I were all in the screen porch at the back of our house, breakfasting. I went into the kitchen for more coffee, and I could see through the dining room windows that 2 men I didn't know were standing near some furniture that had been mysteriously set at the curb. I alerted the fam, and they all got up to peer out the windows. Mom noticed that there were 2 cardboard signs, which none of us could read, so she got out her binoculars (we have good birds in our backyard, she was using them during breakfast) and announced the signs said "FREE". oooh.
We're now the proud owners of this somewhat scratched (but entirely fixable!) buffet
(see, we put it to use immediately!)
4 somewhat beat-up dining room chairs, now screen porch chairs (we bring them in at night) and a very large fancy bureau with enormous mirror, in good condition. For
free
. So many minutes of cooking time was taken up by moving our new furniture. And I think our dining room looks pretty fancy now, and I'm thrilled for more storage space for our dishes, which we sorely needed. Plus, getting this furniture was pretty exciting and serendipitous: since we're across the street, we got out there immediately, and by the time other people starting popping up to look, we'd already staked a claim. We left 2 non-matching dining chairs for another neighbor to snatch up.