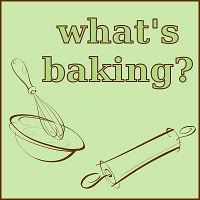 I missed last month's What's Baking (family favorites), which was sad. So I was determined to do this month's, but I unfortunately haven't had time
to blog about it until the very last minute!
I went apple picking a few weeks ago, as I try to do every year. I picked a 1/2 bushel of apples, and I really think I need to get over there again before they close for the season and get another half bushel! One more apple pie or crisp and they'll all be gone. For this reason, I made something that would use fewer apples for What's Baking?.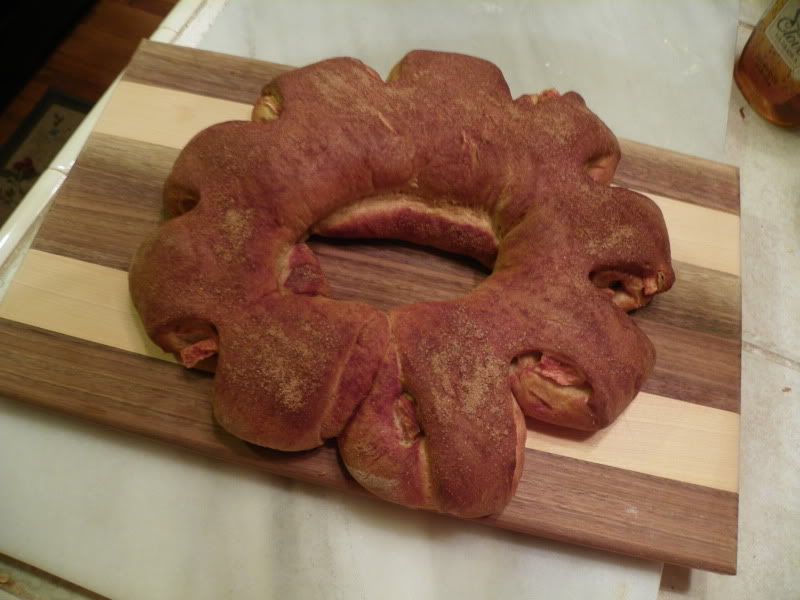 Joy The Baker made a lovely apple coffee cake ring earlier this month. It has a yeasty dough and is filled with apples- kind of like cinnamon rolls with apples in a ring form. It looked lovely. And it tastes lovely! I used half whole wheat flour to be a little more whole-grainy, and instead of her streusel topping, I made a cream cheese icing. It's a great breakfast bread, it's appley and cinnamony but not overly sweet (unless you smother it in the icing, of course). One recipe makes two, and we've thoroughly enjoyed having this one around for twice as long ;)
The dough is a very different dough than I've worked with before- it's kind of like a cross between a yeast bread and a cake. It tastes like a bread, though!
Apple Coffee Cake Ring
recipe from
Joy the Baker
For the dough:
1T active dry yeast
1/4cup warm water
6T sugar
1 and 1/2 stick butter, softened to room temperature
1t cardamom
1/2t salt
3 eggs
4.5 to 5 cups flour (I used half WW and half AP)
1 cup warm milk
In a small bowl, stir the yeast into the warm water and add a pinch of sugar. Let sit for 10-15 min for the yeast to wake up.
In a larger bowl (of your stand mixer, preferably), beat the butter, sugar, cardamom and salt together til creamy, about 3 min. Beat in the 3 eggs and 1 cup of flour. Stir til well combined, about 1-2 min. Add 2 more cups of flour, the warm milk and the yeast mixture, beat for another minute. Then add the rest of the flour and mix until you had a sticky dough. Knead for about 10 minutes (I kneaded with the mixer). Cover with plastic wrap or a dish towel and let rise in a warm place til doubled, about 1.5-2 hours.
Filling
2 apples, peeled, cored and diced into small pieces
2t lemon juice (optional, good for flavor and prevents apples from turning brown)
2T brown sugar
1t cinnamon
1/2t nutmeg
pinch of salt
1t cornstarch
To make the filling, mix all ingredients together. Set aside.
Back to the dough: it's risen now, so punch it down and divide in half. Spread out one half on your floured board and roll/stretch to a 10x14in (approx) rectangle. Sprinkle half of the filling mixture over the dough, and begin to roll the long side. Form into a horseshoe, and then using a sharp knife (or even scissors), cut the dough about 2/3 of the way through the roll. Do this every 2-3inches or so, and then spread the slices out to make the horseshoe into a circle. Place this on a parchment-lined cookie sheet, cover with a dishtowel and let rise for about 45min. Repeat with the other half of the dough. You can either bake the 2nd half or wrap the long roll in plastic wrap and freeze. If you freeze, let the cylinder thaw, then cut as for the first half, let rise, and bake.
Bake at 375F for about 40 min.
When cool, drizzle with cream cheese icing: 1T softened cream cheese, 1T milk and 1 cup powdered sugar.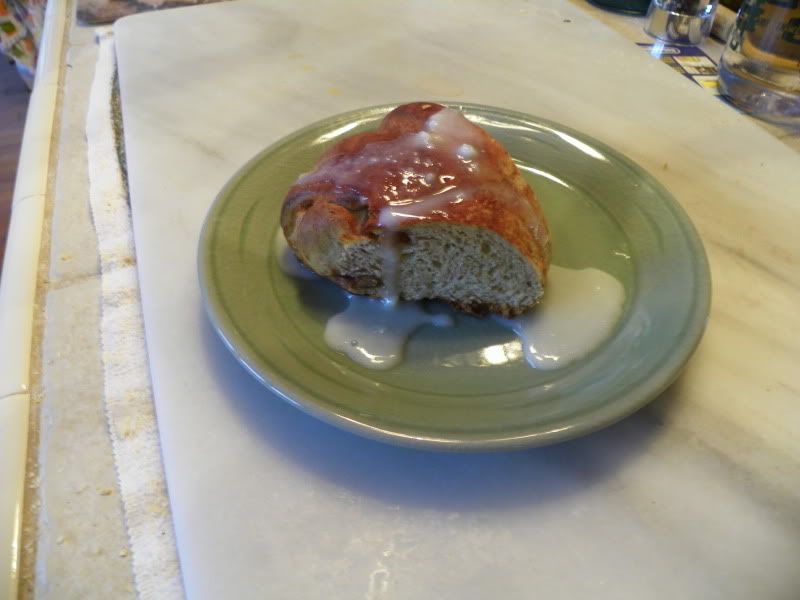 Yum! Take this to the next brunch or tea party you're invited to.