December is National Brownie Month, so it seemed like a perfect choice for
Nicole
's theme. And what a great excuse to bake up a great batch!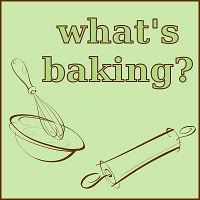 Chocolate and I have a love/hate relationship. It's kind of weird. I get all "omg seriously?!" when someone says they don't like chocolate, but.... to be honest, I don't always like chocolate. I'd prefer to avoid chocolate cake. I can't stand chocolate ice cream (ugh, gross), and I'll only eat chocolate cookies if I have a cup of coffee in the other hand. But give me a chocolate bar and I'm all over it- I require my chocolate in its late-20th-century-American pure form. Or as a lovely hot drink.
But brownies are one of the few chocolatey baked goods I'll get that glazed look in my eyes for. They have to be nice, fudgy, gooey brownies. And nuts, please.
I've been late in baking my theme item for the past few months, so this month I started early early early. My choir performed a staged Boar's Head Festival on December 10th, and we always work together to put on a nice reception after the concert. Of course, I'm the first to sign up to bring food for the reception! So of course with that, and this month's theme, I just had to bring brownies. But not just any brownie: when we're talking reception, I aim to impress. So I took to tastespotting for inspiration.
I found a recipe for peppermint brownies. I've done the kind where you stick peppermint patties in the middle of the batter- they were good, but I unfortunately used splenda for the brownies- I say unfortunately because I despise splenda. If you like splenda, go ahead, sub it in. But I'd rather have no sugar than fake sugar in a baked good. This peppermint brownie concept was different, though- it had a layer of peppermint icing on top of the brownies, and then some chocolate ganache. Sounds good! But, wouldn't you know.... I used up all my peppermint extract last year on the millions of batches of peppermint bark I made, and forgot to buy more. So I bring you...
Cinnamon Brownies
based on tea for six's
recipe
Brownies
12T (1.5 sticks) butter
1 1/2 cups sugar
3 eggs
1/2 cup cocoa powder
1/2 cup flour
1/4t salt
1t vanilla
Melt the butter and stir in the sugar- I did this all in the medium saucepan I used for melting the butter. Beat in the eggs, one at a time, then the vanilla. Sift together the dry ingredients and mix them in.
Important: line a 9x13 baking dish with parchment paper and spray with nonstick spray. Don't skip the parchment paper- it'll make it so much easier to ice the brownies later. Bake at 350F for 40-45 min, until they're set. Let cool in the pan.
Cinnamon icing
2 cups powdered sugar
1T water
3-4 drops of cinnamon oil (or go ahead and use your peppermint extract, 1t)
a few drops of red food coloring, for festiveness
Whisk all that together. Pour over the cooled but still in the pan brownies, and spread around with a spatula. It doesn't have to be perfect. Chill in the fridge for a couple hours (I chilled overnight)
Chocolate ganache
250g chocolate (chopped bittersweet, or semisweet chocolate chips, whatever you have)
1/2 cup cream (I used light cream)
Put chocolate in medium bowl. Heat cream over medium heat until it just starts to boil, then pour over chocolate. Let sit for a few minutes, then start to stir. Stir until all the chocolate is melted. Then pour over the iced brownies and spread around. Pop back in the fridge for a few hours to set the chocolate.
Then cut the brownies!
These were fab. Honestly I had some doubts about using cinnamon oil along with chocolate, but have you ever had those after dinner minty things that are a stick of flavored hard candy dipped in chocolate? They have them at some fancy restaurants. The red ones are cinnamon, and were always my favorite. These brownies taste like that.
Now I've fallen in love with the cinnamon oil and have started using it more- cinnamon sugar cookies, anyone?
One note about these brownies, however: they're a little messy! I was nervous about eating them in my fancy renaissance costume at the reception, although they were gone in an instant so I only ended up with the lopsided ones as I cut and plated them. The brownies themselves are a solid little fudgy cake, very nice for topping. I highly recommend these.