I hate choosing interview outfits. For an academic position, a suit is way too much- half the time, the person interviewing you will be in jeans. But you still need to look nice. For yesterday's interview, I was going to go with pants, a brightly colored top, and a navy jacket. But then it ended up being nearly 80 out so I'd have to go with summer pants. And I wasn't excited about my choices.
So Bird stepped in and said I should wear the Jonah. Unfortunately, I canceled my order for the Jonah during the ESS so that wasn't an option. I had a great apple green with small white flower print silk jersey wrap dress, but.... wrap dresses are often a little low-cut in front. Not appropriate for an interview!
In the end I went with the Ring Pop Evie. It was a little too dressy for an interview, but paired with my trusty navy jacket, it looked more suit-like- but a suit with a little pizzazz. Perfectly appropriate.
I wore my bronze kitten heels with giant bows on front- a surprising find from a little boutique in my dad's home town in South Dakota last summer. $20!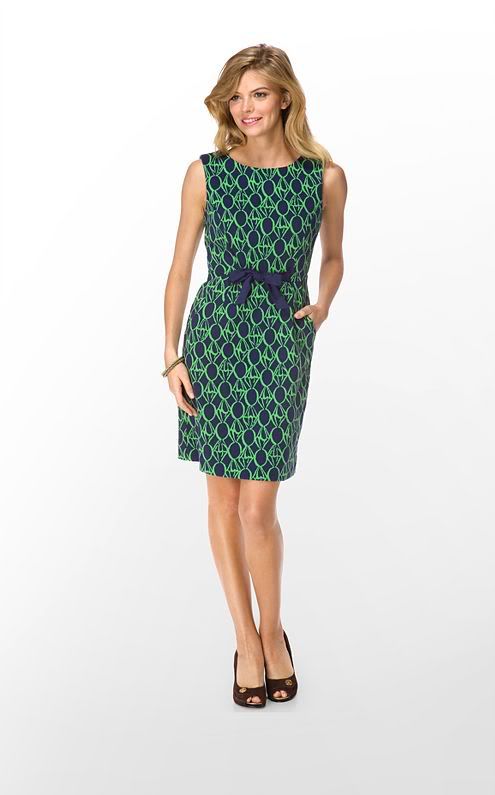 Unfortunately, I don't have any pictures of me in the interview outfit: the interview didn't go all that well (and it's SO complicated, that's what really bugs me), and when I got back I was 15 minutes late for a meeting so I had to run.
This Evie comes in S-M-L sizes, and strangely enough, I found it a better fit than the other Evie that comes in number sizes. Weird, right? Normally I'm between M and L, but in this one I was a perfect L, and in the other Evie I'm between a 10 and 12. The new fall sizes run small, of course- not great for a girl's self esteem! Thanks a lot, Lilly. Ring Pop is a heavy knit fabric, lined in the bodice but not the skirt, and it's maybe a hair short on my 5'6 frame, but not overly short. The shape of the dress hits me at all the right spots, so it's comfortable and flattering. I appreciate the higher neckline. And it has pockets! Boy, I love a dress with pockets. I ended up doing a little shopping (mostly browsing) because I was early for my interview, and this dress worked great for that- especially after putting my car keys in my pocket and not having to fuss around in my giant Kate Spade purse while walking to my car.
I actually bought this Evie brand new on ebay. I think I may have bought it from someone who robbed a delivery truck, because a month after this dress was released, the seller sold it for $68. It was called "overstock of retail"... I'm not so sure I believe that. But I couldn't resist. I did wear this with some apprehension.