I have this dress that's been sitting in the back of my closet for years. I don't even know how long it's been in there. I'm pretty sure I lived in NH when I got it.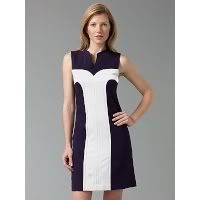 It's the Beacon colorblock navy dress. I got it from TJMaxx, back when we were juuuuust starting to see Lilly at TJM. Mom's friend Liz called her up one day and said "Carla!!! There's Lilly at the TJMaxx in Granby! I got a bunch of things for J and K [her high school aged daughters] and I put some stuff in Catherine's size on hold!!" Luckily I was coming home the next day, so mom and I ran over.
I got the Brielle and the Beacon, both were $59.99. They also had the Beacon in tan and cream (I do not wear tan, however- only as pants) in my size and I think they had some other, more interesting dress in a size I had no hope of fitting into.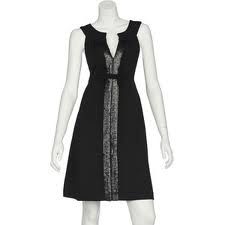 Of course, I was still recovering from mono at this time, so I a very different size than I am now. We took both the Brielle and the Beacon. I did not love either, but I liked the sequins and neckline on the Brielle. And of course, mom's mantra: buy it if it's cheap, no matter what! Le sigh.
The Beacon was a size smaller than the Brielle (and technically the Beacon was my size and the Brielle one size up), but the Beacon was
very
roomy, while the Brielle was just kind of baggy. Eventually (last year), when I bought a dress on Rue La La that was too big and I needed it taken in, we took Brielle to Andrea, my most beloved seamstress. (small plug for her: she just opened a storefront on LaSalle Rd in West Hartford, CT. She's funny and kind of, as my mom would say, fresh, and she does lovely work. She's not cheap, but your expensive clothes deserve quality tailoring). Brielle does not actually nip in at the waist the way the picture above would have you believe, but thanks to Andrea, now mine does (a little). I love this as a winter dress- yes, it's sleeveless, but it's a rather heavy knit. I never, ever wear black dresses, but I wear this one, so conclude what you want from that.
But the Beacon? As I said, the Beacon was actually my size, and I had the Brielle taken in. Even so, the Beacon was just huge. It looked like maternity dresses from the 60s- you know, those big baggy muumuu-like things.
(side note: really? Is that what woman were really confined to while pregnant back then? Were Victorian mentalities, when women had to go into confinement lest they reveal
anything
that could hint at having had marital relations? I have a lot of complaints about maternity wear these days, but at least women don't have to hide the fact that they're growing a person)
Anyway. The Beacon fit me like the above picture. Needless to say, I did not wear the Beacon.
Until this summer, when I was looking through my closet for things to sell (both to make some extra money, and to make sure the hanging bar in my closet doesn't snap from the weight- this is a legitimate worry). I found the Beach, squished between a bunch of pants that don't fit and some skirts that would better suit a 22-year-old.
Do I sell it or keep it? It's hard for me to sell Lilly, especially Lilly that I could actually wear. Selling something I wore while skeletal in 2005 is easy because I know I'll never be that weight again (and if something happens and I am, hopefully my doctors will be a little more helpful and diagnose and fix me). But something I could actually wear? So I wore it.
Um yeah, I weigh more than I did when I bought it: it actually fits now. It's baggy, but it has a better silhouette now that I have more to fill it out. It's not the most flattering dress ever, but it's easy to wear- few dresses in my closet are easy to wear.
Now I just need to figure out what shoes other than McKims to pair with this dress to take me into fall. Like the Brielle, the Beacon is a very heavy knit, so the only thing to hold it back from colder weather would be that large cream-colored stripe. What do you all think, how late into fall will that work?
Also, I do love these solid and colorblock dresses that lend themselves rather well to a brightly colored printed murfee.