Today we celebrated our 2nd anniversary. How times flies, etc etc. We're following the
traditional anniversary gifts
, so this year was cotton.
Unfortunately, our anniversary fell on a work day (for Clint) and I had choir rehearsal, so we ended up having our nice dinner yesterday. But I did sew all day- with 100% cotton fabric and cotton/poly thread, so that totally counts, right?
So what does the little housewife make for her darling husband on their anniversary? Burgers.
Not just any burgers, no, no. These were burgers we saw on Bobby Flay and were completely captivated by. These are the burger to end all burger. Also, they're lamb. That's kind of celebratory, special-occasion, right?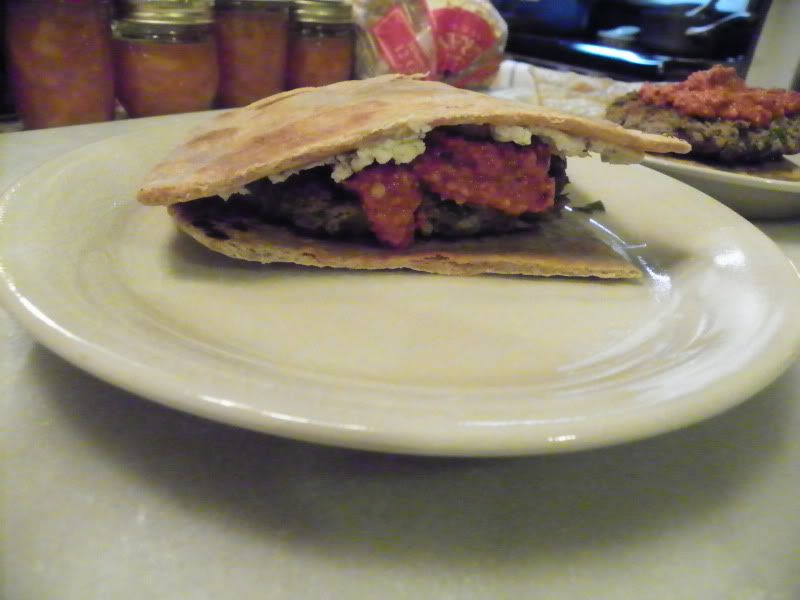 Greek Patty Melts
Recipe from
Bobby Flay's friend Miriam Garron
Parts:
Burgers
Muhammara sauce
Pizza crust
Cheese (we used gouda and chevre, Miriam said kasseri- fat chance I could find that)
Caramelized onions
For the pizza crust, use your own favorite recipe. Bobby and Miriam say to grill it, but I just baked it at 425F for the appropriate amount of time, stopping about 4min before it was done to top half with cheese.
Muhammara Sauce
1lb red bell peppers (3 peppers), charred under the broiler for 10 min, flipped, and another 10 min, then placed in a covered bowl to cool before peeling the charred skin off.
1-2 small hot red peppers, treated the same way (I omitted and added 1/2t chipotle powder)
1 cup walnuts, toasted
1 clove garlic, roughly chopped
1t cumin
salt to taste
1T maple syrup
1T pomegranate sherry vinegar
1T lemon juice
2t lemon zest
Miriam actually called for 1T pomegranate molasses and 1T sherry vinegar, but I don't have pomegranate molasses. I have tons of maple syrup, and I happened to have pomegranate sherry vinegar, thanks to a gift card to Whole Foods, when I just went and bought interesting things I wouldn't normally splurge on.
Place everything but lemon zest in a food processor and process. Stir in the lemon zest by hand. Salt to taste. Set aside. Easy peasy!
Burgers
1/2 cup parsley, finely chopped
1/3cup Greek yogurt (I used fat free sour cream)
2 clove garlic, minced
2t coriander
1/2t salt
1/2 paprika
1/4t allspice
1 and 1/4lb ground lamb (we used bison- Big Y had no lamb!)
Olive oil
Mix everything but the olive oil together with your hands (ewww) and form 4 large, flat patties. Brush both sides with olive oil. Grill over medium-high heat, a few minutes per side, until done.
Now, we very unfortunately forgot the caramelized onions part. These are easy, they just take time. Slice 3 large onions (I like vidalia) into medium-thin slices and cook with a little olive oil over medium heat until they caramelize. These cook low and slow but it's worth it!
Assembly:
Cut the pizza crust into pieces slightly larger than the patties. Each burger gets one side with cheese and one without. Top the burger with the muhammara sauce and a big spoonful of caramelized onions. Enjoy!