Remember these cookies from last year?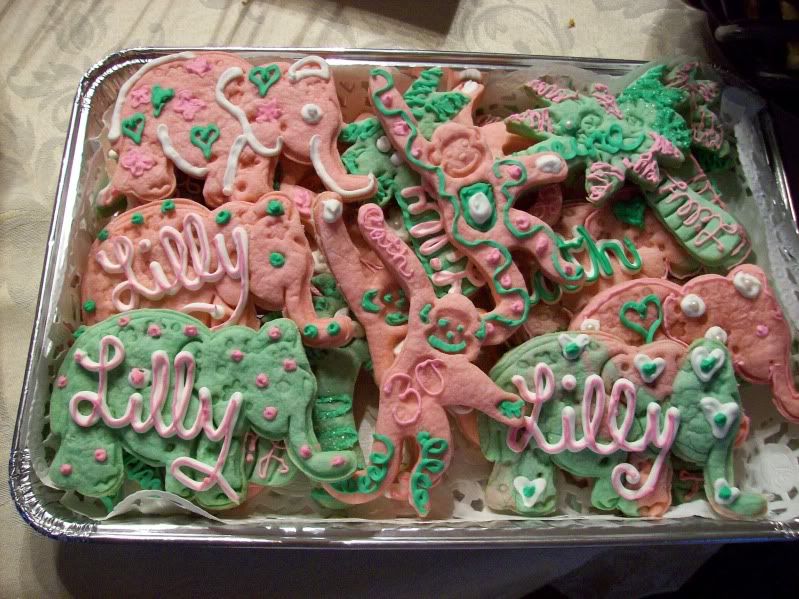 Bird made them for me for my 30th birthday bash. I LOVED these cookies, they were unlike any plain ol' vanilla sugar cookie I'd ever had. Soft, purely delicious, thick and frosted. Amazing! They weren't greasy or crumbly or crunchy like so many sugar cookies can be. Well, because she is who she is, she immediately shared the recipe. It only took me 13 months, but I made some for myself!
Oh yes, and I have the same cookie cutters (thanks to my mom!), which is kind of why I absolutely had to make this recipe.
I volunteered at an Ice Cream Social and Craft Fair last weekend, and among other things, I signed up to bring goodies for the bake sale table. Last year I made some fancy cookie that didn't sell very well, so this year I decided to appeal to the kids. What kid wouldn't want a brightly colored, elephant or monkey-shaped cookie? Of course, I had to bake these during the heat wave (it was 98F and we do not have AC) so there was no way I'd frost these. I wrapped up 2 cookies in sandwich baggies and priced them at $1 each.... and only 4 baggies sold. I think this bake sale table isn't really worth it, honestly. But the palm trees were saved for our family party later that day, and were a huge hit! I guess I should go after the adults, not the kids.
Sugar Cookies
recipe from
Alton Brown
(the man knows what he's talking about!)
one recipe makes about 2 dozen 3 inch cookies, I recommend making 2 batches because 1. they're delicious, and 2. I've never seen a cookie keep so well- you can save these babies!
1 cup (2 sticks) unsalted butter, softened
1 cup sugar
1 egg, beaten
1T milk
1t vanilla or other flavoring (if you want, not in the original recipe)
3-3.5 cups of flour
3/4t baking soda
1/4t salt
Powdered sugar, for rolling out the dough
Beat the butter and sugar together for a until minutes until nice and fluffy. Beat in the egg and milk and flavoring. Sift together 3 cups of flour with the soda and salt, and add in 2 batches to the butter/sugar mixture. If the dough is really really soft (it was for me, perhaps because it was so amazingly hot in the kitchen), add a little more flour. Add food coloring if you'd like (I use gel food coloring). Pat dough into 2 disks, wrap in plastic wrap and refrigerate for a couple hours or overnight.
Sprinkle powdered sugar generously over your rolling surface, rolling pin and the cookie dough. Roll out the dough to 1/4in, cut with Lilly Pulitzer cookie cutters (or, you know, other cookie cutters- but seriously, wouldn't you rather have palm tree cookies?) and bake in your preheated-to-375F oven for anywhere between 8 and 14 min. Alton says 7-9 min but I needed almost 15 for the big elephants. Cook until they're just starting to turn golden brown on the edges. These are still good a bit overdone, but you want them just barely done.
As I said, I made these during the heat wave. I made the dough on Thursday night, when it'd cooled down to a balmy 85F, then I planned to get up early on Friday to roll out the dough and also make sorbet when it was still relatively cool. Well, it was already nearly 90 when I got up, so I scrapped the sorbet idea (I've learned my ice cream maker is useless in 85F+ weather), and the cookie dough was
very
difficult to roll out! I could only roll out each disk once, then it had to go back in the fridge because the dough was too soft! But let me tell you, even though it took about 3 hours with all the re-refrigerating I had to do, it was
entirely
worth the effort! These are my new favorite cookies ever.
Oh and like I said, it was hot, so I didn't bother frosting them! Next time I'll take a hint from Bird and do some pretty swirly decorations with royal icing.