(unlike last year)
And it seems like it's been a year since I last posted. Insert some lame excuses here- I really have none. Travel interfered with posting and cooking, but I've been back for a couple weeks now. Really, the problem is that unemployment
sucks.


Regardless, back in June I went strawberry picking twice (since I'm a loser without a job, I
can
.) and I made some tasty things with them- only one of which I've mentioned.
I don't want to bother going into a lot of detail about my strawberry fun now that strawberry season is long over and it won't really help you anyway, but let me share my success with sorbets. I've tried sorbet once before, but I neglected to consider how different some berries are compared to each other while making the sorbet, and ended up with more of a bluish granita studded with whole blueberries. A bit odd, but tasty. Fortunately, when trying strawberry sorbet for the first time, I went with a real strawberry sorbet recipe, with excellent results.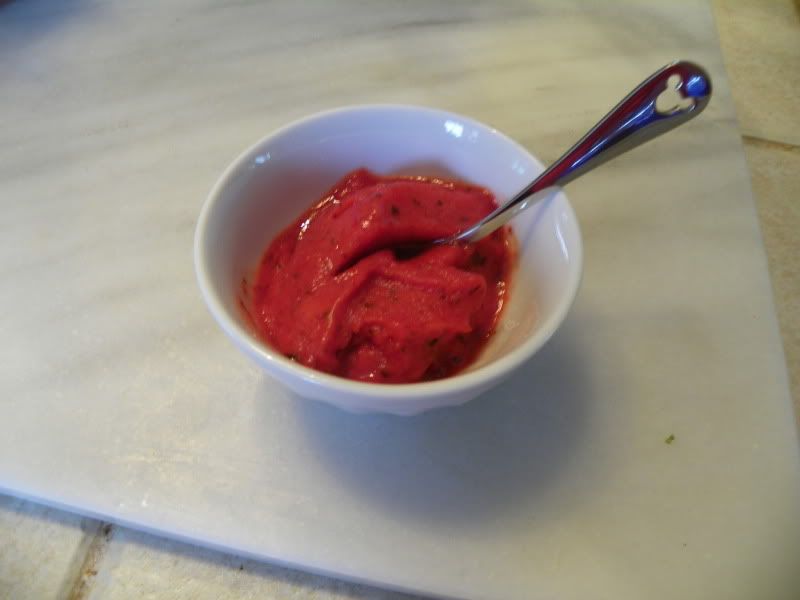 Strawberry Basil Sorbet
recipe from
The Nifty Foodie
1.5lb fresh, hulled strawberries
1 cup +2T sugar
1.5T lemon juice
pinch of salt
handful (around 1/4 cup) fresh basil leaves, roughly chopped
Slice the strawberries and toss with 2T sugar. Let sit at room temperature for about an hour, turning occasionally. Then combine in a food processor with the remaining sugar and other ingredients, process until pureed.
Pour into your ice cream maker and follow its instructions. Enjoy!
Strawberry Rhubarb Sorbet
based on a combination of the above recipe and this
recipe from the LA Times
2 fat or 3 regular stalks of rhubarb, diced (about 6 oz)
1/2 cup sugar
1/3 cup water, plus 1T or so more
1lb hulled strawberries
2T cup sugar
1t lemon juice
In a small saucepan, stir together the rhubarb, 1/2 cup sugar and water. Bring to a boil over medium-high heat and then reduce to a simmer, and cook for 20 min. Remove from heat and let cool to room temp. Meanwhile, toss the strawberries with the remaining sugar and let sit for about 30-45 min, stirring occasionally. Combine rhubarb mixture, strawberry mixture and lemon juice in a food processor, puree, then pour into your ice cream maker and follow the instructions.
These sorbets were very popular in our house, and didn't last long. I like my fruit desserts to be not so sweet so you can really taste the fresh fruit, and these were perfect. I'm definitely planning on using the 13lbs of frozen strawberries in the chest freezer for more sorbet later, as well as the remainder of last year's peaches.