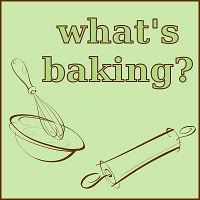 This month's What's Baking? theme was chosen by
Lindsey
, and is Bake Local- bake anything from your local area! I decided to use cherries.
Tougas Farm
has recently started producing cherries, so I jumped at the chance to go cherry picking!
I've never done this before, so I was really surprised by
how many cherries
grow on each branch of a cherry tree! It was a perfect day for fruit picking of any sort (warm but not too hot, partly cloud, plus I was under a mesh canopy that provided a little more shade), so I went slowly and enjoyed myself.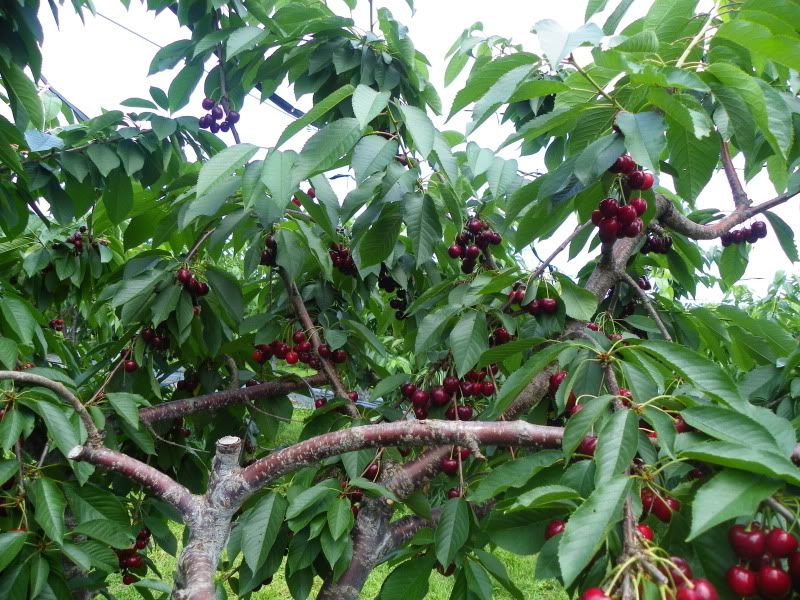 I only got 7.8lbs of cherries- I'd have liked to pick more, but they were not cheap, so I did not want to take any chances of not using up all the cherries in time- plus the cherry field is cash-only, and the girl only has so much cash on her at a given time (birthday money, haha!)
I made many things with these cherries, including a classic cherry pie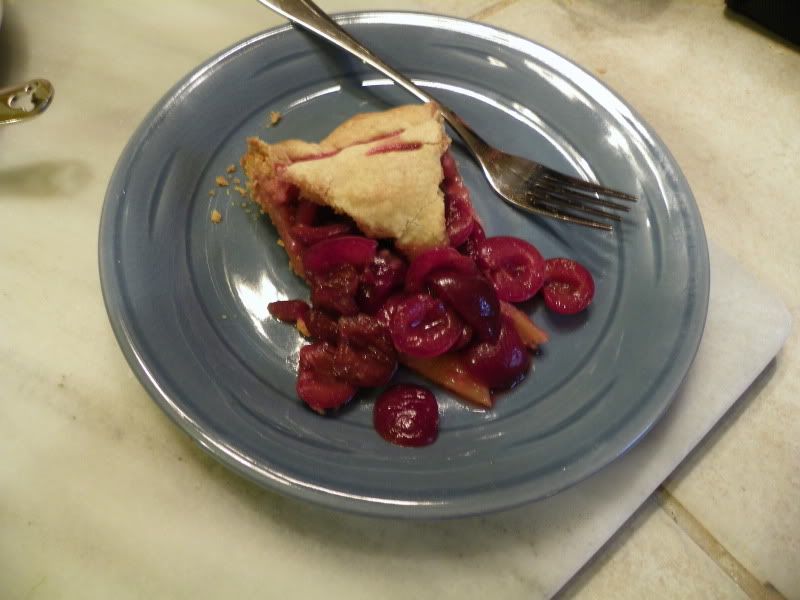 and cherry hand pies for a picnic,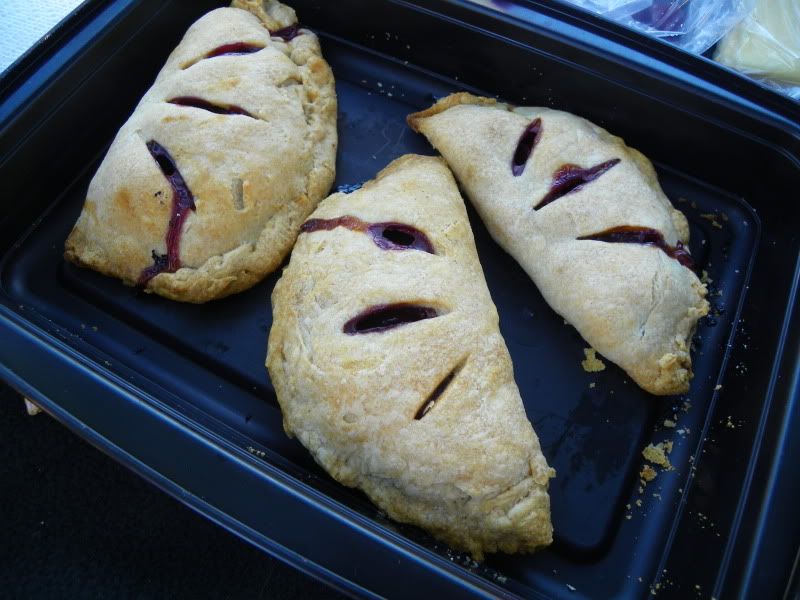 but for the bake along I like to go with something different: cherry foccacia.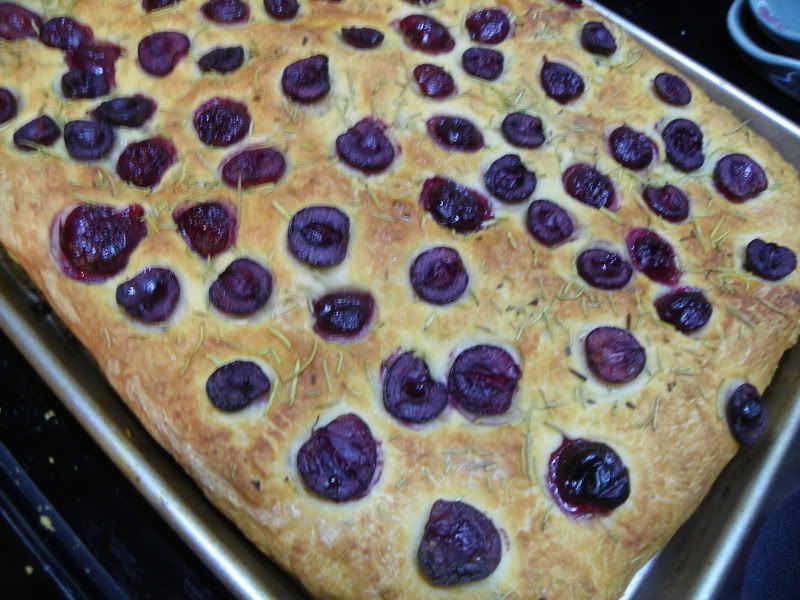 Cherry Foccacia
from
Martha Stewart Living, July 2011
Martha had a big spread on sour cherries in the July issue, and she made some really different things, things you'd never think to put cherries in/on. I was using Bing cherries, not sour, but I like all cherries so I didn't care. This was my first attempt at foccacia, and while it didn't turn out exactly like bakery foccacia, it's still delicious and worth the time and effort. It's not hard, you just have several risings to deal with.
2 and 3/4 cup warm water
1t active dry yeast
1.5lbs (4.5-5cups) bread flour
1-2t salt
1/4 cup olive oil
2T fresh rosemary (I used dried)
1.5-2 cups cherries, pitted and halved
In a large bowl (say, of your stand mixer), combine the water, yeast and flour. Mix just until combined (dough will be very sticky) and let rest for about 20 min. Add the salt and mix, then knead for about 5 min. Cover and let rise until doubled, about 1.5-2hrs.
On a floured board (just enough flour so it doesn't stick, and the dough might be really, really sticky), knead the dough just a bit, then flatten out into a square/rectangle-ish shape. Fold the top third down towards you, then the bottom third up away from you. Pat to get the air bubbles out, and the 2 flaps should overlap. Then do the right side third, then the left side third, and pat. Place in a floured bowl, cover and let rest for an hour. Then repeat the folding process again, and let rest for another hour.
In a rimmed 13x17 baking sheet, pour the oil and spread around. Stretch out the dough a bit and place it in the pan, working it to reach all the edges (this is tedious and can take awhile- it won't stick to the pan because the pan is oiled, of course, so you just have to coax it to stretch out).
Heat the oven to 450F, and let the dough rest for 15-20 min.
Finally, place the cherries on the top of the dough (I did some skin-side down, and some skin-side up, whatever you like), and press them in gently. Sprinkle with some coarse (kosher or sea) salt and the rosemary. Bake at 450F for 30-40 min, turning around halfway through.
Once the bread is done, let it cool in the pan for just a few minutes, then remove from pan and let cool on a wire rack. Drizzle the top of the bread with the olive oil from the pan.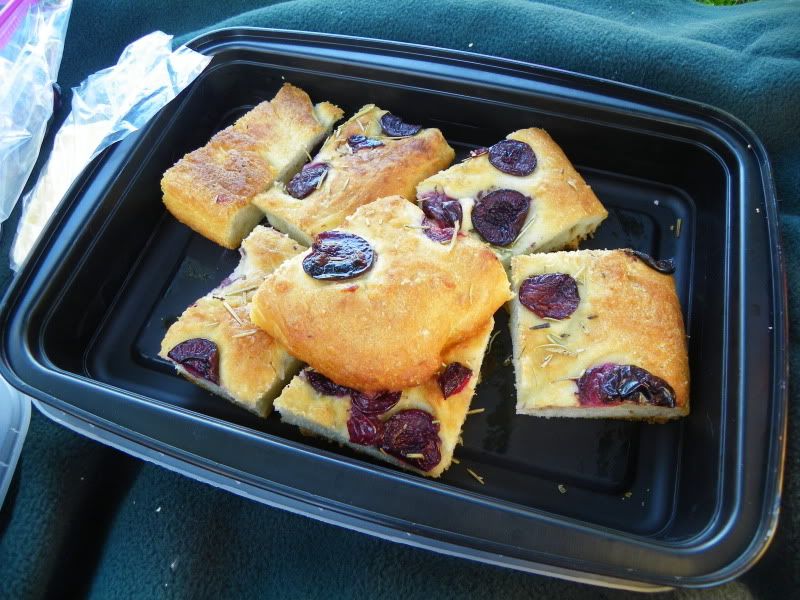 Go on a picnic and bring the foccacia to share with all your friends. :)