This peek into Lilly Pulitzer Fall 2011 is from a few weeks ago, but I have been a busy little housewife as of late! You may or may not know that I am VERY involved in the DAR, and September is time to scramble around and get everything ready for fall. The only time of year that seems to be even busier for DAR is June, when I go to Continental Congress and take part in the committee that orders around the pages. It's awesome. And you can't appreciate this if you've never paged, but I get to SIT at this job. The committee I serve on is composed of several truly amazing women, and we have such fun together. It's always very sad when CC ends- although also kind of a relief.
So I've been busy with DAR, all while wearing Lilly. Later on I'll have to do a DAR-Lilly post, because I wear Lilly to DAR meetings and events at least half the time, and lately, almost all of the time. The only thing Lilly can't do is the banquets and evenings meetings, because Lilly does not make evening gowns. Maybe soon?
But anyway, part 2 of my fashion buffet. I went back to E.A. Davis and tried on more fall clothes. I bought not a single thing for myself, sadly, my trip was purely for research. This time I tried on things that eeeeeveryone's raving about. I agree with some of the raves.... but not all.
Love:
This dress is VERY cute. It's now on my list of "possibly buy". The cut looks kind of blah on the hanger, but it fits will once it's on. I'm in a L, and I found it fit perfectly. It's a heavier knit, so it'd do well going into late fall, maybe even winter with boots? Although I'm not great at pairing shoes. The only thing I didn't like is that it's pretty low-cut... although in this picture it doesn't look it.
(looking at this picture, I'm thinking I really need to buy this!)
Love:
The Adalie Wrap Dress
$188
in Skye Blue Thrill of the Chaise
I used to be so anti-wrap dresses, but then mom's friend Liz found a size L at TJM and got it for me. I couldn't really say no, right? Well, I adore it. Seriously, I'm surprised this thing is still holding up, that's how much I've worn it. I think the Adalie would be the same. I'm not in love with this print, but the color is perfect. This is also a knit, but a lighter knit than the Joanie. This dress was a more appropriate dress to try on that day, when I was wearing cropped jeans and a t shirt, the Joanie was *very* warm. I think Adalie runs a hair small, at least compared to the Joanie above. Here I'm also in a L, but it's a little tight. But that's the beauty of the wrap dress, right? Easy to loosen. I'd just need a safety pin for the top if it were looser, though. :-/
Everyone loves, but I don't: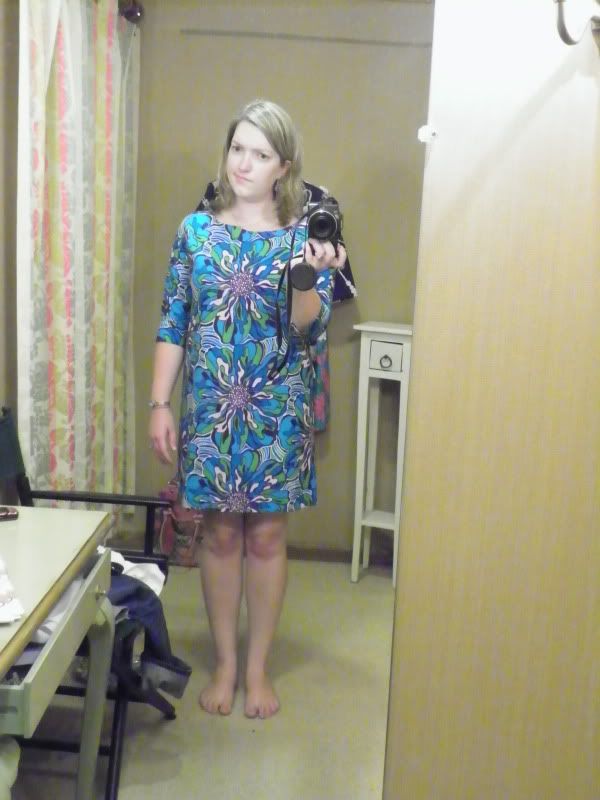 The Cassie
$88
in Navy Dress Rehearsal (it's hard for me to avoid this print, I love it so)
Everyone loves this dress. People go nuts for it. They have several. I don't get it. It's a t shirt dress, it's shapeless and blah. Ok, obviously I don't have the body type for it, but that many people do?! I feel like I'm wearing a night gown. The only saving grace of this dress is the fabulous prints it comes in (like this one... but on lp.com it's also in Cameo White Thrill of the Chaise, and I've seen it in other prints too, as well as in solid colors) and the reasonable price. But... really? I couldn't wait to take it off.
This is also a L, so it runs maybe a hair roomy.
Love, adore, totally going to buy:
The Cassie top
$58 for solids, $64 for prints
I just wish I'd grabbed something other than navy to show off with my indigo jeans. Sorry! I'm wearing a L, same size as the dress, but I like the fit of this better, it's a bit smaller so doesn't hang like the other. I like the neckline: not low, but not a chokingly-high, unflattering (if you have my shoulders) crew neck. I do so love a boatneck.
I wish I'd bought this top, because a week or so after this research shopping trip, I got a pair of Kristen palm beach fit cropped pants from ebay (NWT, $12, yay!) and they just scream for a navy top. Do I have a navy top already in my wardrobe? Of course not. I'd never have something so versatile and useful. Sigh. I think I'll get this in navy and in a print... you know it'll be Dress Rehearsal. ;)
As you read this, I am on my way to Disney World, so while I'll get one last hurrah with my summer clothes (and blog about favorites so we can stow away ideas for next summer), it'll probably be a while before I get back to E.A. Davis. However... I know about one secret little Lilly shop that I plan to visit
at least
once, and possibly make a purchase- because I know about an even more secret discount. ;)
ps. in case you're wondering, the dress behind me in all the pictures is the Memsie in turquoise kissue. LOVE this one, I wish I'd given it a chance earlier. The only size they had was just a hair too small- it zipped, but didn't look good. I also tried on the Kiki, which I'd previously hated but that day changed my mind about... and again, not available in my size. ugh! Oh and the medium blue you see is the Conrad top. haha I hated this one so much I couldn't even bear to photograph it. It's another one people love!