I told you all about
shopping
the sale, but not the results!
In the end, I received a murfee, a tablecloth, the Finn in navy, the Jillie in sea blue, 2 shirts for Clint, and a white Caroline cardigan.
But in the end of the end, the only dress I got was the Jillie. The Finn runs VERY large. Like, wow. Lately in everything I'm a solid large (with the exception of some shirts). So of course I was rather certain I should purchase the Finn in large. Alas, no! It was enormous. You can imagine my incredulousness and disappointment. However, I was able to find a new home for it, and the buyer received it in time to wear for a work presentation and said it was absolutely perfect for that, so that makes me feel much, much better. I may keep my eyes peeled for a size medium in navy, or I may just let it go...
Now, the Jillie. While the Finn runs big, the Jillie runs small. What's up with that, Lilly? Unfortunately Lilly has this tendency, which means it's nearly necessary to go to stores and try things on in person. I ordered a 14 in the Jillie, thinking because of it's style and the incredible price ($39), that it could make an awesome formal maternity dress with only minor alterations (namely, the lining- easy peasy!). I ordered a 14 because everyone says you just get bigger up top during pregnancy. And when it came? It's just a hair big. Roomy, I'd say. However, I thought it'd look horrendous on non-pregnant me, and it actually looks kind of cute. The kind of cute you'd pair a pretty cardigan or shawl with, though, the silhouette is still pretty terrible on the average girl.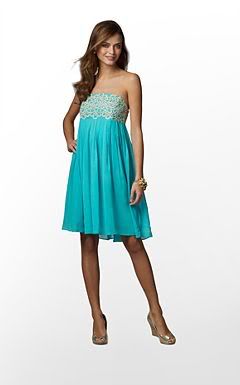 Clint's stuff? The Jeff half zip fits nicely,
but the gulf stream polo is huge.

They're the SAME SIZE. I'm so frustrated.
But even so, I still love my Lilly. I got the Caroline cardigan using the $25 credit they gave people with canceled orders (my mom got one too, she lost out on the tie she'd ordered Dad- Dad may be relieved that this happened) and I've already worn it twice (see previous post!). I mostly got it because I got the Cormick dress in white and I want more shoulder coverage for DAR events.
As for mom, she bought practically every single murfee they had (not really, but almost!), as well as McKims and Shelly Jellies. She likes the Shellys and the way she talked about the McKims, I think they'll grow on her. Of course she has to take 2 sizes smaller than me (UGH I got Dad's feet) so she can't just pass them on to me if she changes her mind. :( She has taken some of my shoes though, the ones I wore in middle school when I was one size smaller than I am now, haha.
And fortunately, Lilly at discount stores (that I go nuts for and by everything I find in my size) is slowing down- my credit card needs a break!