For some reason, pork chops (except for stuffed pork chops) kind of remind me of German food. Perhaps because once upon a time, I hated pork and I didn't really like German food? Also, German restaurants were once almost the only place I ever saw pork- but we're talking back in the '80s, when food and restaurants were rather different than the are now.
Fortunately, by now I've had good German food (a matter of both going to different restaurants and one restaurant just being better), and I learned how to cook my own pork chops so they're not dry and leathery. And I therefore like to eat a lot of each.
We were trying to use up the pork in our freezer, so I was looking for pork recipes. Martha Stewart has these great themed slideshows, and I found
the pork one
. So many delicious-looking pork recipes! Because we had apples that needed to be used up, the pork chops with apple chutney immediately caught my eye. And wonder of wonders, it was pretty quick and easy.
You'd think that while being a housewife, "quick and easy" isn't really necessary anymore, but I have other things to take up my time... I'll share more info soon ;)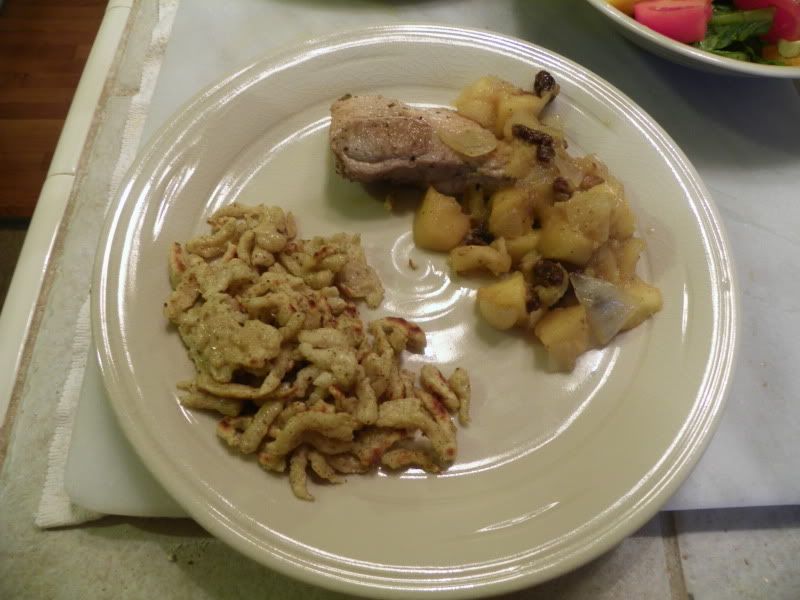 (most boring plating ever, right? I wish I'd at least put this on the blue plate)
Pork Chops with Apple Chutney
recipe from
Martha Stewart
For the pork chops:
2T olive oil
salt and pepper for seasoning
4 boneless center-cut pork chops (1 1/4 pounds), cut 3/4 inch thick
For the apple chutney:
1T olive oil
1 onion, coarsely diced
4 green apples, peeled, cored, and diced
1/2 cup cider vinegar
1/2 cup golden raisins
1t ground ginger
1/4t dry mustard
Pinch of cayenne pepper
Preheat the oven to 400F. Season the pork chops with salt and pepper on both sides. In a large oven-safe skillet, heat the oil over medium-high heat. Sear the pork, about 5min on each side. Then transfer to the oven and cook til the meat is 155F, about 5-8 minutes.
Meanwhile, make the chutney. In a small saucepan over medium heat, heat the oil and add the onion. Cook, stirring often, until it begins to turn translucent, about 5 min. Add the diced apple and cook for about 5 minutes, stirring often. Stir in the vinegar, raisin, ginger, mustard and cayenne pepper, and cook for another 4-5 minutes.
Plate the pork chops and pour the chutney on top. Delicious with spaetzle!
Spaetzle. Oh god, I love spaetzle. Like, lovvvvvve. I think mostly because they have nutmeg and are sauteed in butter. Seriously, where can you go wrong sauteing anything in butter?!
I'm not sure where this recipe came from, I've been using it for years.
Spaetzle
serves 2
1/2 cup flour (AP or whole wheat, whichever)
1/2t salt
1/2t nutmeg
2T milk
1 egg
1t butter
thyme or chives, optional
In a medium bowl, whisk together the flour, salt and nutmeg and make a well in the middle. In a separate small bowl, whisk together with a fork the milk and egg. Pour into the flour well and stir around with a fork, gradually incorporating everything. Let the dough rest for 15min.
Heat a large or medium saucepan of water to boil, then place the dough in a potato ricer or colander with large holes, and extrude the dough into the boiling water through whichever device you're using. Stir so the individual spaetzles don't clump up, and boil for about 4 minutes. Strain, rinse with cold water, and then heat the butter in a frying pan/skillet over medium-high heat and add the spaetzle. Saute for a few minutes, until it turns golden brown on the edges. Sprinkle in some herbs, if desired.
Honestly, you can't have pork chops without spaetzle. That's just plain silly.