If I can't celebrate with Lilly herself, what better way to pay tribute to her than to go window shopping?
November 10th was a terribly rainy and dreary day in MA. I had a few etsy orders I needed to work on, but honestly, I couldn't bear the thought of sitting in a chilly, grey (especially because the walls are light blue and silver) room and watch the rain out the window all afternoon. Instead, I took a little drive over to E.A.Davis in Wellesley (which, actually, wasn't the smartest thing- the roads were terrible!) and played dress-up. I hope I don't start annoying the salespeople. Usually I don't ask for help, but they're very well-trained there and help you no. matter. what. Believe me, I'd love to have bought something, but the two items I loved most were of course the most expensive (by far). And so I'll wait. But hey, this way I have a wonderful Christmas list!
Let's start at the beginning.
I tried a mix of Fall 2011 and Resort 2011. I had a mental list of Resort I wanted to try, but sadly most of those items were not in the store, or just not available in my size.
First, I tried on Rebecca. I didn't care for Rebecca on the model, but in person I noticed it has a nice , slightly full 3/4 sleeve. It also has a zip up neck in back, which is interesting- very nice if you've done your hair/makeup before putting on your sweater! Despite my expression, I like Rebecca more than I expected, although I wish she weren't quite so long. I most likely won't purchase Rebecca unless she's at a great price, mostly because of that length. Otherwise she fits true to size.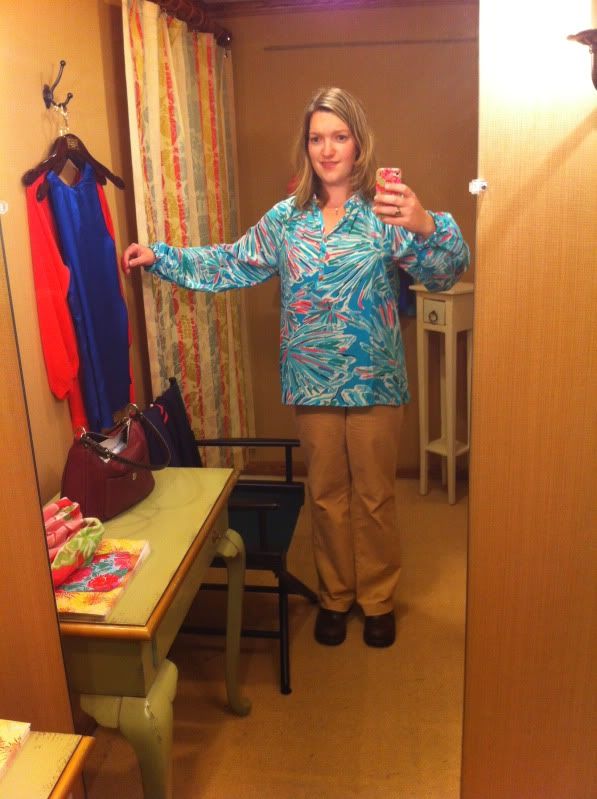 So when the helpful saleslady happened by, I asked for a M.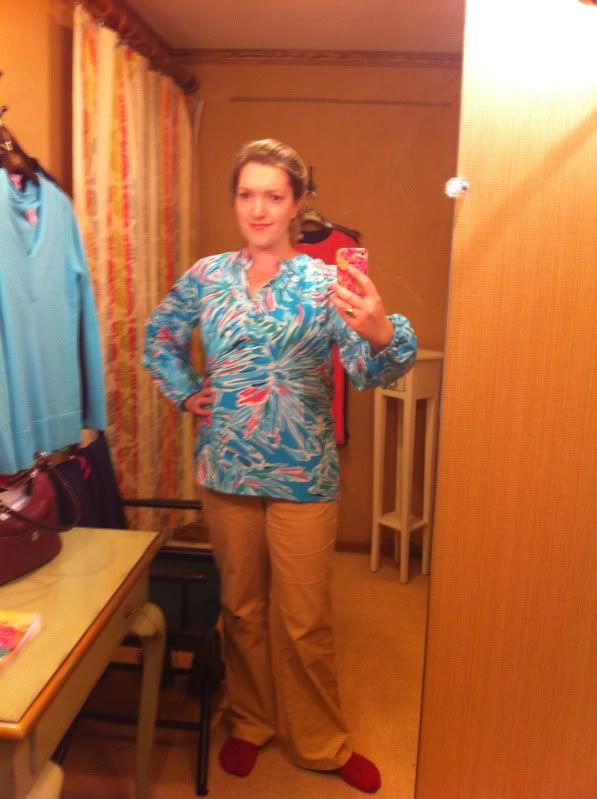 Ah, MUCH better. With this top, I've jumped on the Elsa bandwagon. It's a great flowy, loose yet still pretty and stylish top. I don't even need to go into the awesome print, do I? I'm perpetually on the hunt for a pretty top that's not super low cut. A few years ago it was nearly impossible, the only non-low-cut tops I could find were crew necks (blah!), but now it's getting much easier.
But I also tried on a solid Fall 2011 Elsa. In a L.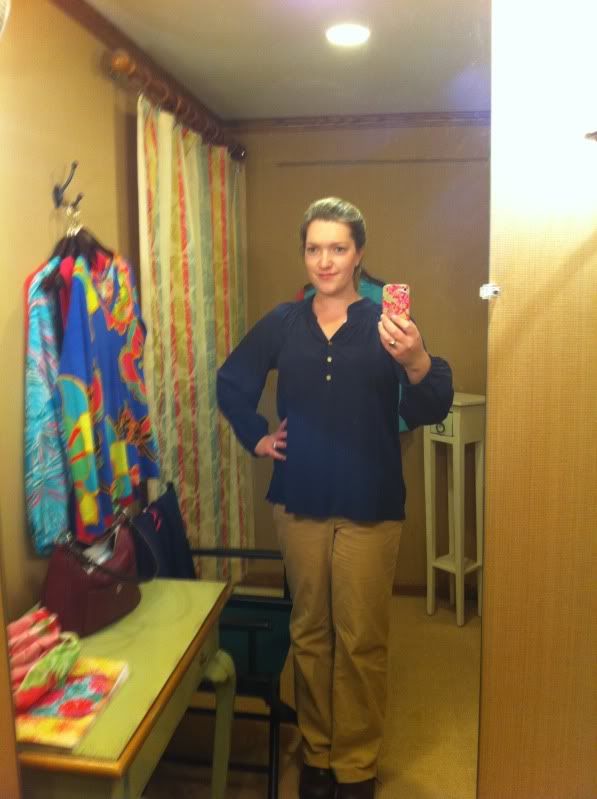 Fall L and Resort M fit me about the same... hmm. Beware, girls! I mean ok, Fall 2011 is a little roomy, but nowhere near Resort L. Solid navy would be more useful, but that print is fab... such choices!!
Elsa
, Resort in Snorkel Blue Greens with Envy, available in Navy Hot Hot Hot, Black Skip on it, and hotty pink Greens with Envy, for $158, Fall available in navy, black, white, hotty pink, lagoon green for $138.
Next, we have the Rivia Flounce top. I've seen this on other girls and decided I loved it, but ugh it runs big and I'm between sizes. Here I am in the L. But it's still adorable, and I just hope you aren't between sizes like I am!
Next, the Mandy V neck t. I mostly just grabbed it for the sake of trying it, not because I particularly loved it. But I was very pleased with the results, possibly because Starry Blue Drama Queen is an awesome print. However, it runs small- here I am in an L.
Here's another Resort pick. It's one I really don't love. Like the Cassie, the Ritchie has received rave reviews everywhere. It's cut like Cassie, but with long sleeves with buttons on the ends. And... fits me like a smock. Blah! It runs true to size though, here I am in an L. I will not be buying it: however, this is a great print.
Let's get back to things I liked.
The Shailene is like a Shauna with prettier sleeves. She fits true to size or slightly big (I'm wearing a 12 and she's roomy). This is Black Dodies Coral Embroidery, and while coral-red and black aren't really my colors, I love love love the style. Having that ruffle at the sleeve and the V neck with contrasting stitching are lovely touches. I really hope Shailene pops up again!