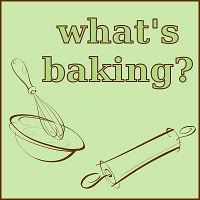 This month, Jey of
the Jey of Cooking
chose to have us all bake something savory. Originally I wanted to make some cheesey biscuits or crackers, or something with lots of herbs. But alas, I was only at home for about half of the month, so things got a little tricky. And on top of that, I am full-on in the Christmas rush for my etsy shop! Which is great, but it means I'm not cooking much... or at all.
But tonight! Tonight I decided to utilize all the leftover turkey my parents gave us. What to do, though? This year I got sick and didn't get to celebrate Thanksgiving with my entire family, and therefore missed Uncle Bob's chicken pie, which is the FAVORITE dish at Thanksgiving. Turkey? whatever. We go for the chicken pie. It's a huge tradition, and Uncle Bob's is amazing. So having missed that, I thought, I should try to make my own version! Huge success. This is my top recipe for leftover poultry.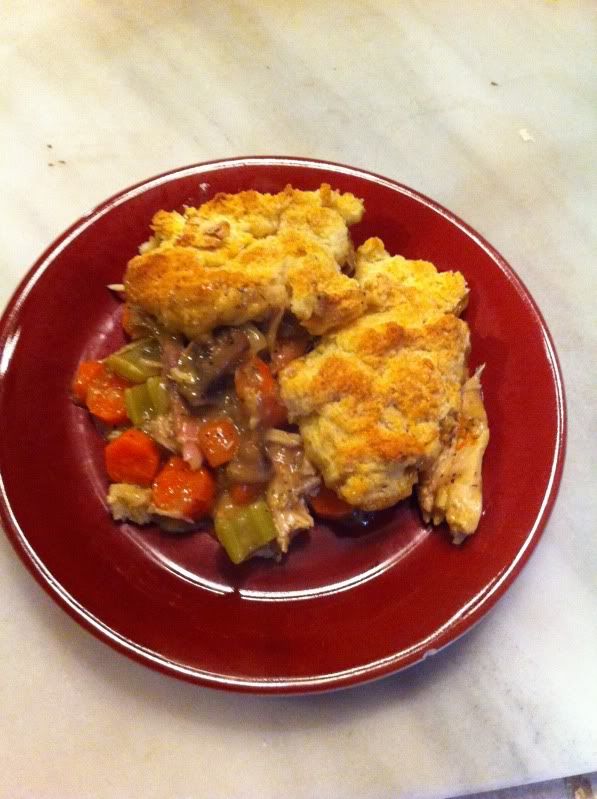 Chicken Biscuit Pie
adapted from
foodnetwork.com
Pie
2T unsalted butter
2-3 carrots, peeled and diced
2 stalks celery, diced
8 mushrooms, quartered
1/2t salt
2 medium onions, roughly chopped
herbs of your choice (I used 1T of a poultry seasoning blend from Stonewall Kitchens)
1/3 cup flour
4 cups chicken stock
leftover chicken or turkey (original recipe calls for 4 cups, I used about 2 and it was enough)
freshly ground pepper
In a 9in oven-safe skillet, melt the butter over medium-high heat and add the carrots, celery, mushrooms, onions and salt. Cook for about 4 minutes. Add the herbs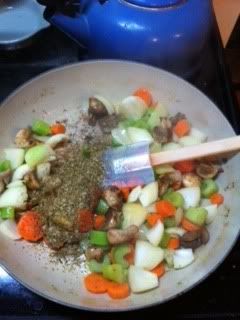 and then the flour, and cook for 1 minute, stirring frequently. Add the chicken stock, bring to a boil, then reduce heat to simmer for a few minutes, til thickened.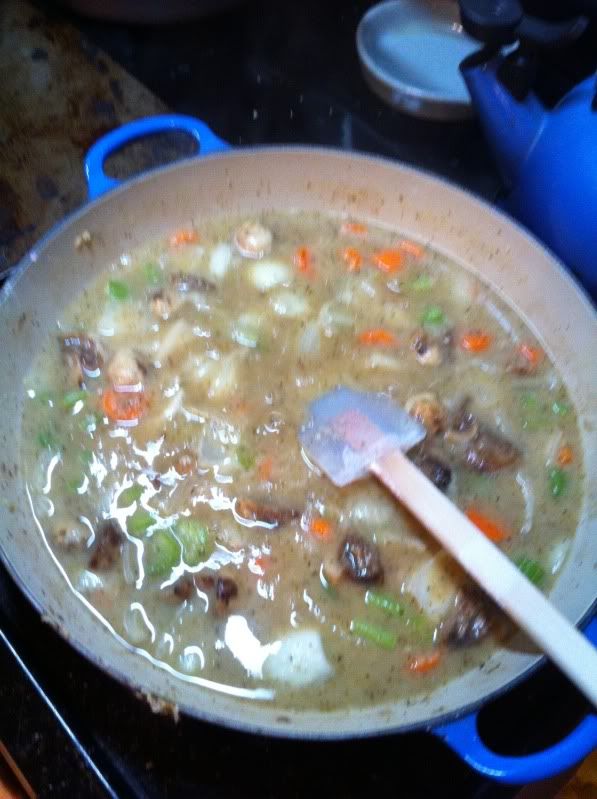 Add the turkey/chicken, bring to a boil, and remove from heat.
Now make the biscuits.
Biscuit topping
2 cups flour
1T baking powder
1/2t salt
1t sugar
6T butter (original recipe says 7)
3/4 cup milk
Whisk the dry ingredients together, then rub in the butter 2T at a time with your fingers. Stir in the milk, stirring until just barely combined. Place the biscuit dough on a floured board and knead for a few seconds, then roll out to a 10in circle, to fit over the chicken veggie mixture (or just break into single serving-sized pieces). Place the biscuits on top of the chicken/veggie mixture and bake at 425F for 40-50 minutes, until the biscuits are golden brown. Let cool for 5 minutes before serving.
This was delicious! It's pretty quick: baking it takes a little time, but it's quick and easy to put together. The biscuit top was light and fluffy but with a nice crust, and the chicken and gravy mixture was so flavorful with the herbs and pepper and veggies. I usually don't put mushrooms in chicken pot pie, but now I realize I really should!