Our first CSA starts in 3 weeks, and I'm pretty excited about it :-D  
Many people online have been discussing CSAs, and I saw a blog post (which I unfortunately can no longer find) on pointers if you're considering a CSA. I suppose for the average person, who cooks because they have to, not because they spend all their spare time looking for new and exciting recipes to try, this list would be useful. It had points such as "you're going to get a lot of veggies. Will you be able to eat them all, or give the
m away?" and "You need to pick up your share every week- if you're on vacation, you need to find someone to get your share for you." (and ok, the first one is a good point- I think I'll even be surprised at the volume we'll get. But I'm preparing for it)
The last note was a plus for me, yet it was presented as a negative point: "you will get vegetables you don't normally eat. Are you willing to try new foods and recipes?" Well, DUH, why else would you get a CSA? (aside from supporting a local farm, of course). I think this is the best part. We're going to get things I've never cooked before, maybe even things I've never eaten! Awesome!
While we twiddle our thumbs, collecting recipe ideas and just waiting, Clint gave me a practice round (probably by accident). He was in NH for work, and I a
sked him to stop at my favorite grocery store and pick up some (many) things. I included "some veggies, whatever's on sale, all we have are parsnips and leeks". So what did he bring home? Kale.
Kale?
When I asked what he wanted me to do with the kale, he shrugged and said I'd figure something out. It took me until the kale
needed
to be eaten to do something, but I did it!
for 2 servings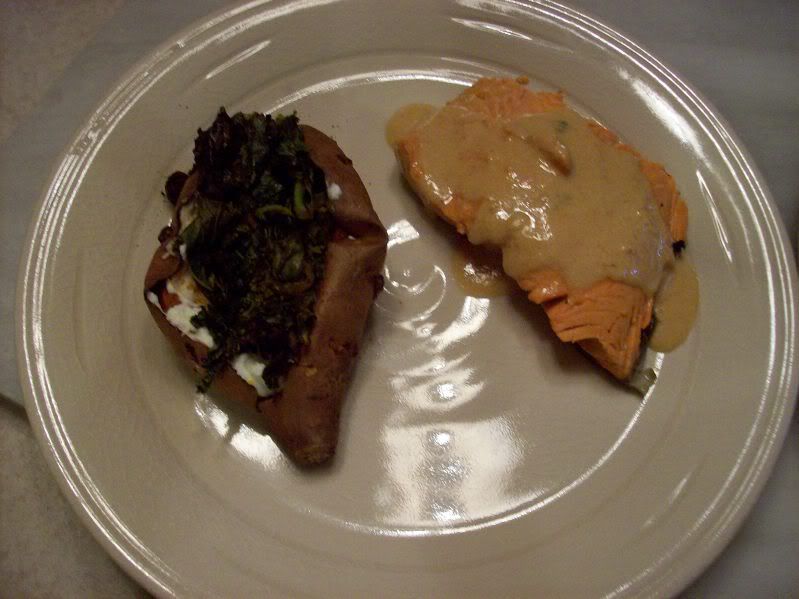 2 sweet potatoes
olive oil
2 cloves garlic, sliced thinly
1 bunch kale, washed, thick stems removed, and cut/ripped into bite-sized pieces
salt and pepper to taste
1T balsamic vinegar
ricotta cheese 
Wash potatoes and rub with olive oil. Poke holes with a fork all over, and place on a baking sheet in a 450F oven for 1 hr.
In a medium saucepan, heat 1T olive oil over medium-high heat. Add the garlic and cook for 1-2min, stirring constantly, to kind of fry the garlic. Reduce heat to medium/medium-low and add kale. Season with salt and pepper. Cook for 5 min, stirring occasionally, until kale is wilted. Add 1T balsamic vinegar. Set aside.
Once sweet potatoes are done, slice into them lengthwise, stuff with 2-3T ricotta cheese and kale.
A few notes:
1. these are delicious. I'd never thought to pair ricotta with baked sweet potato, but they're great together.
2. these are super easy- baking the sweet potato is time-consuming, but you really just pop it in and walk away.
3. they're healthy!
4. I'm really hoping for some kale from the CSA. :)