I know many people who hate buying gifts. So much, in fact, that they won't do it. They say they don't want a birthday gift, or exclusively buy gift cards and hand them out (my husband and I have lately been laughing over some particularly absurd Heloise's Helpful Hints columns in the paper, one of which is pertinent to my thought: 

the writer explained how buying gifts is so
hard
, and
she's just
far too busy
at Christmastime so what she does is she buys a bunch of gift cards and sticks them on the Christmas tree. At gift exchanging time, everyone approaches the tree and takes one envelope. If they don't like the gift card inside, they can trade. She concluded by exclaiming how well it worked, that everyone went away pleased with her gift.
Come
on,
how lazy can you be?! (plus, one of my big pet peeves: you know Christmas is coming. It comes every year on the same day, it's not like, oh surprise! It's Christmas! There's nothing stopping anyone from Christmas shopping in March- and please note: if you start shopping early, your huge Christmas shopping bills that come due in January aren't so huge. Take
that
, Heloise.)
In my mind, the perfect gift is something you buy for a dear friend because of something you have in common. "This is my absolute lip gloss, I just know Anneliese will love it, too", or "This serving bowl was the best purchase I made in 2004, Brian and Hannah must have it." Personally, I have a handful of friends, one in particular, for whom I shop as if I were buying things for myself. Therefore, buying gifts is rather fun, and causes far less guilt than buying unnecessary item for oneself.
One such gift was a book my friend K gave me for my birthday last year. It is
A Homemade Life
, by Molly Wizenberg, the author of
Orangette
. In K's birthday card, she explains that Orangette is one of her favorite blogs, she's not sure if I read it too, but she thought I'd enjoy the book. It's taken me a long time to read it (I blame it on moving), but K was completely right. It's a great book: 1. it has great recipes (ones that are simple and inspired, and either go right along with what I like to eat, or make me want to branch out and do things, like make interesting salads) and 2. Molly's stories backing up the recipes are what I'd like my blog to be.
The only issue with that is I'm not a best selling author, nor will I ever be- I am far too lazy to edit any of my posts, and not dedicated to this blog nearly enough. But that's ok, because for me, this is just a blog. And sometimes, it's just a place for me to gather my favorite recipes so that I can find them easily in time to start dinner.
When K first sent me that book, I went and checked out Orangette (and to my surprise, I found that even though I hadn't ever read it (I really have no clue how I missed out on Orangette), I had used one of her recipes, her peppermint bark someone posted on Ravelry, insisting that we all try it, because it was the best. (yes, it is the best, I make that bark every Christmas now, sometimes I have to make multiple batches). Unfortunately, when I first went to Orangette, she was in the process of opening a restaurant, so wasn't posting much. Now she seems to be back, for the most part- aside from touring around, doing book readings.
Anyway, my point: last night I made a recipe from her book. I read the chapter that included this recipe in the morning, and decided we needed to have it for dinner. Mostly because it calls for 2cups of apple cider, and in a rare springtime coincidence (in the fall we always have cider on hand), I had about 2/3 of a half gallon of Big Y brand (i.e. mediocre, not worth drinking but fine or cooking- yes, we're cider snobs) apple cider in my fridge.
Saumon gelee, a la Louis XIV (or cider glazed salmon- Molly explains in her book the fancy French name)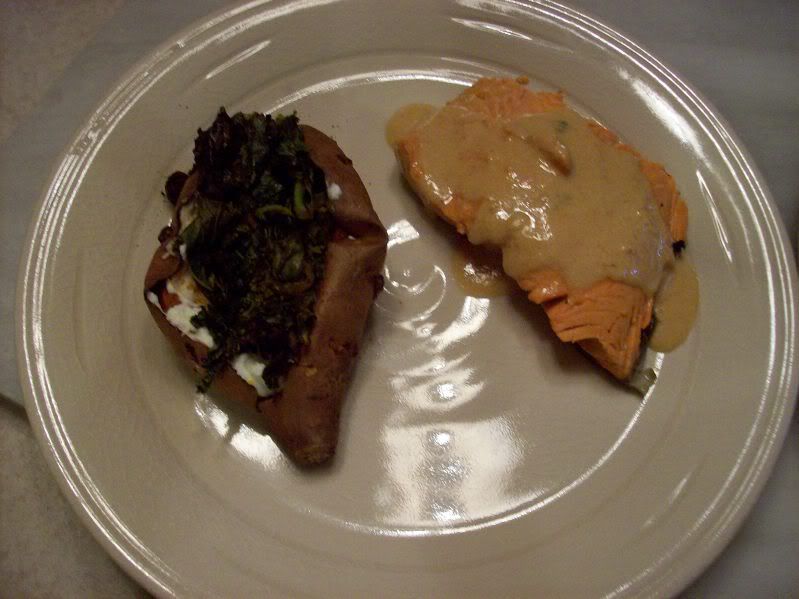 3 cups apple cider (Molly said 2, I needed 3)
1 medium shallot, papery skin peeled off an quartered, lengthwise
1T butter
4 6oz salmon fillets
1/2cup fat free 1/2&1/2 (Molly said cream, Molly obviously doesn't need to worry about fitting into her jeans like I do)
Combine the butter, cider and shallot in a large skillet/wide pot (I used my 7 3/4 qt oval Le Creuset- it's new, I like to use it as much as I can) and bring to a boil over medium heat. Simmer 5 minutes, then discard the shallot.
Place the salmon fillets, skin side down, in the cider, and spoon the simmering cider over the salmon periodically, to cook the top part. Simmer over medium-low heat until the salmon is almost (but not completely- they'll cook after you remove them) cooked through. The salmon should take about 10 minutes per inch thickness to cook, I cooked our approx. 1.5in thick salmon about 20 minutes.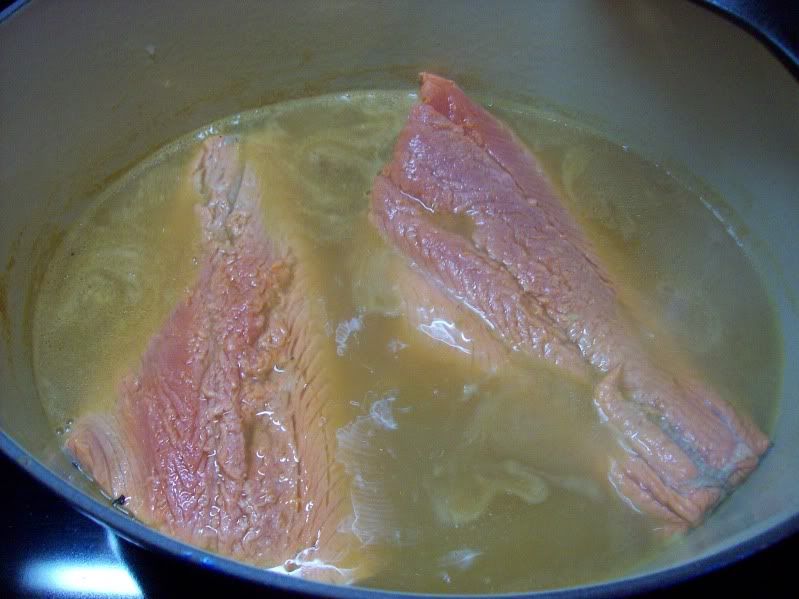 Once the salmon is done enough, remove from the cider and place on a platter and cover with foil. Turn up the heat slightly to reduce the cider. Once it's about 2/3 reduced, add 1/2 cup 1/2&1/2 (or cream) and cook until it's the color of caramel.
To serve, spoon the cider/cream glaze over each salmon fillet.
Results: this is absolutely delicious. I ended up buying wild sockeye salmon (it was on sale for cheaper than farmed regular salmon at Shaw's), which is much deeper in color than regular salmon. The salmon itself is tender and flavorful (but doesn't taste like salmon soaked in cider, it just tastes like really good salmon), and the sauce is sweet and appley. If you like cider, you'll like the dish. (plus, it's so easy)
I served it with kale and ricotta stuffed baked sweet potatoes that I'll tell you about tomorrow. We had a lovely dinner in the screen porch, to celebrate both our great new recipes, and the warm weather.