We're now approaching week 3 of our CSA from the
Many Hands Organic Farm in Barre, MA
, and I haven't said a word about it.
So here we go, weeks 1 and 2.
Week 1 was exciting. We woke up (my 30 year old self is a little achier and tired in the morning, or maybe that's from eating the drunken fruit from the sangria), and Clint said, guess what today is!! I thought. I pondered. I said,...Wedne
sday? Duh, it's CSA day. Clint also researched ways to get there. There are 2 obvious/easy ways to go from our house, the annoying road and the pretty, woodsy, windy road. We chose the pretty road. We took an even windier road on the way back, Res
ervoir Rd, which, as you can guess, goes by a reservoir. So the drive itself was very pleasant. We pick up our share at an Episcopal church in Holden, about 15 min away from our house. Someone from MHOF comes with the bags and lines them all up in the function room of the church, and we all go and pick ours up within a certain time range. It's convenient.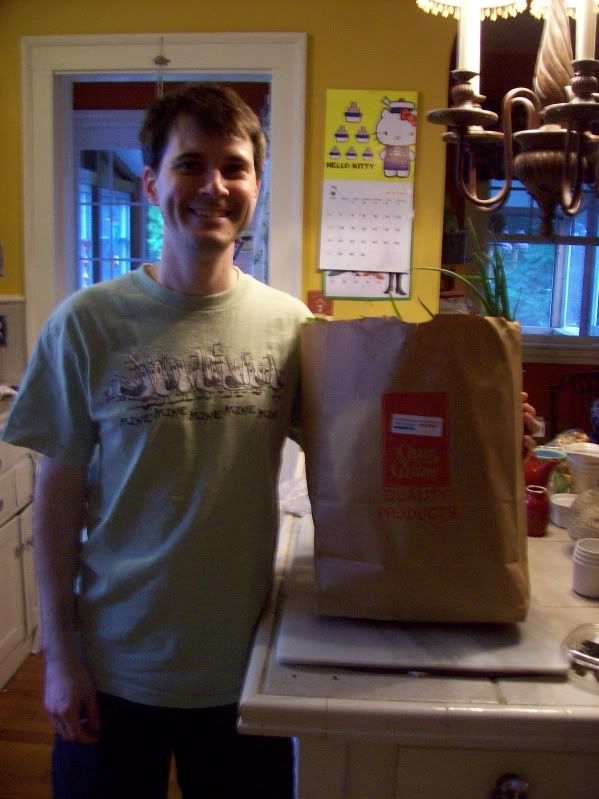 Week 1 brought us:
A beautiful bok choy/chinese cabbage
mint
oregano
kale
scallions/green onions galore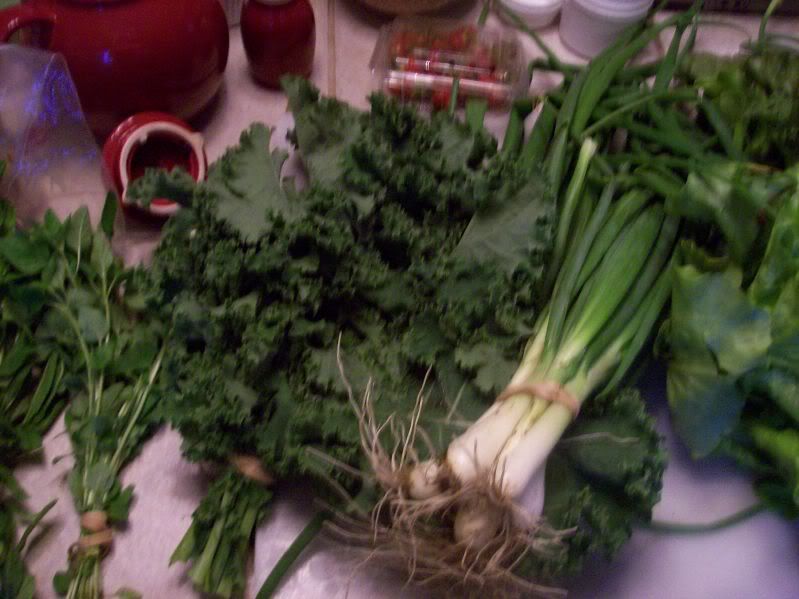 5 heads of lettuce
itty bitty little white and red beets!
garlic scapes (hidden by the beet greens, sadly)
a large bag of baby spinach and mixed greens
and little tiny strawberries!
So... now what do we do?
First I used my garlic scapes. The CSA weekly e-newsletter includes a recommended recipe, and fortunately for me, the first week it was a recipe using the one ingredient I'd never heard of- the garlic scapes (which are... the stem of the garlic? We may have garlic scapes at grandma's house, there's some odd, garlic-scented thing growing by the door- we just have no idea where they came from).
White Bean and Garlic Scapes Dip From NYTIMES.com
1/3 cup sliced garlic scapes (3 to 4)
1 tablespoon freshly squeezed lemon juice, more to taste
1/2 teaspoon coarse sea salt, more to taste
Ground black pepper to taste
1 can (15 ounces) cannellini beans, rinsed and drained
1/4 cup extra virgin olive oil, more for drizzling.
1. In a food processor, process garlic scapes with lemon juice, salt and pepper until finely chopped. Add cannellini beans and process to a rough purée.
2. With motor running, slowly drizzle olive oil through feed tube and process until fairly smooth. Pulse in 2 or 3 tablespoons water, or more, until mixture is the consistency of a dip. Add more salt, pepper and/or lemon juice, if desired.
I used significantly less oil, and about 3T lemon juice total. The bean dip was thicker than hummus, and very, very tasty on carrots, cucumber spears, and crackers. Success!
Then we tried to use the kale. It was unfortunate.
I made these delicious
bacon-wrapped pork medallions with cherry sauce
that had been on my "recipes to make asap" list for quite some time. I served it with some leftover baguette and used the rest of the bacon (I made extra when I baked the bacon for the pork medallions) in the kale, which was first boiled in water, then added to a frying pan of onions and bacon sauteeing in the bacon fat, with some salt and pepper. The kale was overboiled and an unfortunate pukey green color. I won't pre-boil kale again (at least, not for 10 minutes).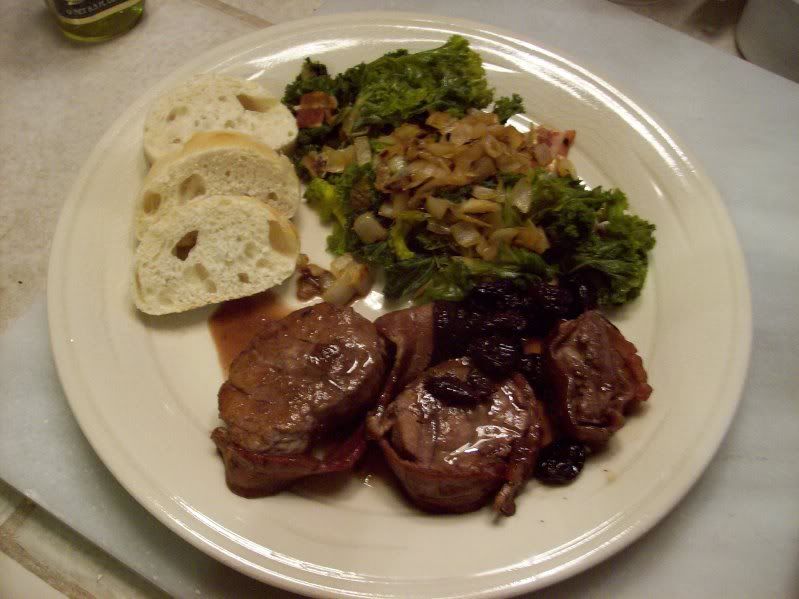 The third CSA ingredient attempt was far better. We had salad.
I would love to tell you that more than just the lettuce in this salad was a CSA acquisition, I'd love to say the delicious salad dressing I made (I made!! Making salad dressings is very new for me) was from CSA herbs, but it was from the basil plant on my kitchen windowsill, which is still pretty cool.
Yes, I can apparently now grow basil.
I can also apparently make salad dressing.
1/2 cup basil
1 garlic clove (or a garlic scape!)
3T cider vinegar
1t dijon mustard
Combine all in a food processor and whizz. Turn it on, and drizzle in some olive oil- I don't like a lot of oil, so I used maybe 1.5-2T.
Fourth (and fifth) and finally, I took advantage of
MHOF's recipe page
, and found a delicious bok choy and scallion fried rice recipe, and a really interesting sauteed radish recipe.
Before I can tell you about this recipe, I need to introduce you to Week 2.
more scallions!
more lettuce!
snow and snap peas (good in the garlic scape bean dip)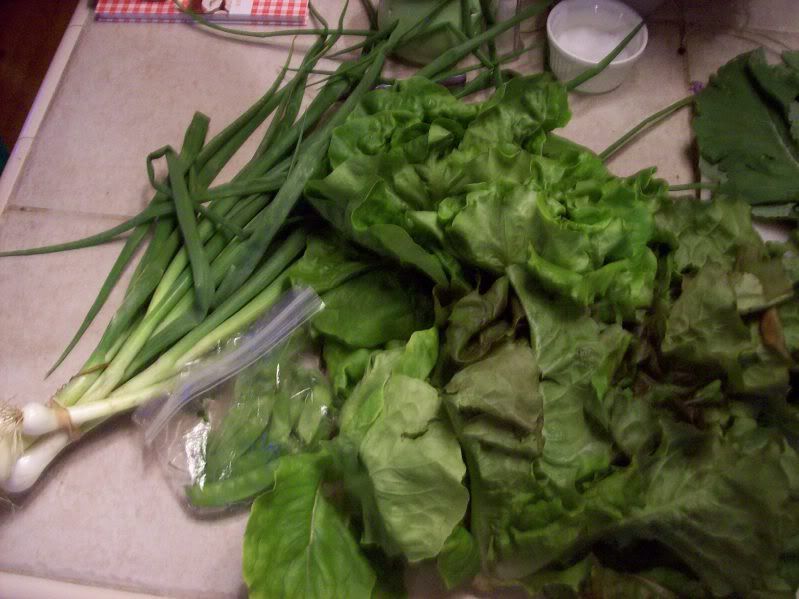 massive amounts of dill
collards
swiss chard
cilantro
radishes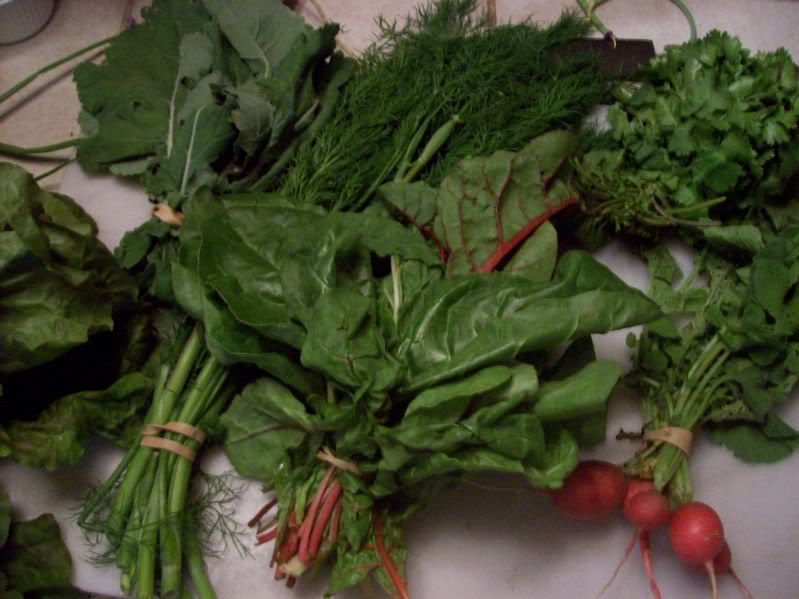 So I immediately set out to make dinner, using as many CSA ingredients as possible. Some of the week 1 stash was still in the fridge: bok choy, scallions, and one last garlic scape.
I made a
bok choy and chicken stir fry with scallion fried rice
.
(due to the length of this entry, just go there for the recipe. My changes: I used walnut instead of peanut oil (had walnut, no peanut), after removing the rice from the wok, I added 2 chicken breasts, cut into bite-sized pieces, cooked that for a few minutes before adding the ginger, miso paste, garlic and dried jalapenos (instead of canned chili peppers), and used 2 4oz cans of mushrooms instead of fresh- we bought flat of canned mushrooms at BJ's a while ago.)
rice alone- it's very orange, and my rice was still a bit wet (why does brown basmati take so long to cook?!), so it was rather sticky. Still tasty.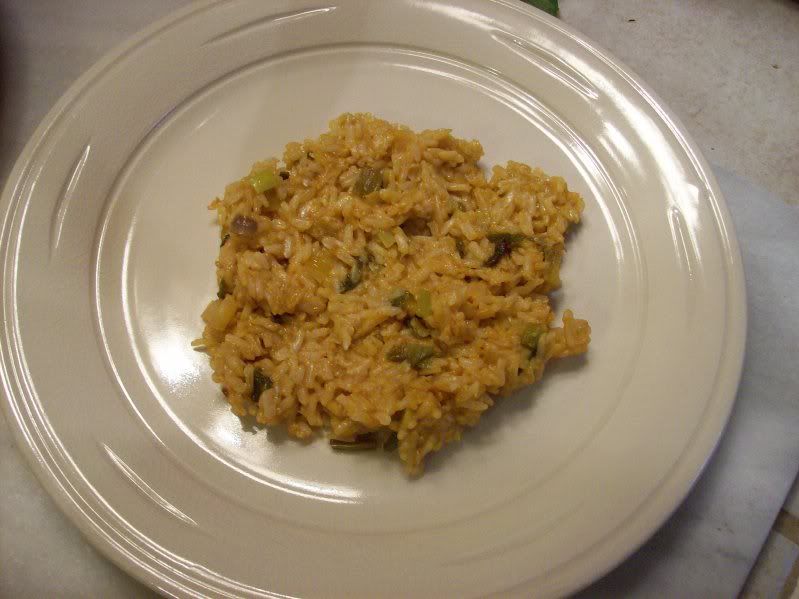 The whole stir fry/fried rice dish. Yum!
I have to admit, I've never been a radish fan. I've only ever seen them sliced up on potato salad, or on a garden salad, and they seem like little discs of crunch, not flavor. When we got these in the CSA, I was a little confused, but since one of the main benefits of a CSA is to end up with new veggies and be completely obligated to eat them...
This was super easy.
1 bunch of radishes- chop the greens (they're a bit prickly, surprise), quarter the bulbs
chives (from my garden!)
1 garlic scape (instead of the recipe's green garlic- because what exactly is that? I need to grow garlic and figure out these garlic details)
1T butter
salt and pepper, as desired
Heat the butter in a frying pan. Add the quartered radishes, cook for a couple minutes. Add in the greens and herbs, cook for about 5 more minutes. Season with salt and pepper. Voila!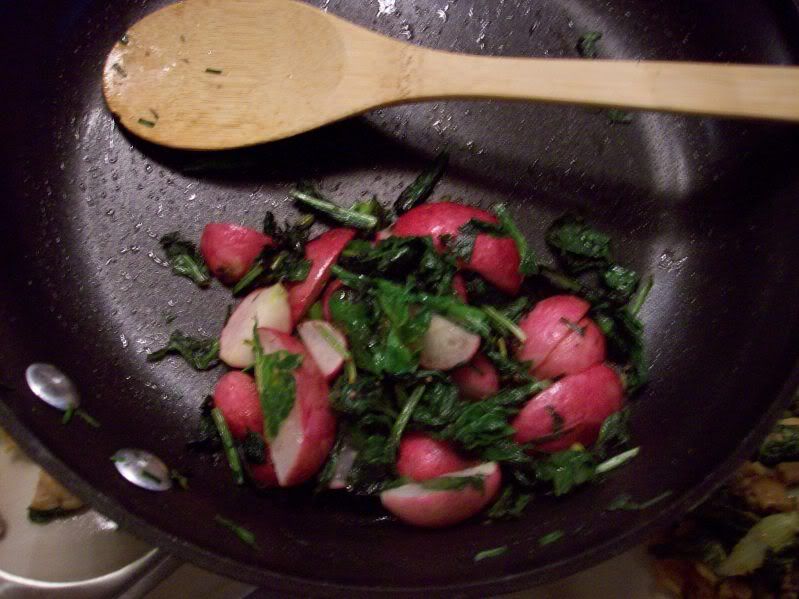 The radishes get kind of soft, kind of like a cooked onion, and are a little bitter, but at the same time, a little sweet. I think I'd like to try sauteing radishes with caramelized onions some time- we may get more radishes this week.
(I should note: the night of the bok choy stir fry and sauteed radishes, I magically made my 4 cup pyrex measuring cup explode simply by touching the handle, spilling glass shards all over the cabinet and floor (I'm so talented), and seriously bumped and cut my head on the stove top hood. It was pretty awesome.)
What's up next for Week 3? The weekly e-newsletter predicts more lettuce, more garlic scapes (YAY because that's my new favorite- more pictures to follow), peas, more herbs, and (gasp!) the first batch of raspberries!! Stay tuned to see what I do with it all! (raspberry, garlic scape and pea risotto, anyone? kidding)
oh ps- remember the tiny Week 1 strawberries? We ended up eating some, then I wanted to take half to share with my family, mostly so they could see the adorably tinyness. And they got a little ick. They're currently buried in our backyard, maybe they'll grow. We're not holding our breath, but it's better than chucking them down the garbage disposal (our compost attempts haven't been so great, we've mostly given up.)