I recently turned 30. To celebrate/mourn the occasion, I threw a standard Catherine-style posh cocktail party, with a few modifications over the standard hors d'ouerves and finger foods menu.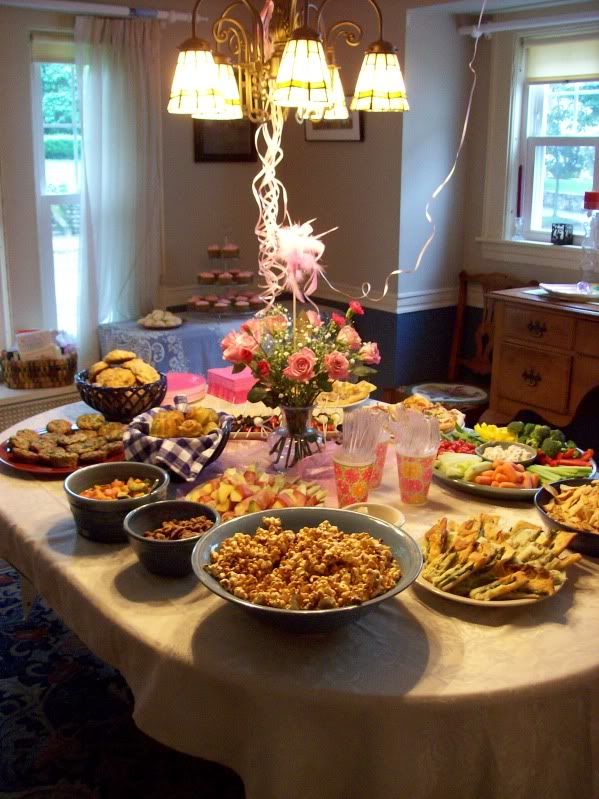 For one, I converted the pitcher of cosmos concept from a beverage into a cupcake. I also served meat, now that I'm no longer afraid of cooking it. And finally, I came close to providing an appropriate amount of food for the number of guests (the only thing we had unreasonable amounts of leftovers of were the fruit tartlets and old bay biscuits).
Pictured above, clockwise from the veggie platter:
Stacey's naked pita chips
Hummus
Maple kettle corn (I'm not pleased with the recipe- I'm not sure if I should give it to you until I've perfected it)
Fennel and melon wrapped in prosciutto (Giada's idea)
Spinach quiches (also blocked by the flowers)
Here are the avocado muffins, quiches and old bay biscuits
the onion tart, tomato tart, skewers, and the veggies again,
The dessert table was in the corner
My famous coconut macaroons (ok, Martha's, but I probably make them more)
And that was just in the dining room!
In the living room were the cheeses.
I bought (from BJ's):
 lemon stilton, Cabot extra sharp cheddar, smoked gouda, iberico (like manchego, delicious) and from Big Y, a small wheel of camembert.
The bar was in the kitchen.
The best part of the bar was using all the beautiful Simon Pearce pitchers I've bought my husband over the years. He has a real thing for pitchers, but he never used them, and I usually only put flowers in them.