When you were growing up, did your parents have a small numbers of recipes they rotated through? Mine did. I despised some of them (minute steaks, stuffed peppers), loved some (beef stroganoff) and was iffy about others- such as mom's orange cod.
My parents love their microwave. My microwave is used onl
y for softening or melting butter. My husband likes to heat things in it, but I could happily live 
without. Needless to say, when my parents cooked scrod in the microwave with some oranges and lemons, I had to restrain myself from stopping them. It's a 
decent dish, just... not approached the right way. In my mind, at least.
I know the microwave is easy, and I don't want to snub anything convenient, I simply try to find a better way.
And when I found Orangette's cider-glazed salmon, I knew she was on to something. So I used her recipe to remake my mom's. And... I developed my very own. Woohoo!
Tilapia with orange cream sauce
for 2
3/4 cup orange juice concentrate
3 1/4 cup water (or just use 3 cups orange juice- I never have OJ on hand, so I like to use Sandra Lee's OJ concentrate trick)
2 sprigs of fresh thyme, just the thyme leaves
1t dried tarragon
1 fennel bulb, cut into bite-sized pieces
a pinch or 2 of orange zest
4 small tilapia fillets
1/2 cup fat free 1/2&1/2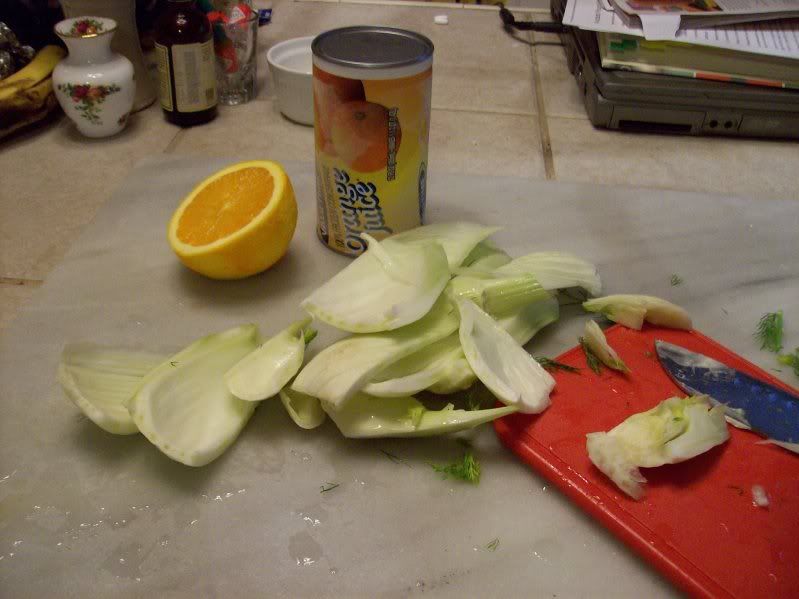 Bring juice/water and herbs and zest to a boil over medium heat in a large skillet/pot.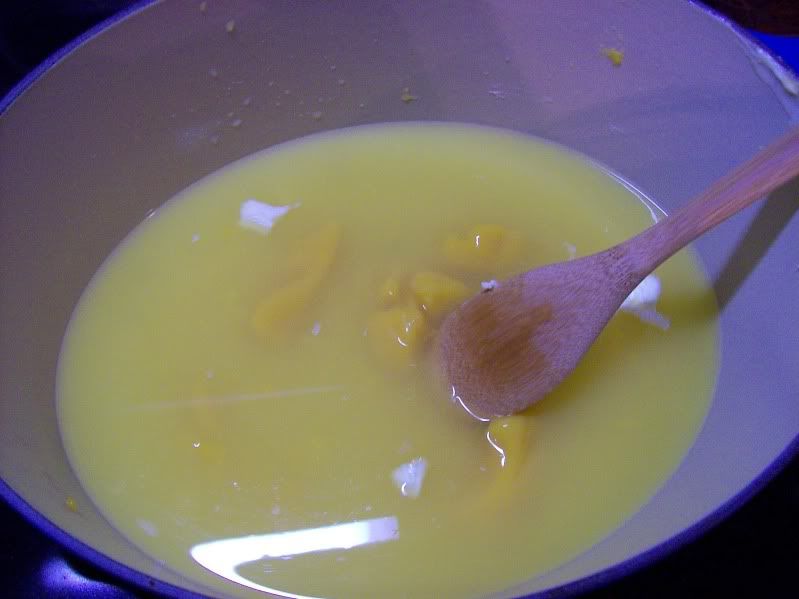 Add fennel, cook for 12-15 minutes. Place tilapia fillets in and cook til done, about 5-7 minutes, spooning liquid over them often. When fish is about cooked through, remove fish and tilapia and keep warm on a foil-covered platter.
Continue cooking orange juice until reduced by about half, then stir in 1/2&1/2 and season with salt and pepper as desired. Cook til thickened, like so.
Serve: place fennel and fish on a plate, cover/drizzle with orange sauce. Very tasty with orange jasmine rice.
Note: I've also done this with cod, i.e. 2 large cod fillets. The cod took longer to cook (it was much thicker than the tilapia). one thing: the fennel wants to cook about 20 min total. If you use a longer-cooking fish like thick cod, cook the fennel for less time before you add the fish, since the fish-cooking time will be longer. You can also just pull the fennel out before the fish is done if you're miscalculated. You'll figure it out.
Orange Jasmine Rice
1/2 cup jasmine rice
1/2 cup orange juice (2T concentrate plus 6T water, or fresh squeezed)
zest of 1/2 orange
1/2 cup water
dash of white wine
salt and pepper, as desired
1t tarragon
Bring water, OJ and wine to a boil in a small pot over medium heat, stir in rice and herbs. Cook over low heat, covered, for about 15-20 min, until rice is soft, making sure the pot doesn't go dry (add a little more water if it does). Turn off heat and keep covered for another 10 min, then serve.
I made this rice because Clint usually makes rice. He cooks it well, but his recipe is: rice and water. And it's boring. If I'm going to eat something not solely for its health benefit, I need it to taste good. This tasted good.