You know, kind of like pin the tail on the donkey.
You want to cook something. You're just itching to create something to snack on. So you take the first recipe you can find.
Do you do this? I do this. Sometimes it works. Sometimes.... well, one batch of anything usually doesn't make
all
that much.
But sometimes.... it's fantastic.
Random Recipe #1
The other day, in the morning, when I'd planned to go home for lunch (and because we were having some scheduling issues at work, which prevented me from being to actually
do
any work until well after lunch), I randomly happened across a recommendation of
this recipe
. A recipe for sweet, spiced nuts. Spiced nuts? Yum. And we'd just read an article in Cooking Light the day before about healthy fats, something my household pays attention to, due to half its residents having high cholesterol issues. So tasty nuts seemed like a great snack food to have on hand.
So I went home for lunch. Lunch was leftover chicken veggie soup with freshly-made dumplings. I made the spicy nut recipe while waiting for the dumplings to cook (about 15 min).
Toast 2 cups of nuts. Whatever nuts you like. I used almonds, hazelnuts and pecans, because that's what I had on hand. Toast them in a large skillet (so they're pretty much in one layer, not in a pile) for 2-3 min over medium-high heat. Then set them aside.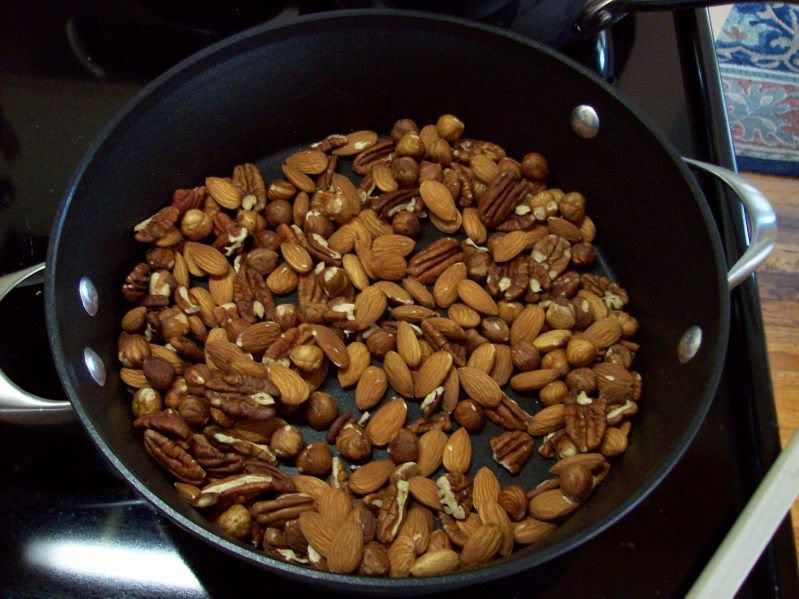 Combine 1/4cup brown sugar, 1/4t cumin, 1/4t chipotle powder, 1/2t cinnamon, and 1/2t salt in a small bowl. Dump that in the skillet, along with 1T butter and 1T water. Melt the butter, combine all, and cook for 2 min, until a syrup forms and starts to bubble.
Then pour in the toasted nuts, stir to coat,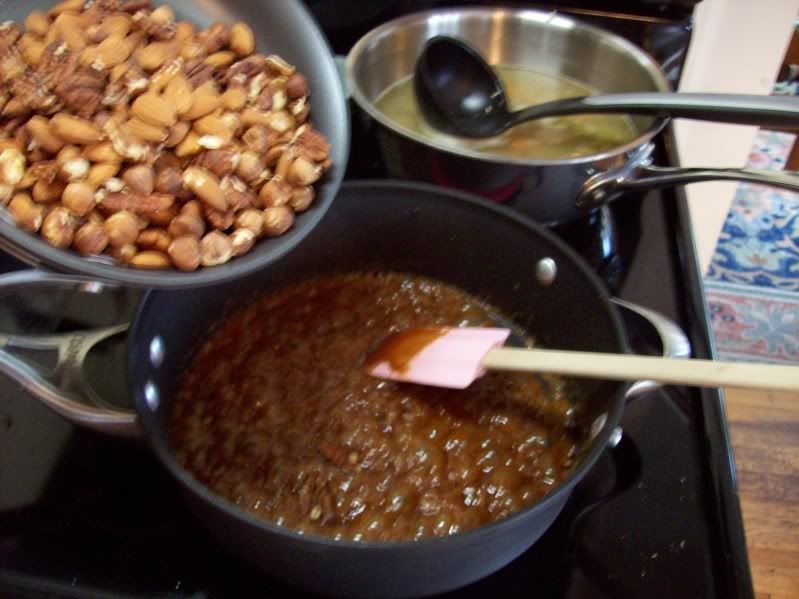 and keep stirring occasionally for 2 min.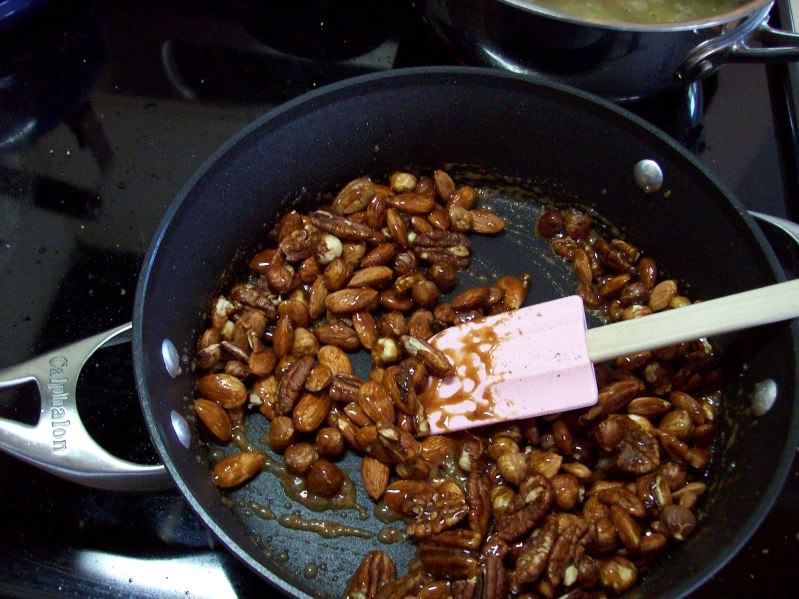 Then spread out the nuts on a parchment, foil or waxed paper-lined baking sheet to cool for at least 10 min. Then break up any clumps, and store in a sealed container.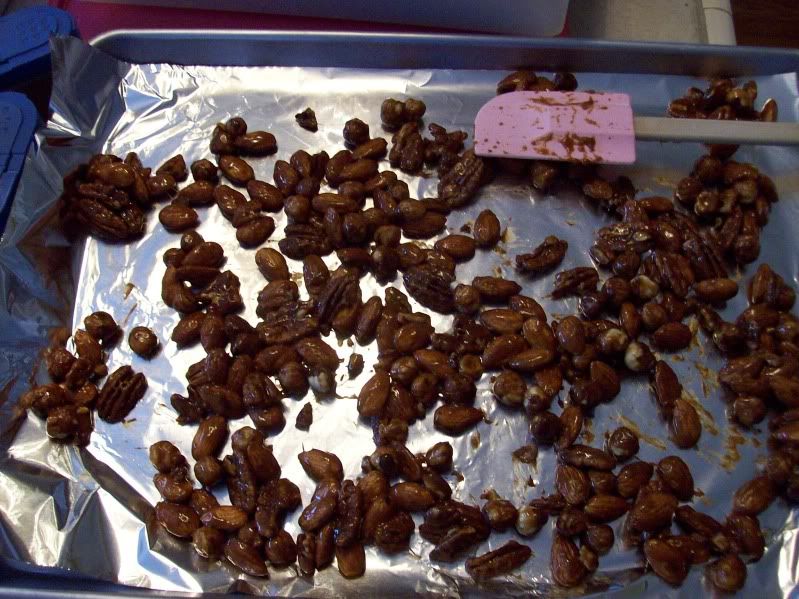 That's it. And they're quite delicious.
The other "I feel like cooking, here's the first recipe I find" recipe was the April 2010 Martha Stewart Living's "Best" Chocolate chip cookie.
Best? huh. It's described as a cookie that can satisfy both the crunchy and chewy cookie parties. And as my husband said after eating 3, if this recipe isn't the best, I'd like to see what is.
I modified the recipe slightly, and we still think it's great. I haven't made the original completely following the recipe, so I think you're safe with either that or my modified version.
Cream 2.5 sticks of butter with 1.25 cup brown sugar and 3/4 cup sugar. Beat in 2 eggs (one at a time) and 1t vanilla.
Sift together 1.5 cup all purpose flour, 3/4 cup whole wheat flour (
my change, original was 2.25cups all purpose flour
), 1t baking powder, 1t baking soda and 1t salt.
Stir the flour mixture into the butter/sugar/egg mixture, beating just til combined. Stir in 2cups chocolate chips (
original recipe says 1.5cups chocolate chips, that's just not enough!)
.
Drop 1-3T of dough on a cookie sheet, bake for about 15 min at 350F. (
The original said 3T of dough; that's a huge cookie. I did some batches of 1T, some of 2T.
)
Important note: don't overbake these. Take them out of the oven when they don't
quite
look done (maybe 2min short of being done), then leave them on the baking sheet for a few minutes, or else take them out just as they look done, and transfer them to a wire rack immediately to cool. They will get crunchy the next day if you don't (as I did with the smaller ones).