This weekend, I was visiting my parents, and my mom and I visited the
Penzey's spice store
in town. It's been there maybe 3 years, and my mom was elated when she heard it was coming. I, on the other hand, was very snobbish about it, and insisted that, while they might have nice blends, their prices and selection could never even come
close
to the spices I could get at my wonderful grocery store's bulk section. I went in a few times, and I admitted they had a really nice store- attactive, good layout, easy to find everything (and it's all organized by spice type, which is nice- curries there, sweeter spices here, herbs in the back, peppers in the corner), but I refused to buy anything.
So on Saturday, we ran our 3 important errands, and then mom suggested we go to the spice store- mostly because she had a coupon for a free 1/2oz (or so) jar of
Cajun Seasoning
. We had time, so we went in the store, and examined
every single spice
. If you're a foodie (or even if you just love to smell delicious things), you need to do this. I finally shed my spice-snob attitude and had a splendid time.
In the store (which, like I said, is conveniently organized), each spice has its own little cubby/shelf. On the shelves are generally 2 sizes of jars, 1-3 sizes of ziploc plastic pouches, and a large, wide mouth jar of the spice, meant to be opened and sniffed,
with a description of the spice
on the label: where it's from, what cuisine uses it, what it tastes like. I think this is part of what sold me on this store- to have everything so organized, and
clearly explained
is golden.
Oh, and they sell their spices in bulk ziploc bags. Ah.
In case you never really thought about it, when you buy spices at the run-of-the-mill chain grocery store, they're expensive, right? Something like $6 for a little jar of allspice. What are you really paying for here? Is allspice that expensive? No. The glass jar is that expensive. You're probably paying $1 for the contents of the jar. And then what do you do with an empty spice jar? Why, you throw it out. The replacement jar of spice already has its own jar.
This is why I'm such a spice snob, I refuse to pay for little glass jars all the time.
So anyway, Penzey's case in point: At my NH grocery store, I can buy 1lb (yes, that's 16oz) of cinnamon for $5.99 (ok, that's the special price, but the normal price is $10.99). The second-last time I went in Penzey's, I looked at the jar of
cinnamon
that my mom said she needed, and it was $4.39 for a 2.2oz jar- that's $32 per lb. (I simply gave her some of my pound of cinnamon). This weekend, when I gave the store a chance and took the time to figure it all out, I saw that 1lb of cinnamon was $13.60. Ok, that's more than I paid, but it's not a ridiculous price.
Cardamom
, for example, was about $44/lb, I used to pay $35/lb. This is ok. And Penzey's is closer than my old grocery store now. So now my opinion is, "this store's acceptable."
And as we continued on our way to all the spice cubbies, looking at every single spice in the entire store, I saw things I'd never heard of.
Galangal
(related to ginger, a flowery and more intense flavor than ginger),
charnushka
(tiny black seeds often found in Jewish rye bread),
aleppe peppers
(a Turkish chili pepper, similar to ancho chilis),
annato seeds
(common ingredient of latin american food, generally sauteed in oil, and the oil is used in the food). It's been a long time since I encountered spices/flavorings I'd never even
heard
of.
So then started the frenzy. I bought peppers, spices, spice blends, dried herbs, and collected recipes from all the "take one" recipe posters. I spent $42 on 12 different packets (I bought everything in bulk), then took the catologue, read it over lunch, and had to go back for more.
With my bounty, I plan to make galangal cookies (the ginger-like spice), and pork vindaloo (with a vindaloo blend- hopefully it's not too hot, I generally can't eat more than a bite of vindaloo). I'm going to figure out what all the other things I bought are, and how in the world to use them.
Oh, and did I mention they carry 4 different types of
cinnamon
, as well as their blend of the different kinds? And (news to me), the type of cinnamon you can generally buy in US grocery stores is a lower grade of kortinje Indonesian cinnamon. Mom thinks we should buy all 4 types and have a cinnamon-tasting.
1. Go to Penzey's
2. Buy all your spices in bulk.
Of course, after purchasing all these spices, I had to get right to work using them.
I made pork vindaloo.
I started out adapting a recipe in the current Penzey's catologue, until Clint pointed out that it's just some woman from Virginia making up a dinner recipe to use the vindaloo spices, and is definitely not a proper vindaloo.
So I made up my own improper vindaloo.
In a pan, heat some oil (about 1T), and add 1 chopped onion and 3 cloves of minced garlic. Saute over medium-high heat for about 4 min. Meanwhile, make a paste of 2-3T Penzey's vindaloo spices (I used 2 level tablespoons, which was spicy but not overpowering, definitely no where near authentic vindaloo), 1t salt and 1/4 cup of apple cider vinegar. Add the paste to the onions, stir to coat, and saute for another 2 min. Then add about 1lb of pork tenderloin, chopped into bite-sized chunks. Sear over medium-high heat for 2 min, then add in 2 potatoes (peeled and chopped into bite-sized chunks), cook for about 5 min. Finally, add 1/3 cup of yogurt and 1/3cup of milk (the Penzey's recipe called for coconut milk, but since coconut milk is very high in saturated fat, and I don't want to kill high cholestoric husband, I used low fat dairy instead- also, Indian curries generally don't use coconut milk, so I have no idea what the VA woman was thinking- although I'm sure it's tasty), stir, and cook for about 30 minutes, until the potatoes are soft and the pork is cooked through.
I had some issues- I stepped away from the stove for a few minutes, and the liquid all cooked down and burned. So I quickly dumped the contents of the tea kettle in the vindaloo, which made kind of a stew. In the next 20 minutes, all the water cooked off, leaving a thick sauce coating the vindaloo. I'd like to tweak this, but our end result was still very good.
The last step of the vindaloo is to add 1lb of washed fresh spinach, let it wilt down (you may have to do this in 2-3 batches, depending on the size of your pot) and stir to coat with the vindaloo sauce.
Our accompaniments were basmati rice:
Soak 1.5cups of basmati rice in enough water to cover for 20-30 min. Heat 1T oil (or ghee) in a pan, add 1 2in cinnamon stick, 2 green cardamom pods, 2 cloves and 1T cumin seeds. Stir and cook for 2 min, until toasted. Drain the rice and add, stir for 2 min to coat with oil and spices adn to toast the grains. Then add 2.5 cups of water and 1/2t salt. Bring to a boil, then reduce to a simmer and cook (covered) until the liquid has all been absorbed, about 15-20 min.
and naan. I've made naan before, but it's never been any good- until now! I found this recipe on
allrecipes.com
, and kind of modified it.
Wake up 2t yeast in 1/2cup warm water and 2t sugar. Leave for 10 min, then add 2T milk, 2T yogurt, 1T sugar, 1t salt and 2-2.25cups flour, combine to form a soft dough. Knead 6-8 minutes, then let rise for an hour. Form golfball-sized balls and leave on a tray/cookie sheet for 30 min, covered, to rise. Roll out each dough ball with a rolling pin (I used my hands, they were too thick)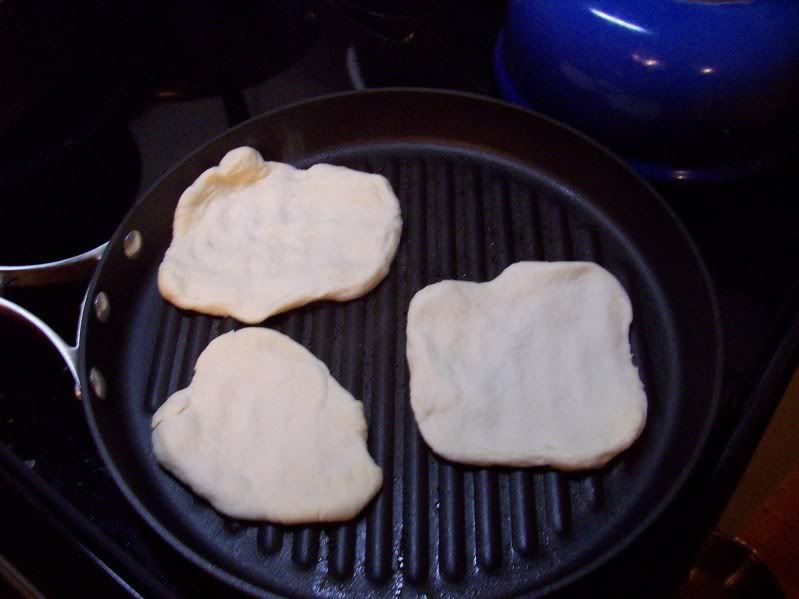 and cook on an oiled grill pan, about 2 minutes per side, over high heat.
Brush with a little melted butter, and I sprinkled with my new dried basil.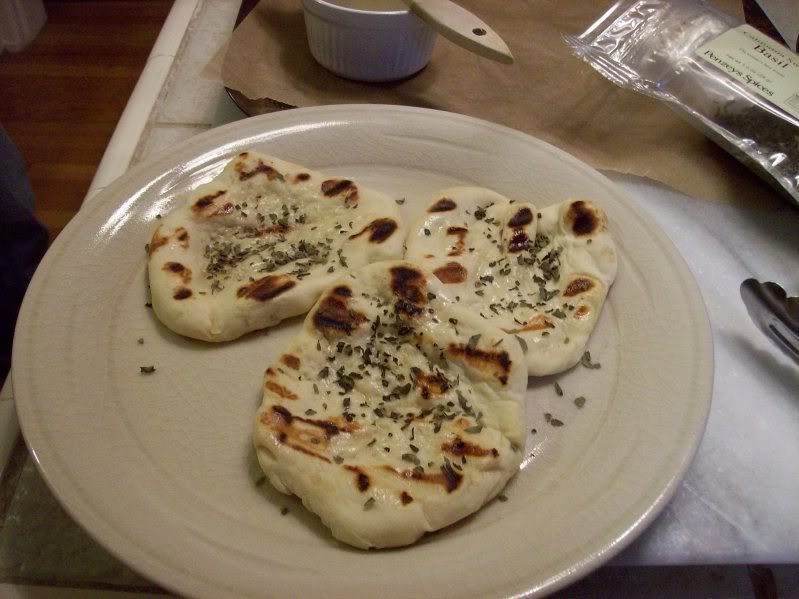 So far, I can tell you that the naan is still delicious the next day, as is the rest of the meal. I was politely informed, however, that naan is an incorrect pairing for vindaloo: vindaloo is a traditional Goan dish (on the western coast of India), and naan is more common in northern India. The person providing me with this information suggested I make sannas if I want a bread to go with the vindaloo, and I'm fascinated- I've never heard of
sannas
before. They appear to be a rice/coconut yeasted bread. One can use vinegar in place of toddy (since I still don't know what toddy is), but the glitch for me is how to deal with the coconut. I have coconut milk and unsweetened shredded coconut, but I'm not going to go deal with a whole coconut. Any ideas on how to modify that? The original suggester wasn't sure. In either case, I'm thrilled to learn of a new Indian food, and can't wait to somehow taste it.