Lately I've had that trend of making bread on weekends. Technically I missed last weekend (I made
naan on Monday
, but I rushed it along and didn't take the same joy that I took with the more traditional American/European bread recipes. And I made the naan on a Monday evening after work, when I was tired and hungry), and I really missed it. Making bread is such a calm thing to do that makes me think of sunny winter afternoons, mugs of hot chocolate and fuzzy slippers. All recipes have the same basic steps and ingredients, enough for each new recipe to feel familiar, and slicing into a loaf of homemade bread has a homey feeling that cupcakes and cookies never give. It's simple, it quiets down the chaos of normal life. And it makes you think you're stepping back 200 years to a simpler life, without all the unpleasant things like icy bathing water and no vacuums. Yes, you could say I'm addicted to baking bread.
Weekend 1:
raisin oatmeal bread
.
Weekend 2:
Sesame cheese bread
.
Weekend 3:
Rye bread
.
Weekends 4 and 5:
Cardamom bread
(yes, it was so good I had to make it twice- and technically, the second try was on a Wednesday, since we were away that weekend)
Weekend 6:
Naan
.
Weekend 7: Monkey bread and whole wheat bread.
When I made the cardamom bread, I discovered that I could let the first rising go a long time, while I was at work, and then do the normal 1hr (-ish) for the 2nd rising, and yield a good bread. I did that with the whole wheat bread.
I used Martha's recipe for
Honey Whole Wheat
(link is slightly different than what's in the book) from her Baking Handbook.
combine 2T active dry yeast with 3T honey and 3.5cups warm water, leave for 10 (or 30) minutes to let yeast wake up.
In a large bowl, combine 1lb 5oz (about 4.5 cups, but I weighed) whole wheat flour, 5oz wheat germ (about 1.5cups), 2t salt, and 1lb 2oz bread flour. Stir to combine, and make a well in the middle, then pour in the yeast/water mixture, and slowly stir that, including more of the flour in each turn, until all flour is combined.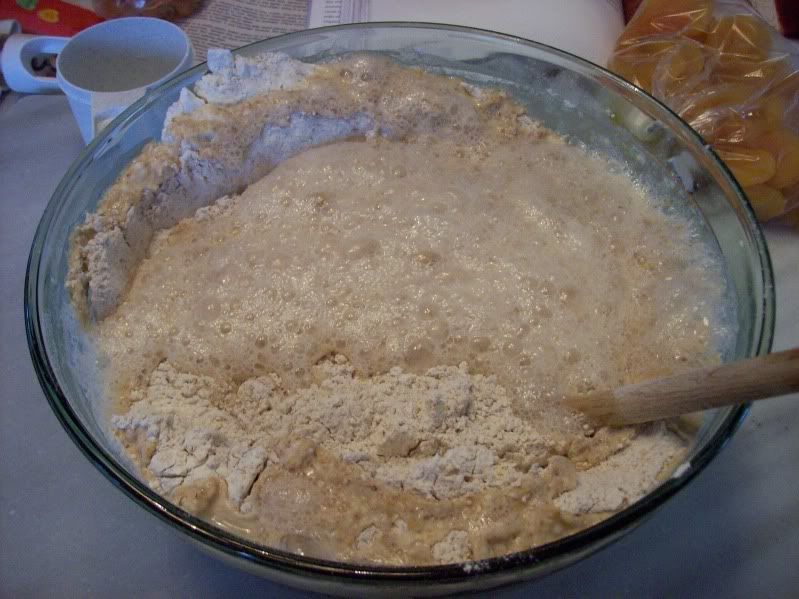 I ran into some trouble here. Maybe I'm lazy, or maybe my bowl was just too small, but I could not stir this dough. I put it in the stand mixer, and let that mix it.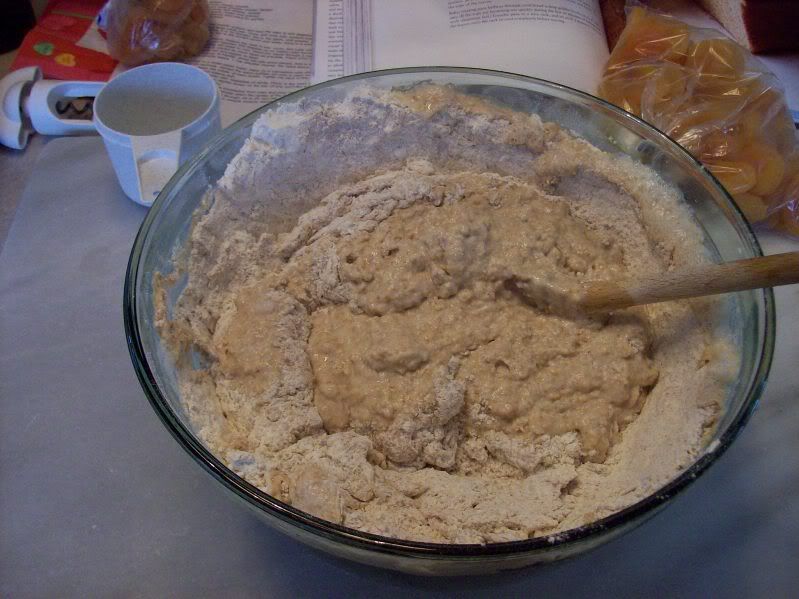 Add 5oz more bread flour (about 4.5 cups in total for the whole recipe) and knead for 10-15 minutes, until dough is smooth and elastic.
More trouble- I could
not
knead this dough! It was hard as a rock. The stand mixer couldn't do it, I couldn't do it, it was a mess. There are a few differences in this dough: I've never used bread flour before, I never used wheat germ (but I doubt that did much to the dough), and I'd never used this high a wheat flour:total flour ratio, although I've come close. I kind of think the high gluten content of the bread flour might have been the problem, but I'll make a bread flour-only recipe soon to see. Anyway, eventually I kneaded it. I had to stand on a step stool so I could get gravity to help me, by pushing straight down to knead. It wasn't pretty, but I did it.
I let the dough rise while I was at work- hubby took it off the radiator after 5 hours, and I got back to it 3 hours after that- 8 hours rising, total.
I punched down the dough (no longer quite as hard, but still pretty solid), divided it in 2, and flatted each half into an oval, approximately the length of my loaf pans. I then rolled up each oval to a tight log, and placed in the loaf pan to rise- another 2 hours.
I sliced each down the middle (the long way) with a knife, and brushed with cream. I baked at 400oF for 55 minutes.
And even though this was a tough recipe, the end result is delicious. Is it worth the effort? I'll have to let you know once we finish the loaf.
Aaaand... Monkey Bread!!
I don't know when I last had monkey bread. It was really a rare treat growing up, no one in my family makes it, so we'd have to wait until someone else brought it. My poor husband had never heard of it. So when I was trying to decide on what goodies to bring to a weekend renting a house with a bunch of other people, someone suggested monkey bread as a definite crowd-pleaser.
I used
King Arthur Flour's recipe
, doubled, modifying for my active dry instead of instant yeast. This was made to serve with breakfast for about 14 people.
In a small bowl, combine 1 cup warm water, 2T sugar and 4t yeast (1T plus some). Let that sit for a while to get foamy.
Add 2T softened butter, 2t salt, 1t cinnamon, 2 eggs, (stir), then 4 cups flour, one cup at a time. Let the dough rest for a few minutes, then knead for 6-8 minutes (my stand mixer worked for this recipe just fine). The dough is fairly soft and sticky, a nice contrast to the rock-hard whole wheat dough. Place in an oiled bowl and cover, place in a warm spot and let rise for an hour.
Pull the dough out (it's super stretchy and soft, so much fun), pat into an 8x8 (approx) square, and cut into small chunks- mine were generally walnut-sized, but I had some variation.
Roll each square into a ball, then dunk in water and in a brown sugar/cinnamon (2cups brown sugar, 3-4t cinnamon) mix, and toss into a greased bundt pan.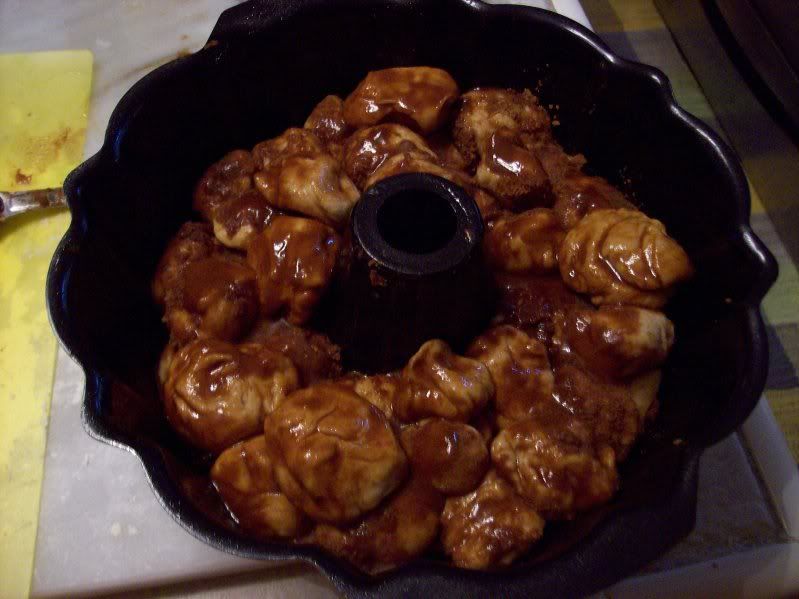 Cover and let rise in a warm place for anohter 45 min or so,
then bake at 350oF for 30 min.
Let it sit for a bit (10-15 min), and then invert onto a plate. See how long you can go without eating it, it's very difficult not to pull one dough ball off...
It's so easy, and so beautiful and delicious. Thanks to Bird for suggesting this over cinnamon rolls! I'll do the cinnamon rolls another time.