There's a bakery in White River Junction, VT, that say they specialize in bagels (and a good bagel is hard to find in the great white north), but really, their specialty is cookies. They make some of the best hermits I've ever had, and they sell them, so conveniently, at the Norwich farmer's market, every Saturday between May and November. They also sell delicious danishes, pies, mini pies, muffins, and hamantaschen. I never really knew what hamantaschen were, I just knew this bakery sold these great triangular cookie/danish things filled with gobs of pureed prunes.
And then a blog I recently discovered,
Honey Never Spoils
(who's going through her grandmother's recipe box, such a sweet idea) had a post all about grandmother's hamantaschen, and I learned that hamantaschen are traditionally eaten at Purim. I've always had them whenever the farmer's market is in session, which is definitely not around Purim- the field's still covered in snow right now! But anyway, long story short, I found a recipe for hamantaschen and I made them. And we ate them, and we're happy.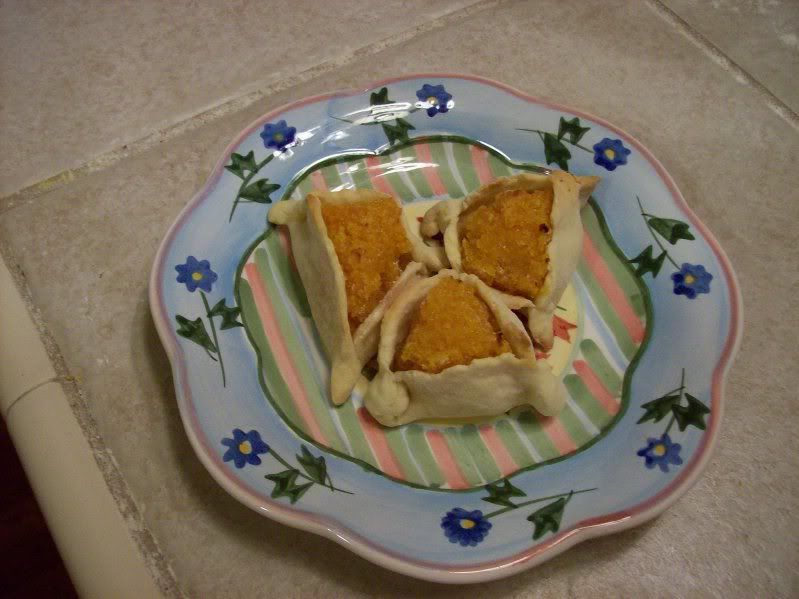 Recipe, taken from
Honey Never Spoils
, with some minor adaptations.
Dough
Cream together 2 sticks of softened unsalted butter and 6oz (3/4 a package) of cream cheese. Add 1.5cups of sugar, and 4 eggs, 3t vanilla, and 1/2cup of milk. This is a pretty runny batter.
Then slowly add 5 cups of flour (recipe calls for cake, I used all-purpose), 6t baking powder and 1/2t salt. Add an additional cup as needed, so that the dough isn't too sticky to handle.
Then refrigerate the dough- I baked half after 3 hours in the fridge, and the rest the next evening.
Meanwhile, make the filling. I took some liberty with my fillings. The prune is just as the recipe said.
Prune filling:
In a food processor, combine 1.5 cups of walnuts, 18oz prunes and the zest of one orange. Pulse until pureed- this will be sticky.
Apricot filling:
Same process, with 18oz apricots and 3T orange juice concentrate (Sandra Lee's trick, for those that don't always have orange juice on hand)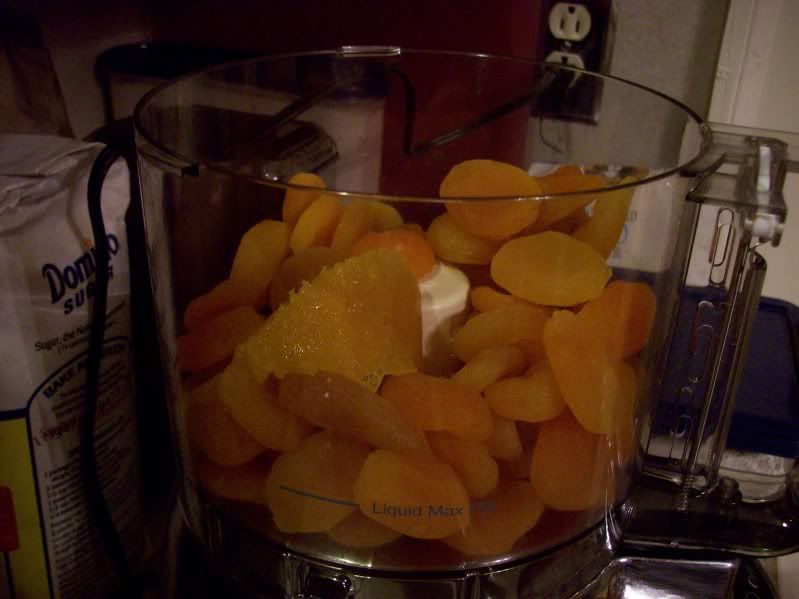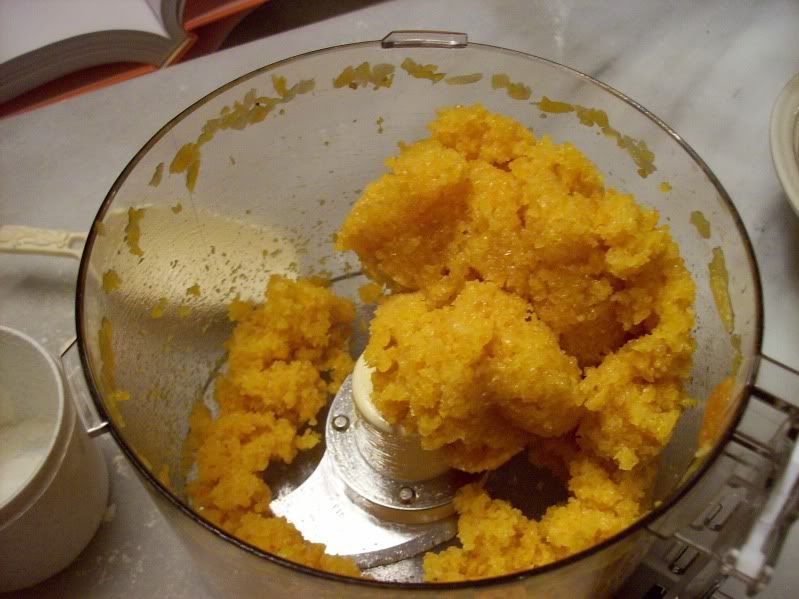 Cranberry filling:
1.5cups of dried cranberries, 1T orange juice concentrate. These didn't puree as well, the cranberries came out more finely chopped than pureed.
Back to the dough: With your hands, roll out walnut-sized balls of dough. Roll each out with a rolling pin, to make a circle (this is so much easier than rolling out the dough and cutting with a circular cookie cutter!). Fill each dough round with about 1T filling of your choice. Then fold up the sides of the circle to form a triangle. Pinch each of the corners well (I folded over twice) so they don't come open while baking.
Bake the ocokies for about 15 min at 375oF.
I think one reason I really like these is that the dough really has very little sugar in it, compared to other cookies, so most of the sweetness comes from the fruit filling. It's a lot easier to convince yourself you're eating something healthy than with a chocolate chip cookie. ;)