I woke up this morning and thought, what bread shall I make today? Then I joked to my husband that when I worked primarily on yeast for my research in grad school, I never made bread, and now I make it all the time- I think it's because I miss my yeast.
Today required a little more searching before I could get started. What to make? I made raisin cinnamon bread (which could be improved upon), cheesey sesame seed bread to get a break from all the nutella sweets, then rye bread, solely because we'd found some rye flour in the baking cabinet. But what about today?
As usual, I made a recipe from my King Arthur Flour
cookbook
. In flipping through the "yeast bread and rolls" section, I found a number of good looking recipes, but the Simple Sweet Bread page caught my eye. I ended up making Swedish Cardamom bread.
Step 1: in a medium-sized bowl, combine 1 cup lukewarm milk with 1 cup flour, whisk together, then add 1 heaping tablespoon yeast. Stir a bit, then leave alone for a little while- 45 minutes today.
Step 2: add 2 eggs, 6T softened butter, 1t cardamom, 1.5t salt. Then at 3.5-4 cups of flour, one cup at a time. Knead for 4 minutes, let rest for a few minutes, knead 4 more minutes (I kneaded all in the mixer, as usual), then place in a greased bowl, cover, and leave in a warm spot for about 2 hrs.
Step 3: punch down the dough, and divide into halves, then each half into thirds.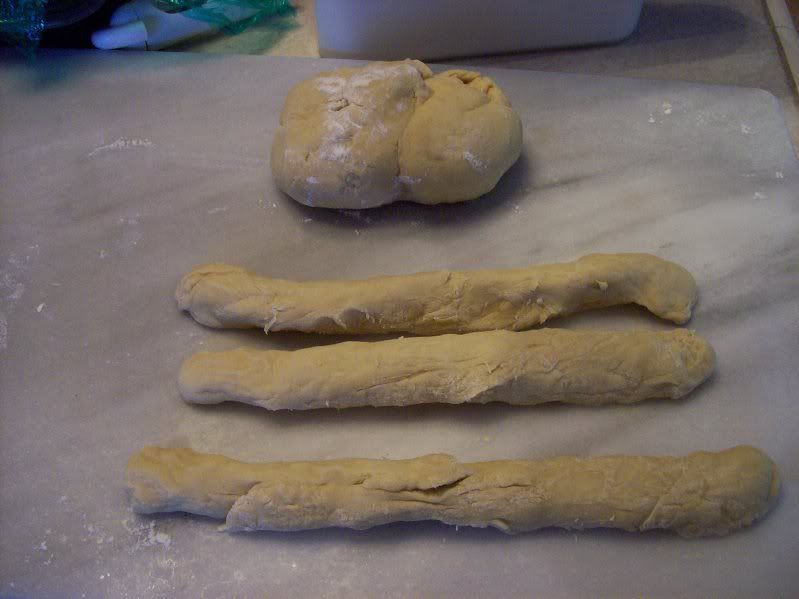 Roll each third into a snake, and braid each set of 3 dough snakes- for 2 braided loaves.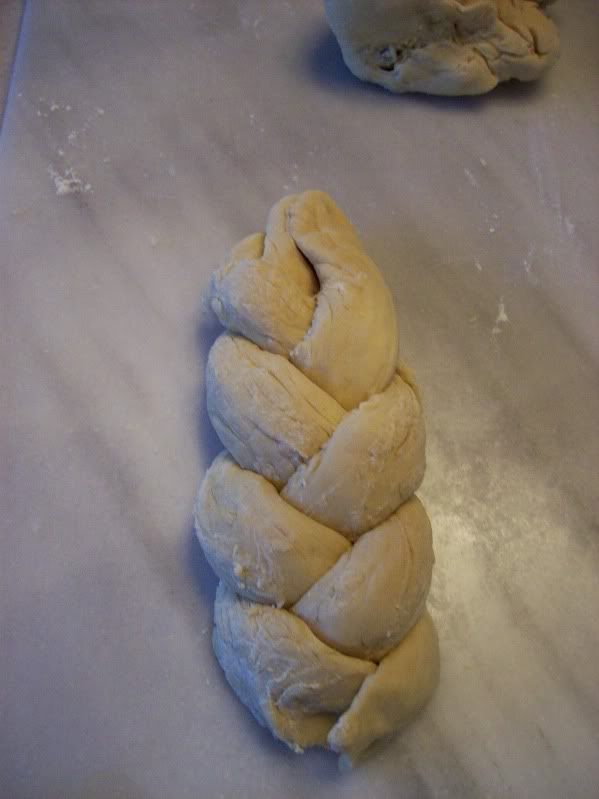 Step 4: let rise again, covered, for an hour. Brush with melted butter and sprinkle with cinnamon sugar. Bake at 350oF for about 30 minutes.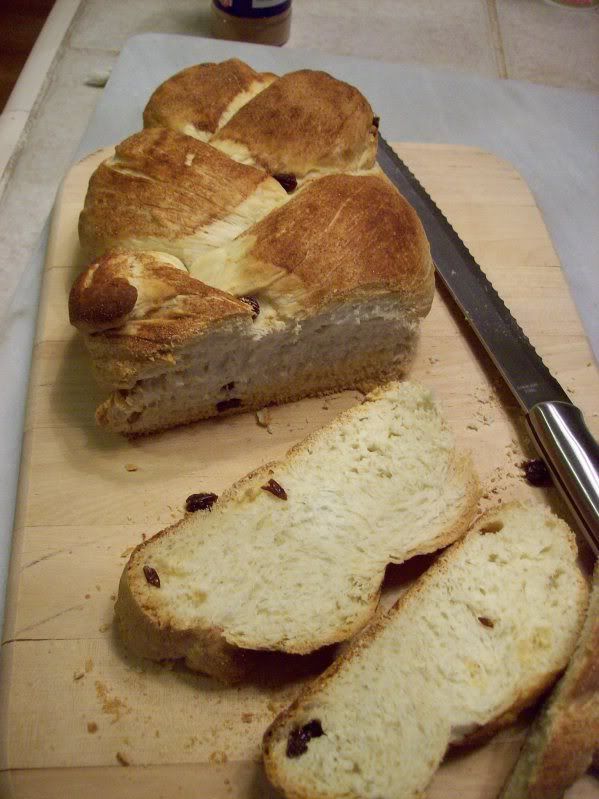 Then eat.
We also made more chili. This is the same recipe I used (with some minor alterations, frozen corn instead of canned, chipotle powder instead of cayenne pepper) on Super Bowl Sunday. I adapted
Sunny Anderson's Interstate Chili recipe
.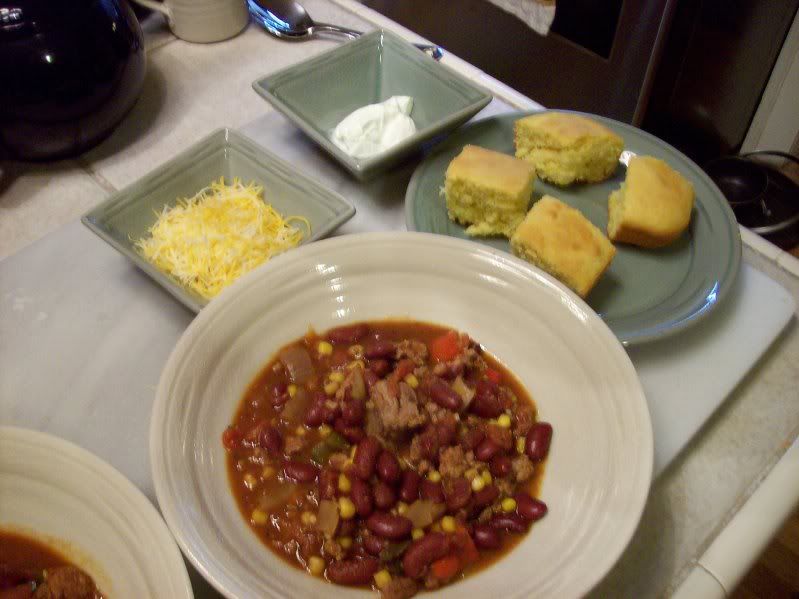 In a crock pot, combine:
2 red peppers, diced
2 jalapeno peppers, sliced
3 cloves of garlic, minced
2 yellow onions, diced
3T cumin
2T oregano (dried)
1T cinnamon
1T chili powder
2t chipotle
3T worcestershire sauce
1T tabasco
2cups chicken broth
1 bottle dark beer (we used Long Trail Hibernator)
1 giant can kidney beans (or 2 regular cans)
2 cans diced tomatoes
1 6oz can tomato paste
1 bag frozen corn kernels
While your husband's doing that, brown 1.25 (or so) lbs ground turkey and 6-8oz sausage (smushed into bite sizes bits, and we used some sort of smokey spicy delicious-smelling portuguese sausage) in a pan, then drain off the grease and add the meat to the crock pot.
Stir it all around. Cook- last time we cooked on low for 5hrs, this time we're trying it on high for an hour, and low for 2-3hrs, until we feel like eating.
Serve with shredded cheese, sour cream, and cornbread.
Cornbread: 1 full recipe, in an 8x8 dish.
1.25 cups flour
3/4cup cornmeal
1/4 cup sugar
1/2t salt
2t baking powder
1 egg
1 cup milk
1/4cup vegetable oil
1/2 cup thawed frozen corn kernels
Whisk together first 5 ingredients, then beat together eggs, milk, oil, and add to the dry ingredients. Stir in corn. Bake at 325oF for 25 min in an 8x8 baking dish.