After Sunday's detailed tutorial post, today's post will look really paltry- I'm only linking to the recipes and showing you photos of the finished dishes. But, all of the dishes were good, and I'd recommend clicking on the links and printing out a copy of your own.
For our first married Valentine's Day, since we went out to dinner with my parents the night before, and the Olympics were on, we opted to stay in. I cooked. We also cleaned the house to prepare for a small party I hosted yesterday, so we took some care into setting the table for dinner. We opened 2 bottles of wine from Canadian wineries (in honor of the Vancouver Olympics), and used our new silver, a recent gift from my parents.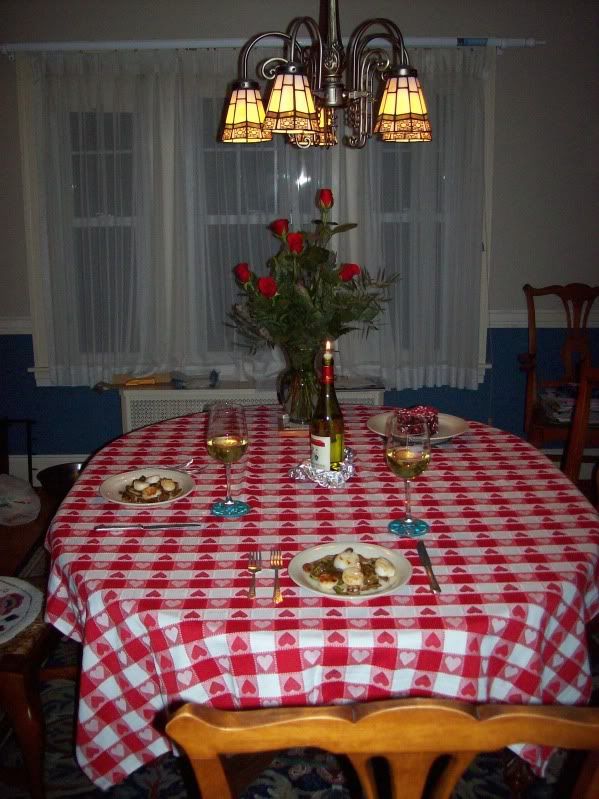 Scallops and Leeks
, an appetizer (note: I, um, burned the shallots- the men's moguls were on, I was distracted. This dish shouldn't look this dark)
Squash, apple, onion gallette
(my favorite dish of the evening, I'm eating it as we speak)
(I used asiago instead of stilton)
Chicken roulades, with radicchio, shallot and shiitake mushrooms
(I skipped the cippolini onions and the chicken liver)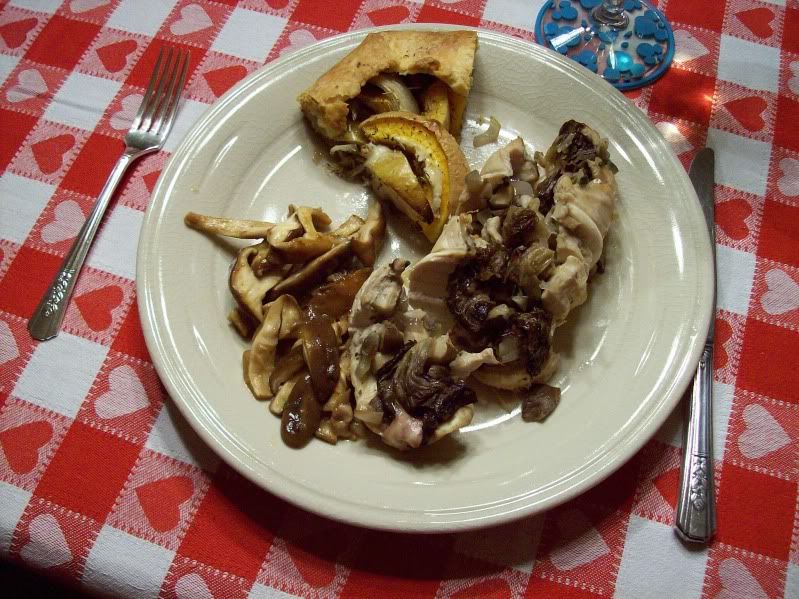 The photo includes a piece of the galette. And note: cooking with marsala wine makes your house smell rather tasty. Also, the stuffing for the chicken roulades was enough for 3 chicken breasts, and I think would work for 4. We got 4 meals out of the chicken.
And dessert: 6 layer chocolate fudge cake, an abbreviated/for 2 (or 6) version of Alma Etheridge Wilson's 16 layer chocolate fudge cake from June 2001 Martha Stewart Living. I halved the recipe, baked in 8 and 10 inch cake pans (1/2cup and 3/4cup batter, respectively) or a jelly roll pan (1.5cups batter) at 350 until they were done (even the 8in cake took twice as long as the recipe said- 16 min instead of 8-10, the 10in pan was more like 20 min, adn the jelly roll pan was 35-40 min- I kept an eye on the baking cakes the entire time). Then I cut the layers with my 4 inch heart cookie cutter, got 12 hearts and a ton of tasty scraps, and assembled.
The cake was a success, as this recipe always is.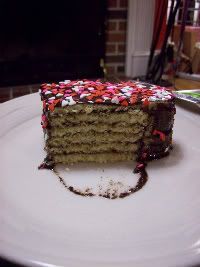 Ok side note: I can't find this recipe online anywhere. I have it in my 2002 annual recipes (a collection of all the MSL 2001 magazine recipes), and it's a seriously long recipe, so I won't type it in here.
Other recent foods include lemon king cake cupcakes, rye bread and caramel fondue- pictures and recipes coming soon! I also made a really easy and unfortunately bland chicken thighs with orange, potato, onion and butternut squash in the crock pot. it's kind of like how chicken soup always used to be- pointless. I didn't bother with a picture.
Recipe:
8 chicken thighs, skin removed. Season with salt and pepper.
Combine in a crockpot:
the chicken
1 orange, sliced in 1/4inch thick rounds
1lb potatoes, cut in big chunks
1 medium sized butternut squash, peeled and cut into big chucks
2 onions, cut into wedges (8 wedges per onion)
12 cloves garlic, peeled
1T honey
2 cups chicken stock, plus enough water to cover all the food
1T dried thyme
Cook on high for 2.5-3hrs, til the chicken is done. And... you're ready for dinner. It's ridiculously easy, but I think it needs some tweaking to actually be tasty. I was so disappointed by the blandness.