I decided to try an Italian recipe for an Italian treat. I made a sugar/butter cookie normally filled with jelly, and did the easy substitution of nutella. I used a recipe from an Italian cookie cookbook I got for Christmas (
Sweet Maria's Italian Cookie Tray
).
Cream 1 stick softened butter with 1 cup of sugar. Add 1/2 cup of sour cream (I used 1/4 cup sour cream and 1/4 cup nonfat plain yogurt) and 1/2 teaspoon vanilla. Then slowly add 2.5 cups of flour, 1 teaspoon baking powder and 1/2 teaspoon baking soda (no salt- I think I should have added 1/2 teaspoon salt).
Knead the dough on a floured board for a minute or 2, then shape into discs, wrap in plastic wrap, and chill for a couple hours.
Roll out dough thinly, maybe 1/8 inch thick. Cut with a 2 inch round cookie cutter. Spoon 1t nutella (or jelly- I'm actually running out of nutella, so I used some lingonberry jelly I had), fold edges over and bake for 12-15 min at 350oF.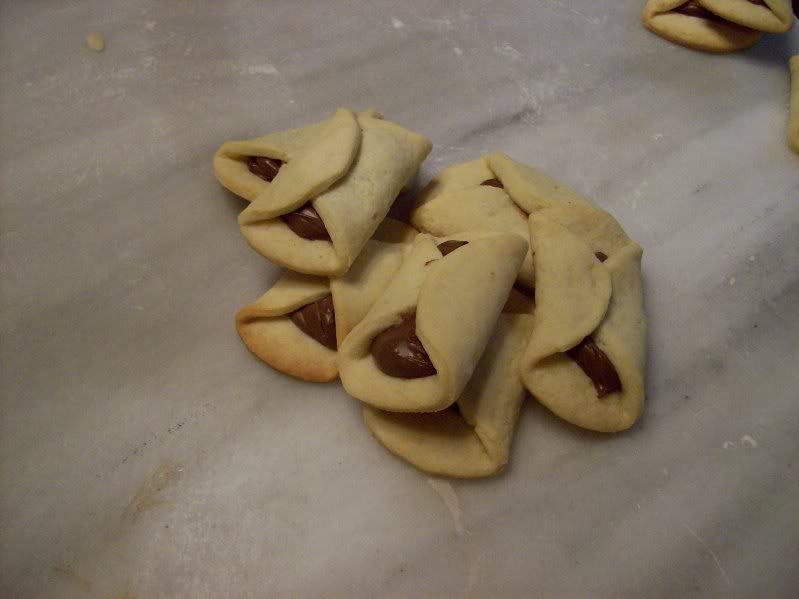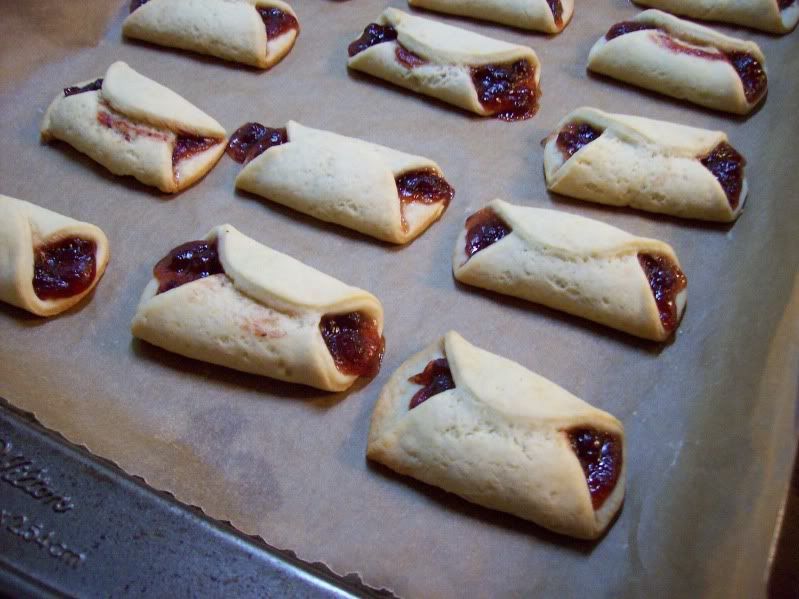 And I was surprised to note this: when the cookies were fresh from the oven, the nutella was nice and warm, but the cookies didn't have enough flavor for me. I preferred the lingonberry ones, with the nice tangy jam. I was a little ashamed to admit I preferred the non-nutella cookies during nutella week. But lo and behold, the next morning, I had one of each cookie with my morning coffee, and I am pleased to say that the next day, the nutella ones are delicious. So, bake them, and wait a day to enjoy them- by all means, though, eat the ugly ones (the ones taht leak, or the cookies don't stay folded over) fresh from the oven.
Tomorrow I plan to tell you about a sweet treat to eat with these cookies. Hopefully it'll turn out well.