The happiest day of the year!
Ok, maybe I'm going a little overboard, but I just love Nutella
that
much.
Let's recap the week.
First, I made
french almond macarons with nutella filling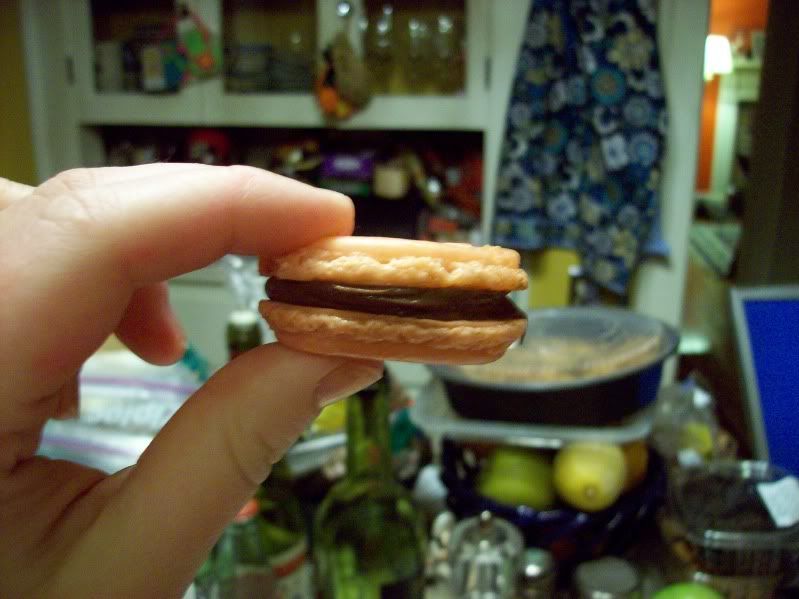 Then, a quick snack of
grilled bananas drizzled with nutella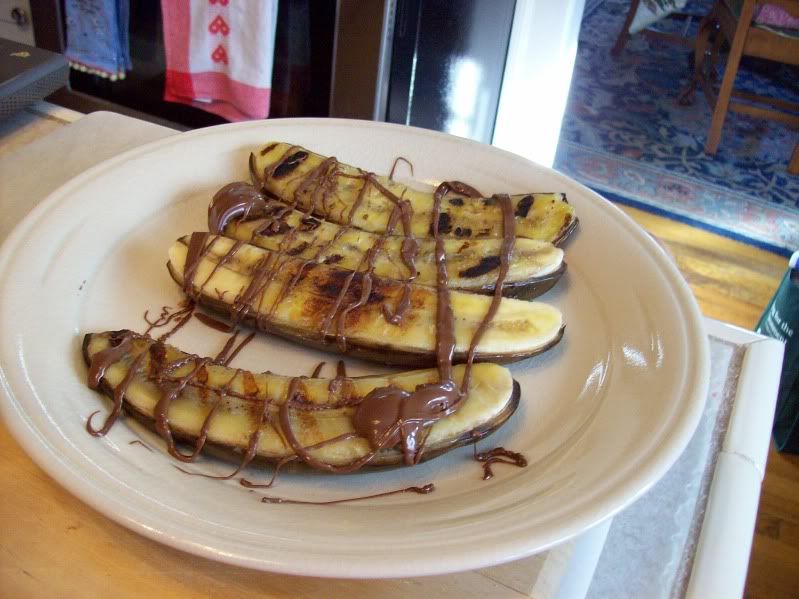 Third, I
talian cookies with nutella filling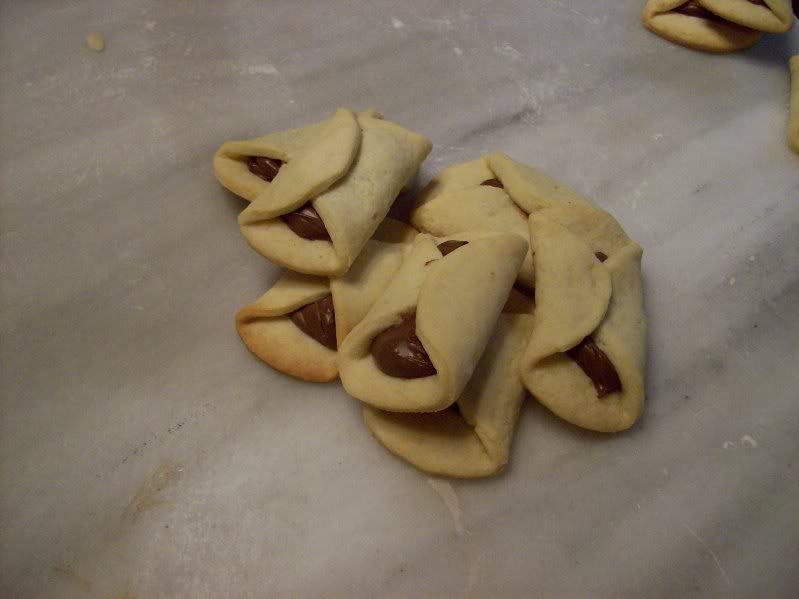 Nutella gelato with almonds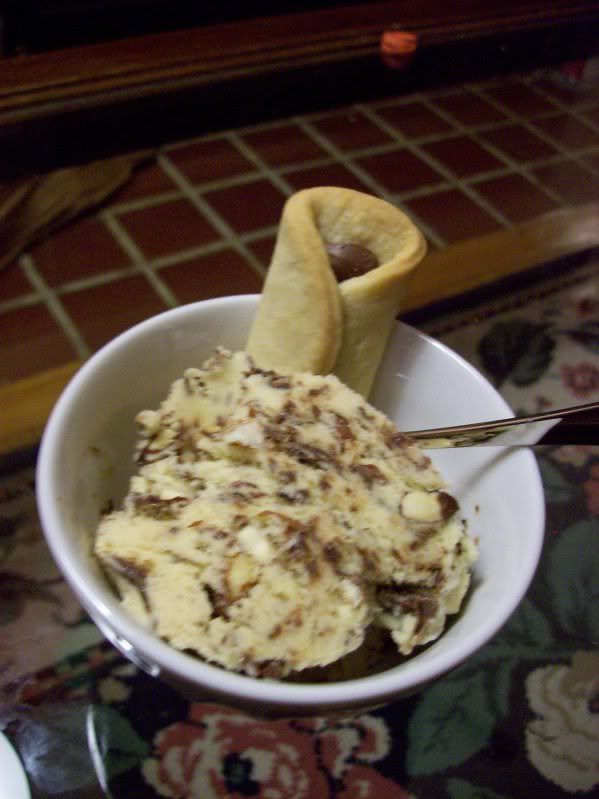 And, the grand finale, vanilla nutella-swirl cupcakes with nutella buttercream frosting!
I found the recipe on the 2009 recipe list of the
World Nutella Day
website. It's from
Meet Me in the Kitchen
, who got it from
I Heart Cuppycakes
.
The recipe is fairly easy, although it produces a much thicker cupcake batter than I've ever seen before (so I was glad for all the photos on these two sites). Makes about 4 dozen mini cupcakes (or 12-15 regular-sized cupcakes).
Cream 10T butter (room temperature) and 3/4 cup sugar until light, about 2 min. Add 3 eggs, one at a time, beating well after each. Stir in 1/2t vanilla (the batter will look a little clumpy, this is ok), then sift together 1 and 3/4cup flour, 2t baking powder and 1/4t salt and mix in.
See? It's almost like a soft cookie dough. Most cakes/cupcakes I've made include milk in the batter, and this had no milk but more eggs, so I think that's the difference.
I'm taking these cupcakes to work, where potentially 10-12 people will be eating them, so I made mini cupcakes to stretch the batch (and also 6 regular-sized cupcakes, when I got tired of alllll the minis I was making), using about 1/2 a cookie scoop of batter. Soften some nutella (in the microwave for 20 sec or so), and add about 1/2-1t to the top of each cupcake cup of batter. Swirl the nutella around with a toothpick,
then back at 325oF for about 20 minutes (a bit more for regular-sized cupcakes).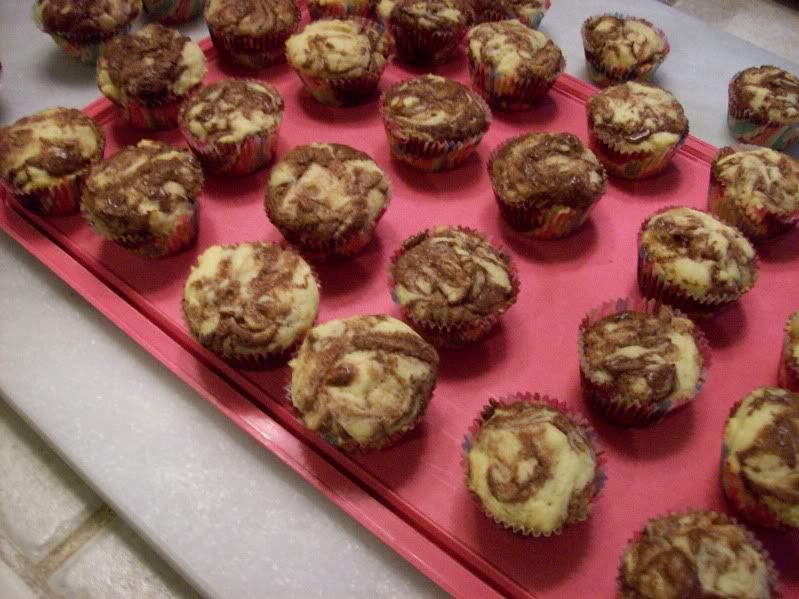 Once the cupcakes are cool, they're ready to frost.
Beat 1 stick of softened butter with 3 cups of powdered sugar (add 1 cup at a time). Beat in 1/4 cup half&half or whole milk (I used fat free half&half) and 1/2t vanilla. Add 1/2cup more powdered sugar and beat on high for a few minutes, until it's fluffy. Soften1/4cup nutella (in the microwave again) and beat into the frosting. If the frosting's not stiff enough, add another 1/2cup powdered sugar.
Frost the cupcakes!
I like the cupcakes, but I
love
the frosting. I'm very pleased to say that I have nearly 1/2 the batch of frosting left after frosting all 3 dozen mini and 6 large cupcakes.
And, um, because I can't get enough nutella, and I still have one unopened jar, I'm considering making either these
nutella cookies
(recipe passed on by a raveler) or these
banana nutella muffins
(recipe suggested by a niner).... or maybe both.