A couple weeks ago (I know, this is very delayed- I have my reasons) a friend had a graduation bbq, and I decided to jump on some cupcake inspiration and make cupcakes. My inspiration was originally from neverbashfulwithbutter.com/food, but had a nudge from someone on ravelry's knit n' bake group.
So, cupcakes. Yum!
I used the
Wellesley Fudge Cake
recipe, an old (well, for the past 6 years) favorite of mine. For some reason, I only ever make this cake at the beach for my family birthday party, so when I had cupcakes everywhere, it smelled like the beach. Strange.
Anyway, the recipe: fairly easy. Melt 4 oz of unsweetened chocolate in 1/2cup of water in a medium saucepan over medium heat, and once it's all melted, add in 1/2 cup sugar and stir (still over heat) for 2 minutes more. Let cool.
Now, cream one stick (1/2cup) of butter with 1-1/4 cups sugar. Add 3 eggs, beating after
each egg. Slowly mix in flour mixture (1-2/3cups flour, 1t baking soda, 1t salt), alternating with 3/4cup milk- I like to go flour-milk-flour-milk-flour. Finally, mix in 1t vanilla and the cooled chocolate mixture.
cake batter, anyone?
Fill muffin tins (with cupcake wrapper liners) about 2/3 full with batter,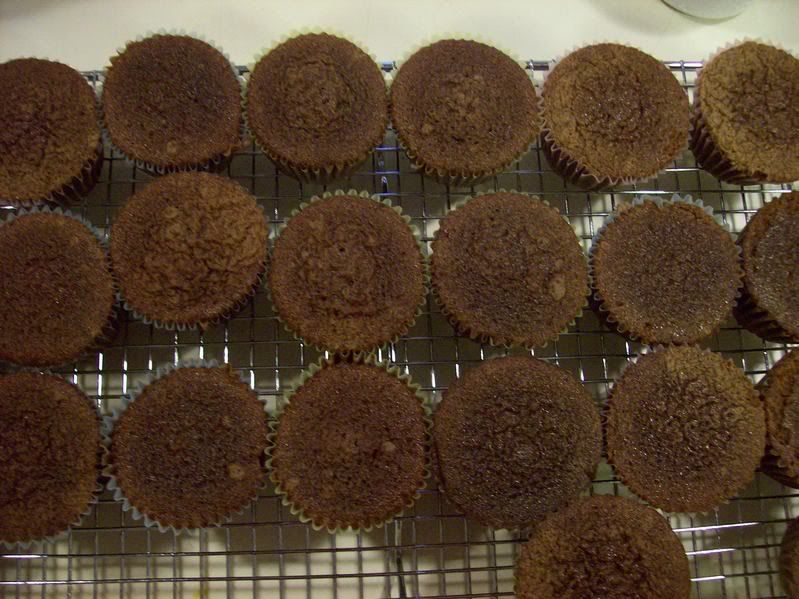 bake about 22 minutes at 350. Let cool overnight.
The next morning, I made Martha's
Strawberry Meringue Frosting
, substituting cherry preserves for strawberry. This is my first experience with an egg-based frosting, and ooooh boy I'm going to repeat it!! I've always shied away from these because I was led to believe you're eating raw egg (and the meringue powders used as substitute taste weird to me). Oh frabjous day, calloo callay, you cook the egg whites first!
Cherry frosting:
Put your Kitchenaid Stand Mixer bowl over a pot of simmering water. Put 4 egg whites and 1-1/4 cup sugar in the bowl. Whisk until the sugar dissolves, the egg whites are frothy, and it's warm (about 160 degrees, but I just did a finger test). Put the bowl back into the stand mixer, and beat on high until the egg whites form stiff peaks. Beat about 6 minutes more until it's lovely and fluffy.
Now add in 3 sticks of butter (room temp and cut into tablespoon pieces), a couple T at a time, with the mixer on medium-low speed, and then fold in 3/4 cup of preserves (I found that 1/2 cup, which was all I had, was sufficient).
Be sure to lick the bowl.
I took this frosting and loaded it into a pastry bag with the biggest tip I had (which was
not big enough- you might consider pureeing the jelly if you have large chunks of fruit and plan to use it for filling cupcakes). I took a cupcake, inserting the tip into the cupcake, going about halfway to the base of the cupcake, and squeezed. Don't do too much, or your cupcake will start to burst at the bottom- you'll see this and know when to stop on the next one. Don't be afraid to mess up, because you get to eat the less-than-perfect ones. :)
Next, the fudge frosting. This is the frosting that goes with the Wellesley Fudge Cake. Melt 4oz of chocolate with 2T butter in a small saucepan (or double boiler, whatever). In your mixer bowl, combine 4cups powdered sugar, 1/2 cup milk, 1t vanilla and a dash of salt. Beat. Then add the chocolate. Beat some more. This won't get fluffy, but instead has more of a thick ganache consistency that worked really nicely on these cupcakes.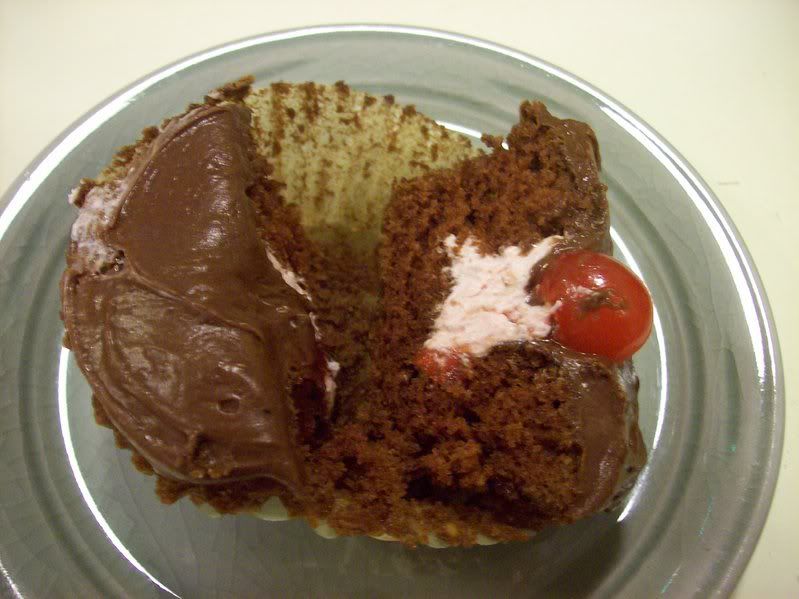 Top with drained and patted dry maraschino cherries. Then eat, but try not to eat too many, it's important to share.
btw, I'm making these again tonight- they're
that
good. I'll try to photograph stuffing the cupcakes and add those in later.