This past weekend was my 10 year high school reunion (more on that later). On the way down, we stopped at the Vermont Country Deli, just off Exit 2 on I-91. I've been to this place a few times, not often, but now I know I need to go there far more often. This place has such a variety of tasty foods, and I thought it'd be the perfect place to go to assemble a care package for someone far away.
Many things (aside from the fresh food and made-to-order sandwiches of deliciousness- we had the I-91 Italian and Route 9 Roast beef) are local (northern NE, not specifically southern VT), but many are not, but are simply amazingly good and worth shipping about.
Chocolove XOXO contains a love poem on the inside of the wrapper, and for an unconventional flavor, might I recommend Chilies and Cherries in Dark Chocolate?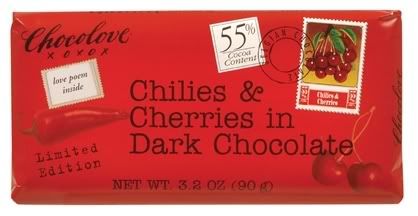 It's good quality dark chocolate with bits of dried cherries and chili powder- so it's spicy! This would be pretty awesome with a full red wine (not with the pink merlot I was drinking last night, that was fine with my Big E maple sugar).
I should do an entry on wine and candy pairings. I eat/drink enough of both to have some advice...
I also picked up some licorice, because I love licorice and I especially love it in the car (it can settle one's stomach if one needs that). I try just about every new type of licorice I come across, and so far I love the bridge mix the local grocery coop sells, which I believe is by Jelly Belly, and also Panda Licorice (especially the raspberry sticks), but on Friday I found Darrell Lea Soft Licorice, and yum! They also had it in green apple, which I was tempted to try, but Clint was buying and I didn't want to be greedy. Just now, looking around for a photo, I've found they have about 4 other flavors, including raspberry, strawberry and ginger. Hmm.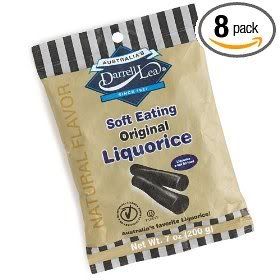 As you can probably tell from this image, Amazon.com sells it, so ooooh, you non-Vermonters can get it, too! It'd actually be cheaper, 8 packages from amazon.com is $36, and I paid $6 for one bag (not counting shipping, of course). It's super soft, but not in a gummi bear way, more of a soft gumdrop way, almost like fondant- but softer. The point is, it doesnt' stick to your teeth. Also, very nice flavor.
Edit: last night I went to the grocery store, headed over to the candy section to buy Clint more of the Chili Cherry Chocolate, because I'd polished it off while studying in the library, and felt guilty, and discovered.... Darrell Lea Licorice! For

$2.39

- and here I was, saying amazon.com was cheap. I bought original (as pictured above), mango and green apple. I also got Dagoba chocolate (previously seen on the food channel) in lemon ginger dark chocolate, and a whole bunch of fruit leathers... I had kind of a sugar-high night
.