Remember the
healthy cookies
I made a while ago? They were based on the classic Nestle's Tollhouse recipe, but just about everything had a substitution. The only thing I left alone was the baking soda and salt.
I used the well-known applesauce-for-butter substitution, which in my original healthy cookie batch, gave a nice apple flavor... that didn't play well with the chocolate chips (in my mind, everyone else seemed to like them). I loved the raisin and spice version, and I kept thinking that if applesauce subbed for butter like that, what about other fruit purees? The most obvious was pumpkin, but now I'm considering beet puree... it could be good. I definitely plan to try it at some point. Plus, the cookies would be naturally pink, and that's just plain awesome.
Oh, and today's healthy cookie is even healthier- greek yogurt instead of oil.
Pumpkin cookies
an original recipe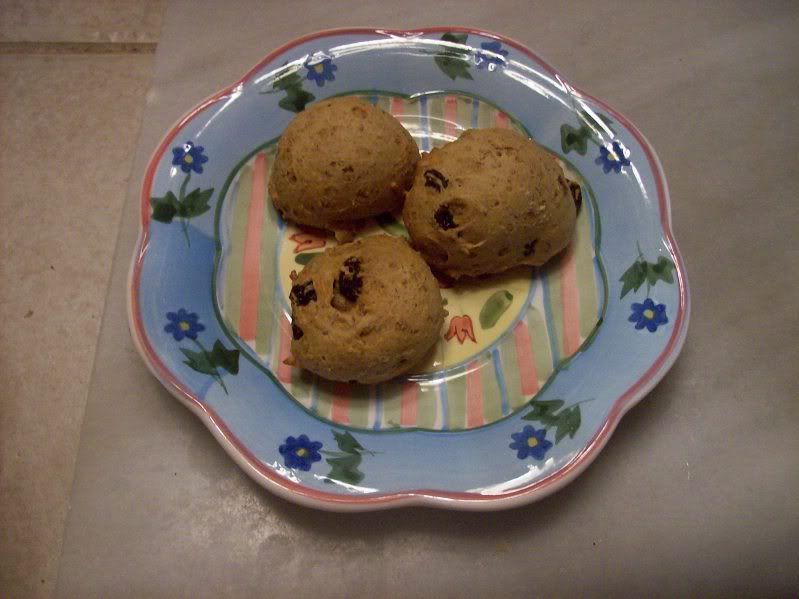 1 and 1/3 cup whole wheat flour
1 and 1/3 cup AP flour
1t baking soda
1t salt
1t cinnamon
1t ginger
1/2 t nutmeg
1/4 t cloves
Whisk these together, set aside.
2T ground flax meal
6T warm water
Stir together, set aside.
1/2 cup pumpkin
6T nonfat plain greek yogurt
2T oil
1 cup brown sugar
1/2 cup granulated or turbinado sugar
1t vanilla
Beat that together. Then add the flax meal and water mixture.
Stir in the dry ingredients.
Add:
1 cup raisins
1 cup chopped walnuts
Drop a tablespoon of dough on a parchment-lined cookie sheet. Bake at 375F for 12-15 minutes, bake only until the cookies are just barely browned.
I love that these cookies are like little pillows- these is only because I use a cookie scoop to drop the dough on the cookie sheet and the dough comes out nicely rounded on top. The cookies themselves are very fluffy and light, almost like a little cupcake. I love that they aren't greasy at all, I don't feel the need to wipe my hands after picking one up like I do with standard cookie recipes. However, you can tell they're healthy, they're not a perfect substitute for a higher-fat pumpkin cookie. But when I have an urge for a bite of carb, these are great.
The stats:
per cookie, 68 calories, 1.6g fat, 14.2g carbs, 0.8g fiber, 1.3g protein.