It's fall! The massive quantities of tomatoes I've had all summer are tapering off, but we've started getting all sorts of squash! And last week when I went to the grocery store, I saw one of my favorite sights: lovely, round orange pumpkins lining the front of the store! So I bought some. Then I bought some more, and then... well, they
are
heavy, you can't buy all these at once. (And I haven't even photographed all our squash yet)
Above are some cans of pumpkin (apparently very precious, we're still in a pumpkin shortage. And because everyone always trades this info, I bought these 4 cans at my regular grocery store, here in central MA, for $2.25 (small cans) and $3.19 (large cans). I got one white pumpkin, which I assume (but don't know definitely) is a cooking pumpkin. 4 sugar, or pie pumpkins, 2-4lbs each. These are much more flavorful than carving pumpkins, which are mostly bred for their size. So, if you carve a pumpkin and feel guilty about not eating it, don't. You wouldn't want to eat it anyway. Finally, I bought a jaradale (I think) pumpkin at Davidian Bros this past weekend, just because it was there, and it looked cool.
To use for cooking, the fresh pumpkins will be quartered, seeded (seeds saved and roasted/toasted) and then the flesh will be roasted, then cooled, pureed and drained. I'll freeze that to use later. The cans will be opened (much easier, and also, cheaper- I've read that from 4 small pie pumpkins (about 8 lbs) you get 2 cups of puree. At my store, 4 pie pumpkins are $7.96, and 1 can of pumpkin is $2.15, for 1.5 cups. But using fresh pumpkin is more fun.)
For my first pumpkin recipe of the season, I opened a can. it was easiest, and I hadn't planned to bake anything, really.
What happened was like when I made that pork posole a few weekends ago: I opened the Sunday paper to the food section, and a recipe caught my eye. This time it was "Fall Harvest Muffins," muffin with pumpkin, apple and all the good spices in pumpkin pie. And a streusel topping.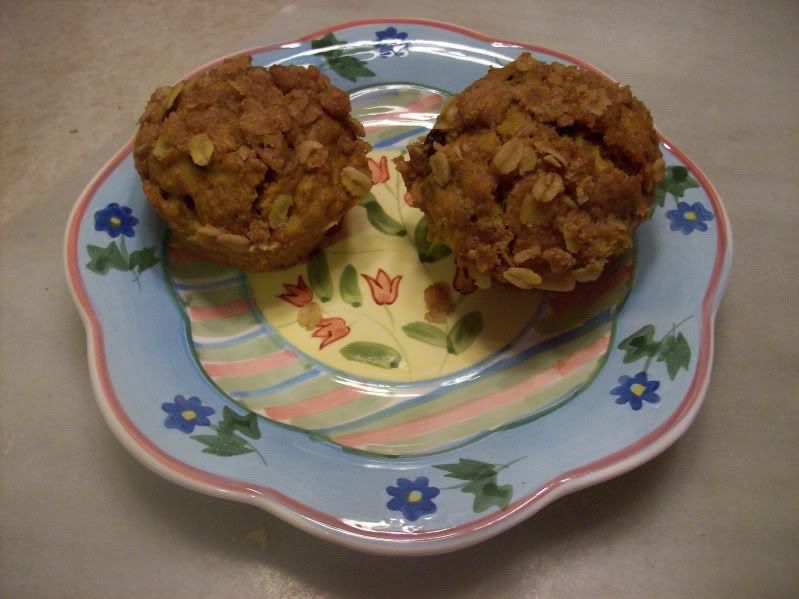 Fall Harvest Muffins
from the Worcester Telegram and Telegraph, it appears to be an original recipe by Alison Ladman
Ingredients:
for the muffins:
1 cup AP flour
1 cup whole wheat flour
1.5 t baking powder
0.25 t baking soda
0.5 t salt
1 t cinnamon
1 t ginger (I would love to try crystallized ginger in this recipe)
0.5 t allspice
0.5 t cardamom
0.25 t cloves
10T butter (original called for 12 T)
1 cup brown sugar
2 eggs
1 t vanilla
1 cup pumpkin
3/4 cup apples, grated (2 small apples)
1/2 cup chopped, toasted nuts (I used hazelnuts)
1/2 cup dried cranberries (or raisins)
Whisk together the dry ingredients (flours, baking powder/soda, spices, salt).
Beat together butter and sugar. Add eggs, then vanilla and pumpkin. Combine well. Add the dry ingredients, stir til just combined. Add apple, then nuts and cranberries.
Scoop batter into 18 greased (or cupcake wrapper-lined) muffin tins (the original recipe said it made 12 muffins, but their muffins must have been enormous). Top with streusel topping, recipe follows- just spoon a bit of streusel onto each muffin, and press in gently.
Bake at 375F for 20-25 minutes.
Streusel Topping:
2T butter, melted
1/4 cup brown sugar
1/4 cup sugar
1/4 cup flour
1/2 cup oats
1/2 t cinnamon
Whisk dry ingredients together, stir in butter, and press with fingers or a fork until combined. (Note: I used far less streusel topping than this for my 18 muffins)
We found these muffins to be rather delicious. The apple flavor is kind of hidden, but I love the combination of these spices. They do have a lovely pumpkin flavor, perfect for a chilly October morning. The only drawback is that the streusel topping gets soggy after a few days.
Good news: I finally discovered a nutritional info calculator for recipes (yes, I'm pretty oblivious). Per muffin: about 245 calories, 10.2 g fat, 43g carbs, 2.5g fiber, 3.5g protein.