Oh look, more basil! I feel like it's basil week over in wamozart12's kitchen.
I have to say, these buns were ridiculously good. Like, wow. I saw them on tastespotting a while ago, and realized they came from a blog I actually read regularly (who got it from another blog I read regularly, who got it from Williams Sonoma's recipe collection, which I love and use often). Anyway, I saw them and I laughed at the comment that Sally Lunn buns are southern challah, but after I made them... they're right. They are southern challah.
Probably the real reason I made them is because I was going to Disney World the following weekend, and the first full day we'd be there, we were planning to have tea at the Grand Floridian Garden View Lounge, something we do each and every year. They serve Sally Lunn Buns. The only other place I know of that serves SLBs is Gadsby's Tavern in Alexandria, VA, a restaurant we always go to the first night of our stay in Washington, DC in July (this year, since Clint and I went alone and stayed in the city instead of in Alexandria, I had to miss out on this tradition :( ). But woohoo, SLBs without having to travel far? Sounds good!
This was an interesting bread, very unlike other breads I've made. I was a little concerned I'd screwed up. However, because they turned out close to perfect, I think I did everything correctly. The issue that worried me was: this is super duper sticky dough. Like, you have no hope of kneading it. It's like cookie dough. Fortunately, you're not supposed to knead it. And when you go to bake it, you scoop out the dough instead of cutting it into rolls. Iiinteresting.
Herbed Sally Lunn Buns
from
Annie's Eats
, also seen on
Pink Parsley
, originally from
Williams Sonoma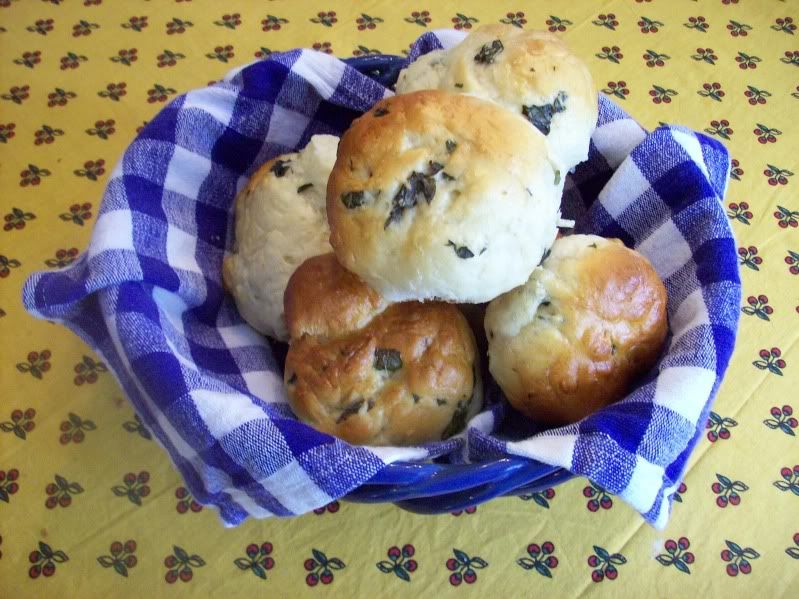 4 eggs
2 t salt
2 scant T active dry yeast
1/3 cup sugar
1 cup warm milk
1/2 cup unsalted butter (1 stick), melted
4 cups bread flour
½ cup chopped fresh herbs (basil for me, but I think thyme, rosemary, sage, dill, etc would be delicious)
In a small bowl, combine the yeast, milk and about half the sugar (I measured out the sugar in 1 1/3 cup measuring cup, dumped a little into the yeast, and set the half-full cup aside til I needed the rest). Set it aside for a few minutes to wake up (while you get the other ingredients out).
Meanwhile, beat the eggs and salt in the bowl of your mixer for about 5 minutes, til they're fluffy.
Beat in the melted butter and add the yeast mixture and the rest of the sugar.
Add the flour (I added it all at once). Mix to combine- I used the paddle attachment for this.
Once everything's combined,
add in the chopped herbs. Here were my chopped herbs:
I also had a few sprigs (or whatever unit it is) of chives from my garden.
Once everything's mixed together fairly well, cover the bowl loosely with plastic wrap and let rise for about 2-3 hours.
Then, grease 24-30 muffin cups (depending on how big you want these- I did 18, and the rolls were bigger than my fist, which I thought was too big.). Scoop out dough (with an ice cream scoop was easiest for me, a regular serving spoon would also work) and fill the muffin cups. Poke a bit as needed to smooth out the dough balls. Cover loosely with plastic wrap again and let rise for about 45-60 min.
Make an egg wash (1 egg (or egg white or yolk if you have an extra on hand) beaten with 1T milk) and brush over the tops of the rolls. For a pretty presentation, press an herb leaf onto each roll (I skipped this). Bake in a preheated 350F oven for 25-30 minutes.
Serve warm with herb butter (recipe below). Store extras in tupperware or a ziploc bag, but they'll taste stale after a few days- they're still good, just not
as
good.
Basil butter
inspired by various recipes from google searches
1 stick unsalted butter, softened
2 cloves garlic, minced
2T finely chopped/minced herbs (I used basil)
1t salt (or more or less to taste, I like my spreading butter salty)
Combine all together, beat thoroughly. Serve with herb SLBs or however you like your butter. Store in tupperware in the fridge.