Yes, friends, our CSA is over. I'm so sad! I'm not sure I can go back to Big Y produce (it's fine, but compared to the CSA veggies, it's just a little wilty and sad), so I may have to start going to Davidian Bros in Northboro regularly.
What did our lasts CSA share bring us?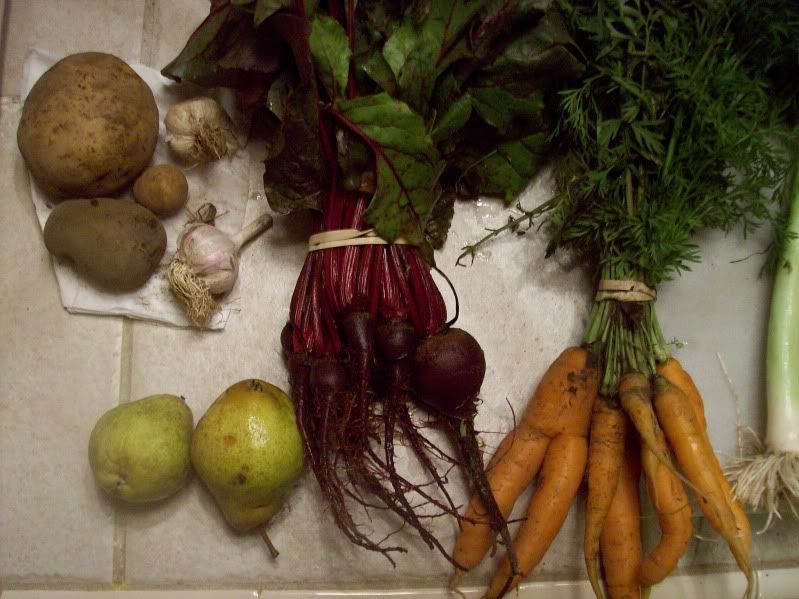 some potatoes, 2 tiny garlics, 2 pears, a bunch of beets, a bunch of carrots,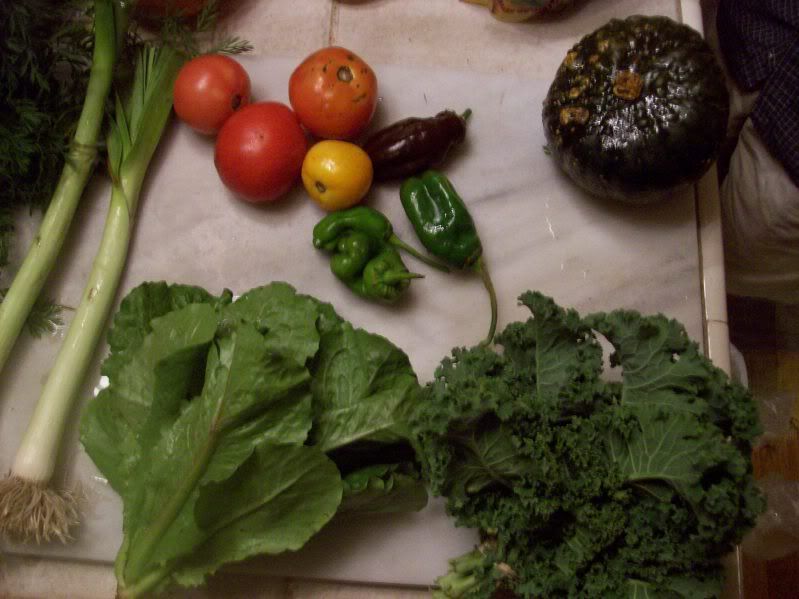 2 leeks, a head of lettuce some tomatoes, some peppers, a bunch of kale, and a really cute little squash (possibly a kabocha? I'm not sure)
What did I do with it all?
The potatoes have gone with our other potatoes, in the cellar. Clint needs to cook them somehow (although maybe I'll get inspired to cook something to share with others- I'll cook potatoes, I just won't eat them).
One tomato (so far) has gone into a salad, as has a good amount of lettuce. However, about the lettuce... we're still eating lettuce from 2 weeks ago. And you know what?
It's still good.
Have you ever seen lettuce that lasts that long?! I'm not sure if they're growing super lettuce, or that's how organic lettuce is, or what, but it's great! We keep it in open ziptop bags with a damp paper towel, and the lettuce just does not wilt! (well, eventually it does, so then we cut the bottom and put it in a bowl of water until it perks up again)
The leeks will go in a pumpkin quiche, more on that next week.
The carrots will probably go in salad, they're delicious and I want to enjoy them to the fullest (so eating them raw seems best).
The beets will be pureed and frozen for later.
The kale will go in Portuguese kale and sausage soup, eventually.
The squash will be part of the table centerpiece for a while, and then I'll cook it up (roast, stuff and bake, or puree and add to bread or something).
The pears will go into a pear crisp or pie (probably).
As for the peppers... I'm not sure. We have so many, and I can't even be in the kitchen when Clint cuts them because of my allergy to them (think about when you cut into a super strong onion everything stings... that's me in the dining room when Clint cuts a pepper in the kitchen. Pickle-making time at my parents' house was awful, they had to slice up like 4lbs of green peppers in the food processor. I had to go outside for a few hours.) I think I'll put one or two on a pizza tomorrow, mostly on one side and not the other.
I need to tally up all our bounty from the 20 weeks of CSA. Overall, we loved it. It was so much fun to be surprised every week, and learn to use veggies I'd never thought about before (chard and kale, garlic scapes). The quality was excellent, better than I'd imagined. We didn't get the volume we expected, but we struggled to use everything we did get (and our freezer's pretty full now). But the quality definitely makes up for less quantity. In the end, having a 20 week-long CSA was awesome, and we can't wait to sign up for next year.