Time really flies! This is the 4th-to-last share from our CSA. :( We didn't act quickly enough to get into the fall CSA, so we're nearing the end of automatic veggies! Fortunately, we passed by a really nice farm stand in Northboro,
Davidian Bros Farm
, that had pretty much every type of veggie we'd want, great quality, and many grown by their farm. They're at the end of the road Tougas Farms is on, so we stopped by there after apple picking on Sunday- the last day of Tougas' apples! sad.
Anyway, the CSA. I think this was the last week of tomatoes, since we only got 2- I was very sad, we've had such a bounty this summer, between the CSA's excellent tomatoes, a cousin's garden's surplus, and the millions of pounds my mom gave me, from Hurricane Flats in South Royalton, VT, and Blossoming Acres, in Southwick, MA.
2 tomatoes, 6 pears, a bag of potatoes, onions and garlic, beets,
flat parsley, chard, lettuce, a bell-like pepper, a hot pepper, an acorn squash.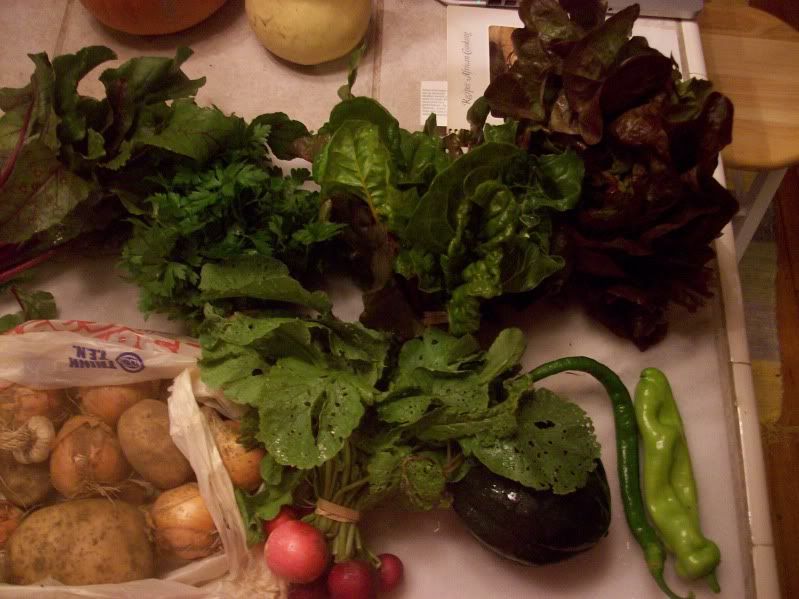 and a bunch of radishes.
I forgot to photograph the flowers, but it was a mix of zinnias, cosmos, marigolds, and one of the puffy pointy purple things.
I used the tomatoes in a tomato salad, the onions in the halibut I mentioned earlier, I cooked and froze the chard and beet greens, and I tossed the radish greens in some rice. The lettuce has been for salad, and the peppers are still waiting...