Well, it's finally happened- I joined a baking bloggers group! It's a small group, I believe there are 15 of us, and therefore it seems much less daunting than figuring out how to get into all the other big groups out there, like Tuesdays with Dorie (I don't even own any of Dorie Greenspan's cookbooks, anyway) or Barefoot Bloggers. And really, a bake along every week? Lately I'm lucky if I can make dinner every week.
One day, a nestie posted, asking if anyone was interested in a baking group. I jumped right in! We are What's Baking? and at the end of each month, I'll tell you what I chosen to bake from our assigned theme.
October: Fall-themed cupcakes
A year ago (fortunately, I never delete an email!)
Bird
emailed me this recipe for caramel apple cupcakes, looking for my opinion on her idea to bake them for a bake sale. Ok, really: apple cupcakes, caramel instead of frosting, how could this
not
be a hit?! She ended up making what turned into her famous whoopie pies (they're really Martha's, but they're Bird's specialty now), and I filed this recipe away to make myself a bit later.
A year later... after the What's Baking girls all agreed on fall cupcakes, I started looking around. I was about to embark on a big pumpkin cooking/baking spree, so I kind of want to not use pumpkins. What else would say fall? Candy corn would be good (Alison Ladman had another good recipe in the paper last weekend, candy corn cupcakes this time- I'll probably make those in the near future). Apples would be really good, but since there are 15 of us, I wanted something more than a standard apple spice cupcake with cream cheese or cinnamon frosting.
Did I mention how much I love caramel?
Caramel Apple cupcakes,
taken from
chockylit
.
For the cupcakes:
3-4 medium-sized apples (I used a mix of random seconds from Tougas, some golden delicious, a pink lady, and a mac)
1 1/3 cup flour
2/3 cup whole wheat flour
1/2 cup sugar
1t ginger
1t cinnamon
1/2t nutmeg
1t baking soda
heavy pinch of salt
2 eggs
1/2 cup canola/veggie oil
1/4 cup apple cider (or juice)
1t vanilla
1. Core the apples. Place them on a baking sheet and bake at 350F for about an hour, until they're nice and mushy. Allow to cool, then scoop out apple mush and mash it well with a fork. Measure out 1cup, and eat the rest (eat the skins, too, they'll have apple mush clinging and are tasty)
2. Whisk together all the dry ingredients, set aside.
3. Beat the eggs, then add the oil, cider and vanilla, mix, then add the apple mush. Finally, add the dry ingredients, stir til just combined.
4. Fill muffin tins (greased or lined with cupcake wrappers- I used my silicone cupcake wrappers again) about 2/3 full with batter. Bake at 350F for 22-25 minutes. Makes about 15 cupcakes
Note: this recipe included a cream cheese frosting filling, which I did not do, mostly because I'm lazy, but we can pretend it was solely because I didn't want those extra calories.
Caramel "frosting"
(i.e. best frosting ever)
1 stick (1/2 cup) butter
1 cup brown sugar
1/2 cup light corn syrup
3/4 cup sweetened condensed milk (I used fat free)
1T cream (I used fat free 1/2&1/2)
dash of vanilla
pinch of salt
Note: You'll need a candy thermometer
1. Combine butter, brown sugar, corn syrup and SC milk in a medium saucepan. Stir over medium-high heat while the butter dissolves. Once it has started to boil, add the 1T cream/1/2&1/2.
2. Continue cooking, stirring constantly, until the mixture reaches 248F on your candy thermometer (don't have one? another, less good, caramel recipe follows- but really, get a candy thermometer, they're cheap and available at the grocery store). This took me about 12 minutes, but the original recipe said 20 minutes.
3. Once it's reached temperature (and it will be boiling nicely and be really gooey and neat-looking by now), remove the saucepan from heat and add the vanilla and salt. Keep stirring for a few minutes while the mixture cools.
4. Cool about 15 minutes more, and then using a small offset spatula, spread the caramel mixture over the cupcakes.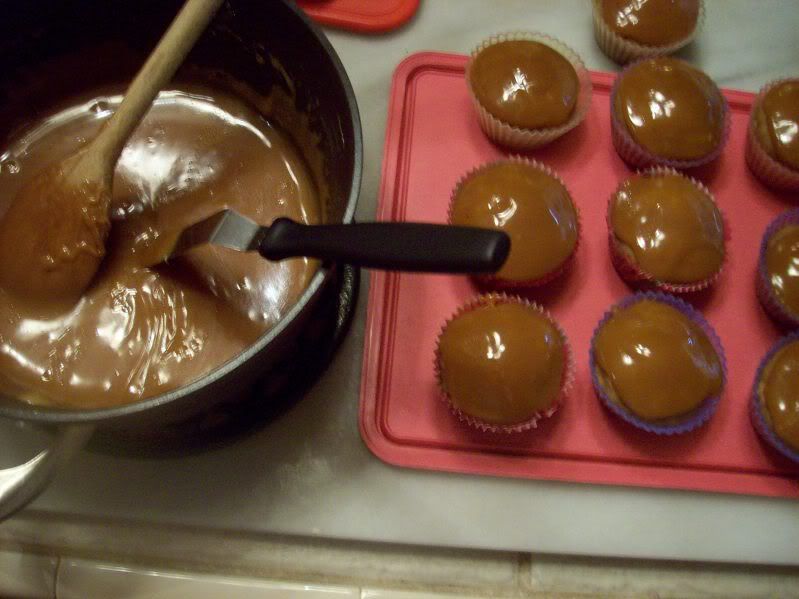 5. Once you've finished frosting the cupcakes, you'll still have more than 1 cup of caramel left. Cut some apples wedges (a nice tart apple, like a Mutsu or Granny Smith) and dip in the caramel. The caramel will harden, zap it in the microwave until it's just starting to be soft- the next day, once it was completely at room temperature, it needed about 40 seconds in the microwave.
Alternate Caramel recipe
Caramel Sauce
,
from
epicurious.com
1 1/4 cup brown sugar
1 stick butter
1/2 cup cream (fat free 1/2&1/2 again)
In a medium saucepan over medium/medium-high heat, melt the butter and brown sugar. Once the butter's completely melted, stir in the cream/1/2&1/2. Cook, whisking constantly, for about 5 minutes. Remove from heat, let cool until it's gooey (it's pretty liquid while hot), and drizzle over the cupcakes.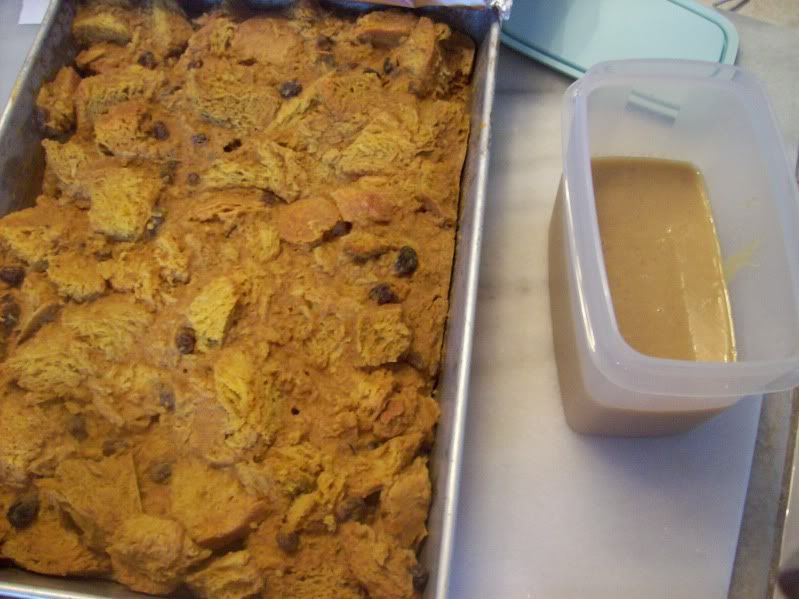 I actually used this caramel sauce recipe to go with the pumpkin bread pudding epicurious intends it for (ooh sneak peek above!) But it's delicious and a nice easier alternative (although honestly, I prefer the first recipe). Oh another bonus: this recipe won't pull your fillings out. I'm a little nervous the first recipe will.