I need to find a name for these cookies. "Healthy Tastes Good Cookies"? "You'll Be Surprised Cookies"? Because against all odds, these were delicious. It only took 4 days for 8 people to devour 5.5 dozen.
I made these cookies because I was going away for a weekend o' fun with my friends, and leaving my husband all alone at home (he cleverly made plans with a friend to hang out, grill, and go to a minor league baseball game, so I suppose I didn't need to feel bad at all. Also, he had the cat.) I said to him, I will make you cookies so you don't feel sad I'm gone. He said, yay. I said, I will make them with flax seed meal instead of eggs. He said, yay! I said, what kind of cookies do you want? He said, chocolate chip.
I said, hrm.
Then I pondered, and since I wasn't sure about the flax seed meal in chocolate chip cookie form, I figured I'd go all out. I'd do the applesauce for butter substitution, something that has never been done in cookies before (oh, you know I lie, but it does say online, wherever Clint found the substitution info, that this is very
not
recommended for cookies. Whatev.)
And against all odds, these cookies were great. They're big, fluffy, soft pillows, very unlike the flat, chewy/crunchy cookie I normally prefer. The drawbacks: I actually don't like the chocolate chips in them, I'd rather have fruit and nuts. Luckily, that'll just make them healthier. Also, while you can eat the dough with no salmonella worries, I'd stay away from it. It's shiney and goopy and gluey, and doesn't taste good. I know, isn't that sad? However, as I found with the
oatmeal/flax seed meal cookies
, the flax seed meal for eggs substitution makes a delicious dough, so it's only the applesauce/oil for butter sub that adversely affects the dough.
The Cookie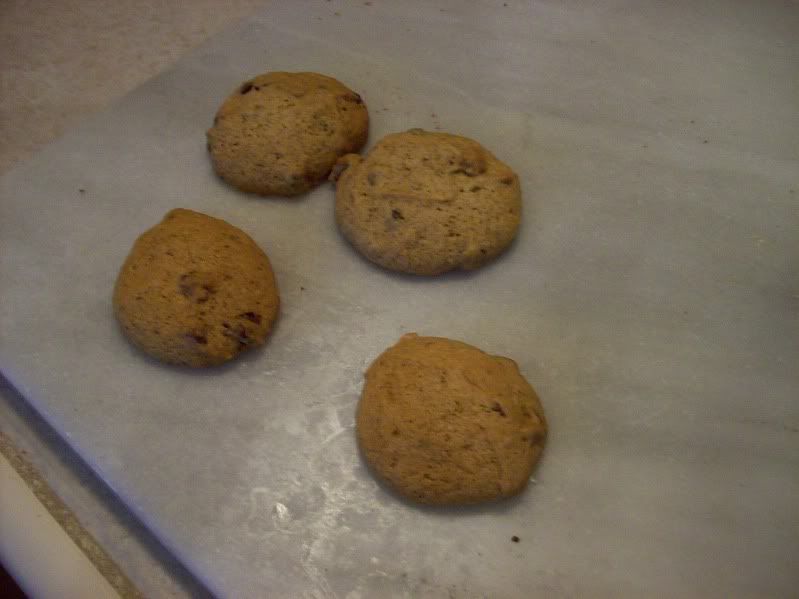 nearly vegan (except for the chocolate chips), whole grain, low fat, no saturated fat, no cholesterol. The only thing bad is normal amounts of sugar. But really, if you take away the sugar
and
the fat, what are you left with? Pitas.
2T flax seed meal

1/4 cup + 2T warm water
stir to combine, set aside.
1/2 cup unsweetened applesauce

1/2 cup vegetable oil
(I do wonder how olive oil might be)

1 cup brown sugar

1/2 cup white sugar

1 and 1/2 t vanilla
Beat to combine.
Add the flax seed meal/water mixture, beat briefly.
Stir in:
1 and 1/4 cup whole wheat flour

1 cup all-purpose flour

1t baking soda

1t salt
Stir until combined.
Add
2 cups of
:
chocolate chips

raisins
dried cranberries
nuts

diced dried fruit

any combination of the above.
Drop by tablespoonful onto a parchment-lined cookie sheet,
bake in a 375F preheated oven for 14 minutes.
Cookies are best served at room temperature, but have a satisfying crust and soft middle when still warm.