CSA #7 gave me quite a shock. In the previous 5 weeks, we'd been inundated with lettuce. We gave and threw lettuce away, because we couldn't use it all. In week 6, I finally found ways to use up all our lettuce, and wouldn't you know, I had to go out and
buy
lettuce, because we ate it all up in 5 days. So I was pretty excited for the next batch of lettuce... but there was none! CSA #7 included no lettuce at all.
We received: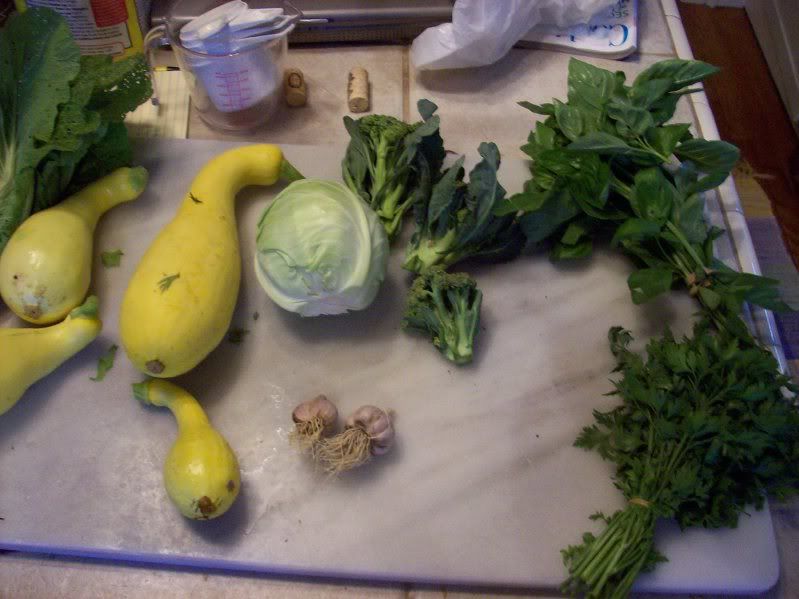 big bunches of very fragrant parsley and basil, more little broccolis, a small, perfect cabbage, two little tiny garlics, summer squash,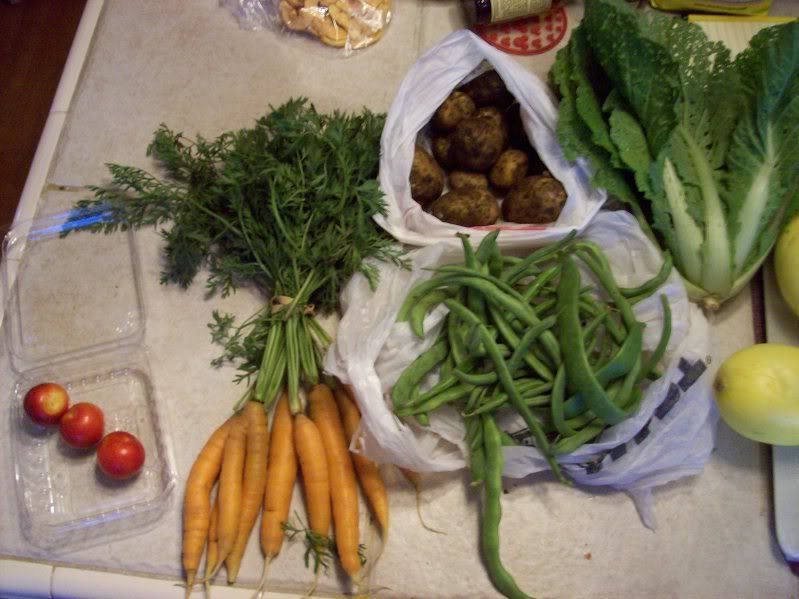 boy choy, green beans, 1lb of very dirty potatoes (it makes them seem fresher!), a bunch of beautiful carrots, 3 tiny red plums, and some flowers (cosmos, snap dragons, zinnias, and a sunflower).
The potatoes amuse me. It took me at least a minute to figure out what they were.
Mmm, the herbs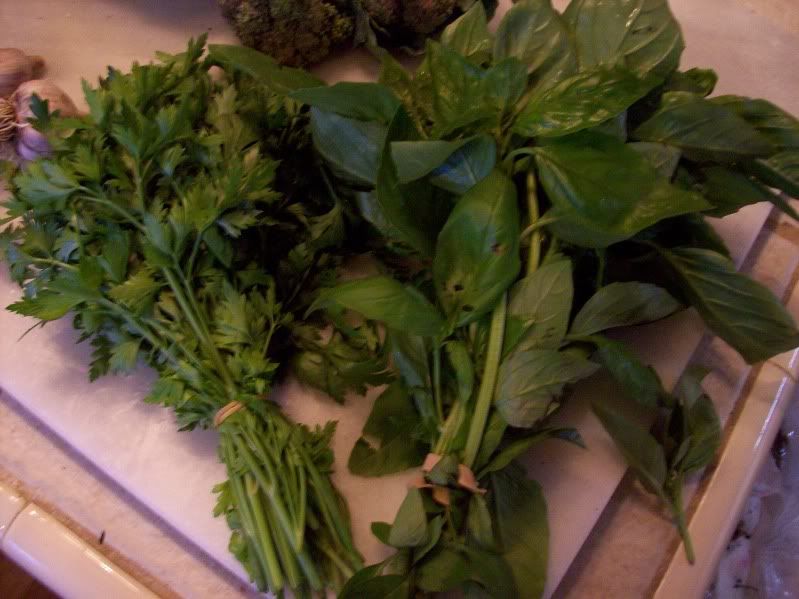 I love these carrots! They gave me about 1cup of chopped carrots.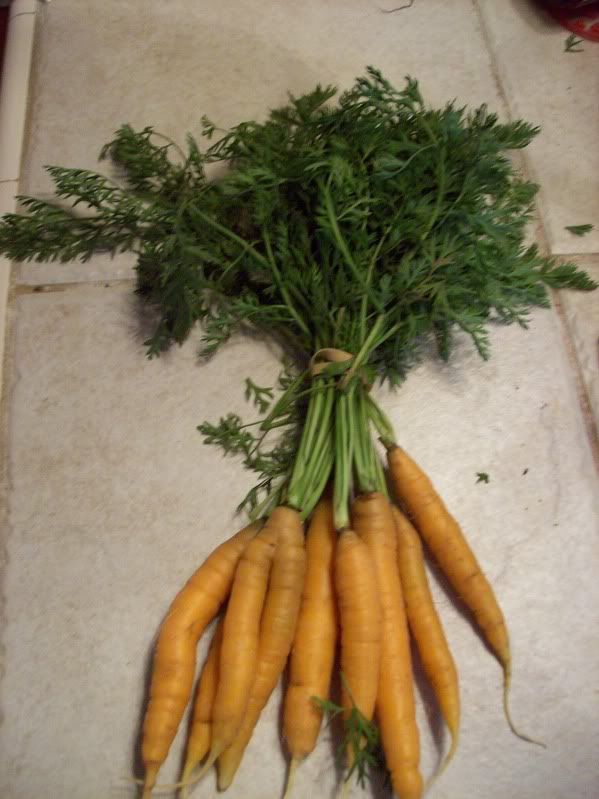 Little tiny broccoli!
And the little tiny garlic!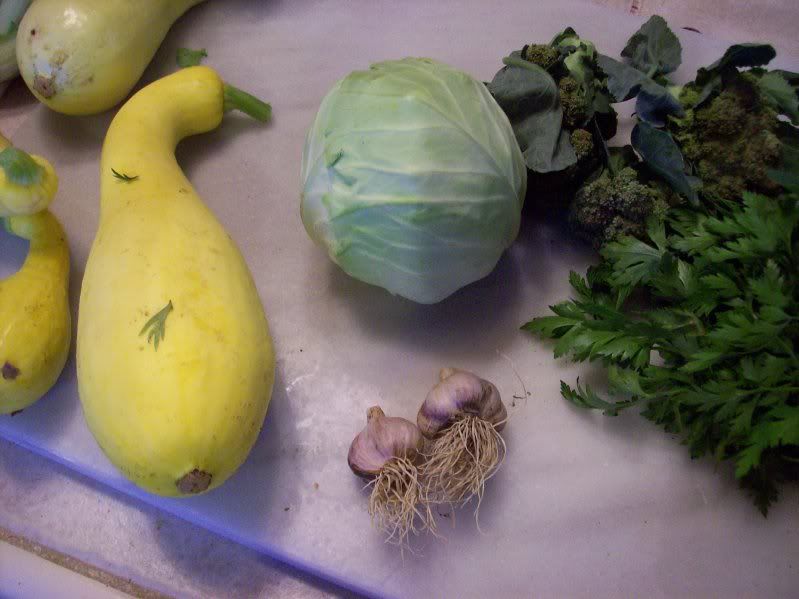 I love that all these things are tiny and cute.
So I'm sure you're wondering what in the world I made with all these goodies. Well, not to toot my own horn, but I did a pretty good job using things up. Currently we are left with only garlic (which was just too cute to use), broccoli and herbs.
First: abish.
Online we have a FQOTD: Foodie question of the day. CSA#7 day's was, what type of food have you not yet tried but want to? The overwhelming answer was Ethiopian. I have actually had Ethiopian, exactly one time, but that one meal haunts me, even a year later.
Clint and I visited R in Boston, and we went to her favorite Ethiopian restaurant, Addis Red Sea, on Tremont. The seating is a bit odd for a restaurant in the US, it was mostly little stools crowded around tiny tables. The three of us ate out of a giant, wide, low bowl, which was lined with a flatbread, and on top were our dishes- a veggie dish, a fish dish, and a lamb dish.
This was one of the few times I actually finished all my food. I could
not
stop eating the deliciousness.
The next morning, I woke up from a dream about the previous night's meal, and almost cried when I remembered we didn't have leftovers.
So when people online were discussing Ethiopian, I had to look up some recipes. I found
abish
, a meat dish with tomatoes, onions and spices. I added in 2 medium-sized summer squashes and one tiny zucchini.
I also tried to make injera, but that is a fail-tale for another day. Pictured below is a reasonably successful attempt at Americanized injera, using typical US ingredients. The "authentic" injera I made a few days later was revolting- leading me to believe either injera is not what I think it is, or I seriously screwed up the authentic recipe. Because the version below is similar to what I mean to make, I think I screwed up the authentic recipe. I may try again, I may avoid it like the plague. But first, the wildly successful abish.
Abish
my Americanized, CSA-using version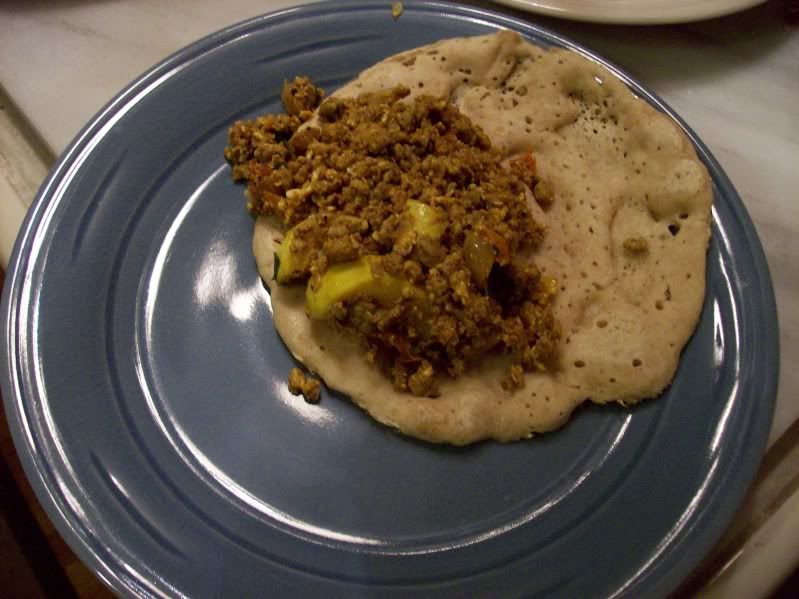 1T butter
1 onion, diced
1T ginger, grated
2 cloves garlic
2 tomatoes, diced
1 lb ground turkey or beef
dash salt
3 eggs, beaten
2 medium summer squashes or zucchinis, cut into bite-sized pieces
1t Turmeric
1T
berbere
(note: I used 1 sanaam chili, not 10 unspecified small chilis- 10 is scary. 1 is dull, I'd recommend 3-4)
1T Butter
1T chopped parsley
Extra parsley for garnishing
Saute the onion in the butter in a very large pan. Stir in ginger, garlic, tomatoes. Add in ground turkey/beef, cook for 15-20 min, uncovered, over low heat. Stir occasionally to prevent burning/sticking. Season with salt as desired.
Beat 3 eggs, add to pan. Once eggs are stirred in, add squash and turmeric and berbere. Cook over low for 10 min, then stir in butter and parsley. Remove from heat.
Serving recommendations from the website:
serve with rice or bread, mix with corn, or use to stuff other things. (I love that last one- how about an Ethiopian take on a chili relleno?)
I would have preferred this served with some Ethiopian flatbread, but either I'm really awful at making it, or I'm making the wrong kind. I ended up eating this meat with a whole wheat tortilla, burrito style.
Note: as I took my first bite, I was shocked that
I
made such a delicious dish, especially in only about 40 minutes (all while doing lots of other things, such as making the berbere while the meat was cooking, and sauteing breaded beets). So I really, highly recommend this dish. I will be making it again!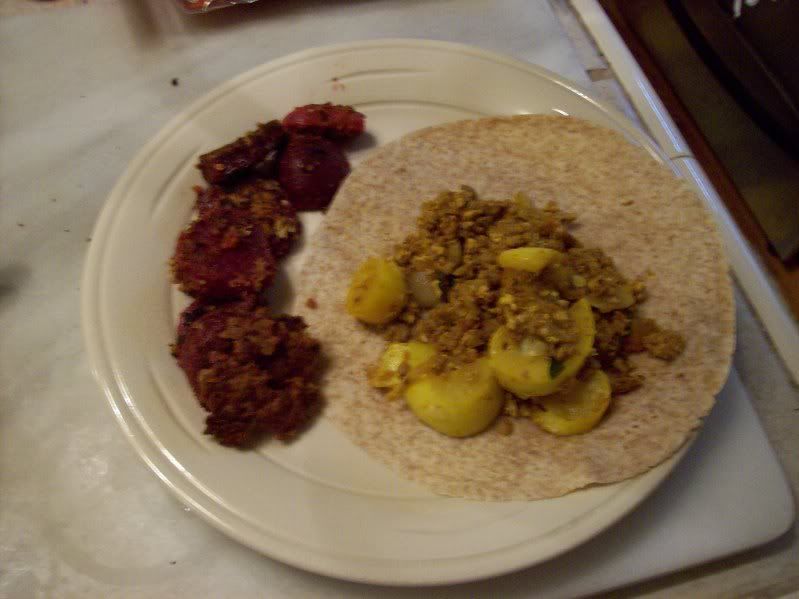 Pictured with the abish are some sauteed beets! I still have the previous week's beets to play with.
I found this recipe because American ways of using beets are boring. It's either roasted and served over a salad, or pickled. Um, can we say boring?
Indian sauteed beets
, modified
beets (I used 2 large and 4 baby)
1 egg, beaten
1/2 cup breadcrumbs
1/2 t spice mix (I used the berbere from above)
2T butter
Wash and trim the ends off the beets. Boil for about 45 minutes, until soft. Let cool (under cold running water works nicely) until cool enough to handle, then rub the beets with your hands (or a paper towel if you don't care for red palms) to remove the skins. This should be easy. Slice the beets.
Beat the egg in a bowl.
Mix breadcrumbs (make your own: toast some bread, the pulse it in a food processor. Today we used the stale marble rye in the breadbox. Random, yes, but a good way to use it up) with spices, put in another bowl.
Dunk each beet slice in egg and then breadcrumbs. Saute in butter (unhealthy and delicious) for a couple minutes on each side, until crispy. Enjoy!
To end my CSA meal, I made peach cobbler. Unfortunately, the peaches were not from the CSA, but Big Y. However, they were 69 cents/lb. They were also as hard as a rock.
Now, I'm not going to give you details about the peach cobbler. Unfortunately. Why? Because the topping was pretty bad (big fat fail,
Martha Stewart
!). It was gloppy and flavorless, and when I the cobbler, I think nice biscuity topping. But the filling was good.
Find a good cobber topping recipe, and here's your filling:
8 peaches, sliced (I left the skin on)
1/4-1/2 cup sugar (depending on the ripeness of the peaches- more ripe=less sugar)
1T cornstarch
1T lemon juice
2T basil, chiffonaded (from the CSA!)
Mix all of that, put into a square baking dish. Top with a good topping (let me know if you find one), bake at 350 for about an hour.
Finally, I made
aleecha
, an Ethiopian veggie stew. Because Clint and I are primarily meat-eaters, a vegetarian meal has to be really hardy to please us (i.e. risotto, or a lot of bread and cheese). This meal didn't quite do it for us, but as a side, it's really good. If you tend towards vegetarian, you may enjoy it.
Aleecha, CSA-ed.
1T oil
1 small onion, diced
(original recipe calls for 10 cloves of garlic, I omitted)
2 cup carrots, diced
1.5 cup water or stock (veggie, chicken, etc)
1t turmeric, ground
1t berbere
1 hot green peppers, halved (I omitted)
1 lb cabbage, coarsely sliced (I threw in the bok choy as well, the two together were 1lb)
2 medium summer squashes
1T tomato paste
1t salt, to taste
1 lb potatoes, cut like french fries
In a large pan/shallow pot, saute onion, garlic and carrots for a couple minutes over medium heat. Add 1/2 cup water/stock and cook for 5 min. Add spices, peppers, cabbage/bok choy and squash. Cover and cook for 2 minutes. Add potatoes, salt and tomato paste and stir well, cook, covered, for 5 more minutes. Add remaining water/stock and cook until potatoes are cooked through, 5-10 minutes more.
Serve with inerja/pita/tortilla/ciabatta/whatever you have on hand, as a meal or a side.
Note: the primary reason I'm telling you about this recipe, even though we weren't so excited by it, is because the summer squash in this dish were phenomenal. Usually I steam them and sprinkle with salt and pepper, and they got the same texture here, but were so incredibly flavorful. I need to modify this for just the squash.