My dad's birthday was last weekend. He's not so big on cake. He has few strong food preferences, but unless he's being polite or is actually hungry, he won't usually indulge in cake.
So he got a birthday pie this year. The candles stood up in it, that's enough.
Dad's favorite is lemon meringue pie. I've never made a lemon meringue pie before. One year I made a lemon meringue cake, which had some issues related to the insane heat and humidity early August sometimes experiences, but tasted good. This was the year I went for it, though, and with great success.
I used Martha's
Lemon Meringue Pie recipe
, which is excellent.
I used some pate sucree (pie crust with more sugar and egg yolks, as opposed to flour-salt-butter-water pate brisee) that I'd made a month before and stored in the freezer. I blind baked that crust in my lovely Simon Pearce pie dish.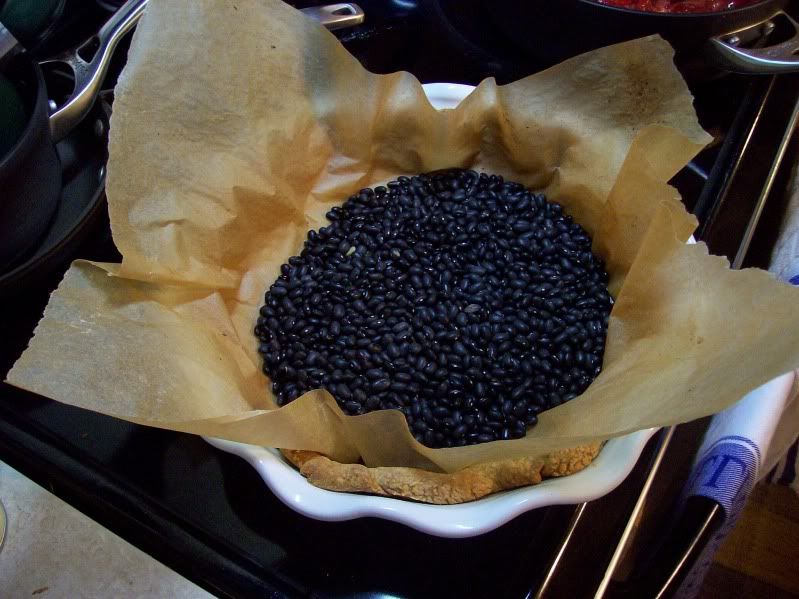 Blind Baking
The Purpose:
when the filling doesn't need to be baked, you bake the pie crust alone before you fill it. You don't want raw crust.
The Problem:
you can't just put the crust in the pan and stick it right in the oven (believe me, I've tried). It shrinks and instead of a crust lining the whole dish, you get a little circle on the bottom that doesn't even begin to cover the sides. Not to mention the horrible air bubbles that sometimes happen.
The Solution:
Place the pie crust in the (greased) pie dish, make it pretty like you normally would. Then put a big piece of parchment paper in the crust, and fill that with dried beans or pie beads (beans are cheaper and available at the grocery store). The beans/beads hold the pie crust in place as it bakes.
I baked my crust for 45 min at 375F.
Meanwhile, I made the lemon filling.
In a pan (on the counter, not on the burner), I combined
the zest of 2 lemons
1 cup of sugar
8 egg yolks
(save the whites for the meringue!)
and whisked.
I then whisked in
2/3 cup fresh lemon juice
(from 3 lemons, but you need to measure it yourself)
1/4t salt
I placed this over medium heat.
I then combined
1 cup water
1/4cup cornstarch
in the following way:
whisk the cornstarch together with about 1/4-1/2cup water very well- there must be no lumps! Then add the remaining water, whisking vigorously. No lumps!
I added this
cornstarch water
to the lemon/egg mixture as it heated up, as well as
1 and 1/4 sticks (10T) cold butter
, cut into ~1/2T pieces.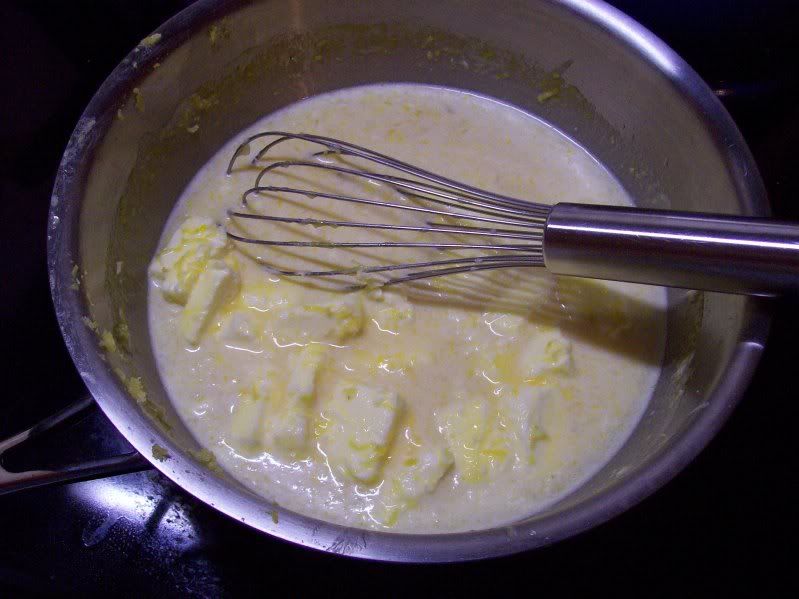 I stirred this with a whisk as it heated, and switched to a wooden spoon after the butter melted. You want it to thicken (and it will get very thick, like store-bought pudding thick), but you don't want it to boil. The recipe says it takes 5 min, it took more like 12 min for me. Keep stirring, and think about how thick lemon meringue pie filling normally is. That's how thick this should be.
Pour that into the pie pan after the crust has cooled.
Stick that in the fridge for a while- I placed plastic wrap directly on top of the curd (otherwise it will form a skin) and wrapped it well, and left it for 3 days.
Now, make the meringue. Don't be scared- this is the reason I'd never made a lemon meringue pie before, and it was actually really easy.
In the bowl of your mixer, combine
8 egg whites
(leftover from making the lemon curd- why else do you think they use meringue to top this pie?)
2/3 cup sugar
1/4t salt
and beat on medium-high speed. Beat, beat, beat. This takes a few minutes, you want nice, stiff egg white peaks. When you lift the beater out of the meringue, it shouldn't droop at all. Be patient. If your arm gets tired, that's just a sign you need a stand mixer (or you should increase your weight lifting a few weeks prior to making meringue).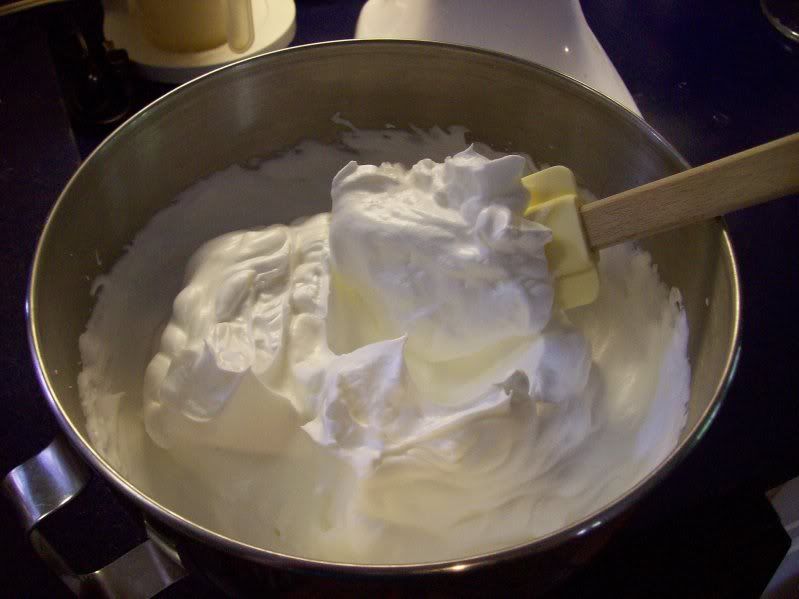 Top the pie (take the plastic wrap off first!) with the meringue, and make sure the meringue touches the edges of the crust (so says Martha, but I'm not sure why). Then bake at 350F to brown the meringue.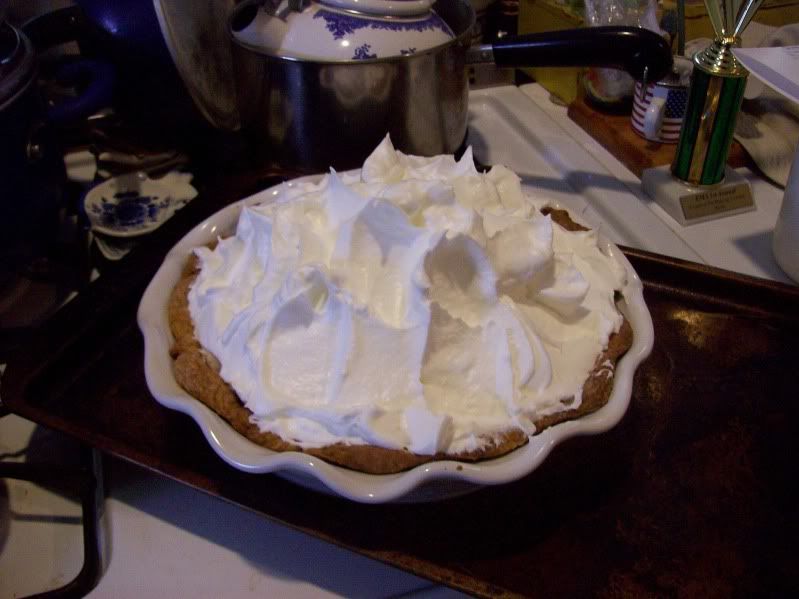 Martha says bake 8-10 min. I like a nice browned meringue, so I baked 30 min. I would have baked longer, but I was impatient. Also, raw egg whites freak me out, I like to pretend baking a giant mountain of meringue for 30-40 minutes will make it safe. I know it's probably not, but let me have my egg fantasy.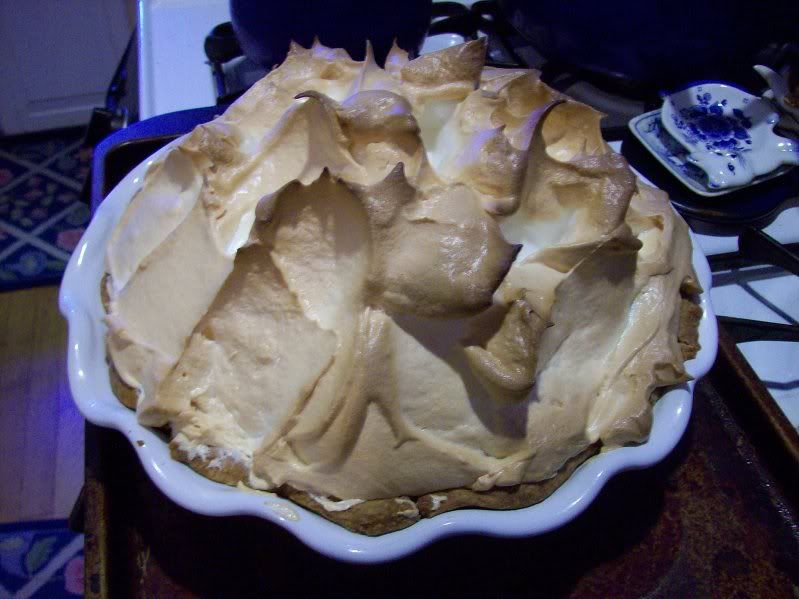 The results? Delicious. I'm so impressed with myself.