Can you believe it? CSA #8!
And along those lines, how is it August already? I'm glad I'm not on the school schedule anymore, I don't have to mourn the loss of summer, just celebrate the return of cooler weather (although parking at work in the summer is
so
much easier).
With CSA #8, I must admit a sad truth: I threw food away. :(
Let's begin:
Clint picked up the share (as usual), and I came home to this sight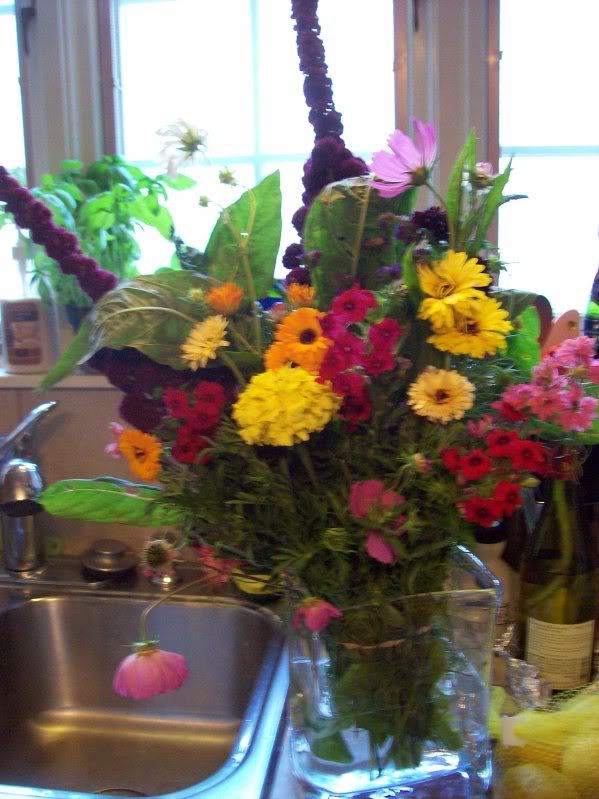 and said, whoa! These were some big flowers.
We got more beets, more lettuce, some parsley, 3 small cabbages, 2 small summer squashes, a zucchini, and a cucumber, another tiny garlic,
another kind of squash, 3 tiny plums, a single peach, more dirty potatoes (love the dirt!), some kind of green, pink and cream beans,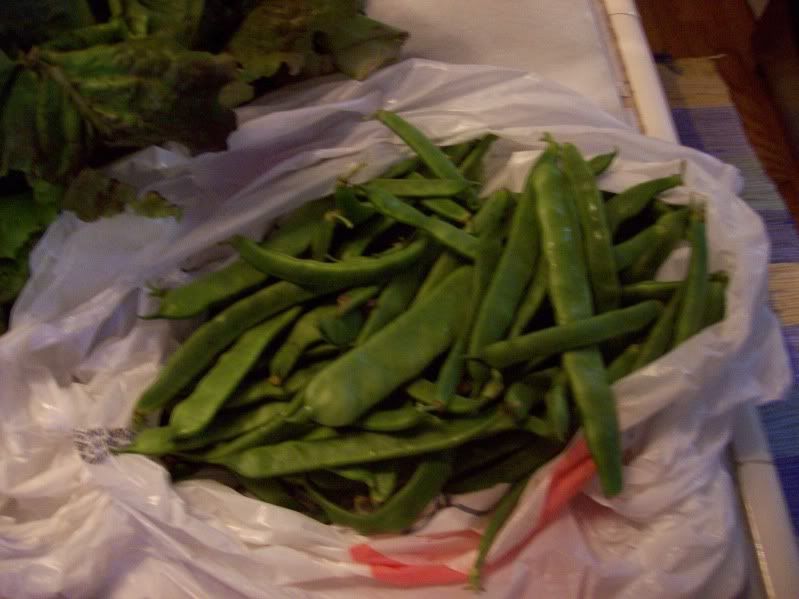 and green beans.
What did I do with all of it? I gave some of the cabbage away. I hope to grill the last head. I gave the beets away and cooked and froze the greens (because the person I was giving them to told me to just cut the greens off so they'd fit in the veggie drawer better. What, waste food?!? Never!). I will tell you the tale of the peach tomorrow (he joined some friends from PA in a big pot, they had a lot fun together) and we ate the plums. The lettuce and cucumber became salad, the potatoes are waiting, some of the squashes were steamed and added to shrimp red curry leftovers (love the steamed zucchini in there, it really improved an otherwise mediocre dish), and some other squashes and the garlic were used in the recipe below.
What about the beans?
The beans had a sad tale. I planned to make
zydeco beans
with them, I bought jars and lids and vinegar, and I had all the herbs and spices I needed. The only thing I lacked was time. So- I put them in the cooler on Friday, took them to my parents' house, and planned to can them on Sunday. On Sunday, however, they were all a big mess of mold. I thought they'd be fine in the fridge, they were only 4-6 days old (depending on when they were picked), and certainly grocery store beans are that old when they get put into my cart. Perhaps I should not have left them in their plastic bags. Sigh.
I will redeem myself, though, we expect more beans, and I'll can them promptly.
On a happier note, the squash.
I made squash soup! Incidentally, squash soup-making occured on the same evening as strawberry sauce-making, lemon meringue pie-making, and peach cobbler-heating-up, and this particular evening was about 90F outside and rather humid. I should consider the weather before embarking on an all-night cooking spree. But you know what? This food was completely worth it. And the lemon meringue pie was for my dad's birthday.
Summer Squash Soup
adapted from
Naturally Ella
, thanks to
TasteSpotting
Ingredients:
1T olive oil

3 small summer squash
1 onion, diced

2-3 carrots, diced
1-2 cloves garlic

2-3 small potatoes, peeled and diced
1/4 cup white wine
3 cups broth (I used chicken)

1/4t coriander
1/4t tumeric
1/4t paprika
1/8 teaspoon cumin (the original recipe also used mustard powder and cinnamon, but, um, I forgot)

pinch chipotle pepper

1/3 cup coconut milk
Heat the oil in a large pot, add the onion an
d garl
ic and saute for a few minutes. Add squash, carrots and potatoes and cook til softened, 7-10 minutes. Add the spices and then white wine to deglaze the pan. Add broth and simmer for about 30 minutes. Remove from heat and puree with an immersion blender, or carefully add soup to a regular blender and puree in batches. Return to pot, place back on the burner to reheat, and stir in coconut milk.
To serve, top with a dollop of coconut milk and some homemade croutons.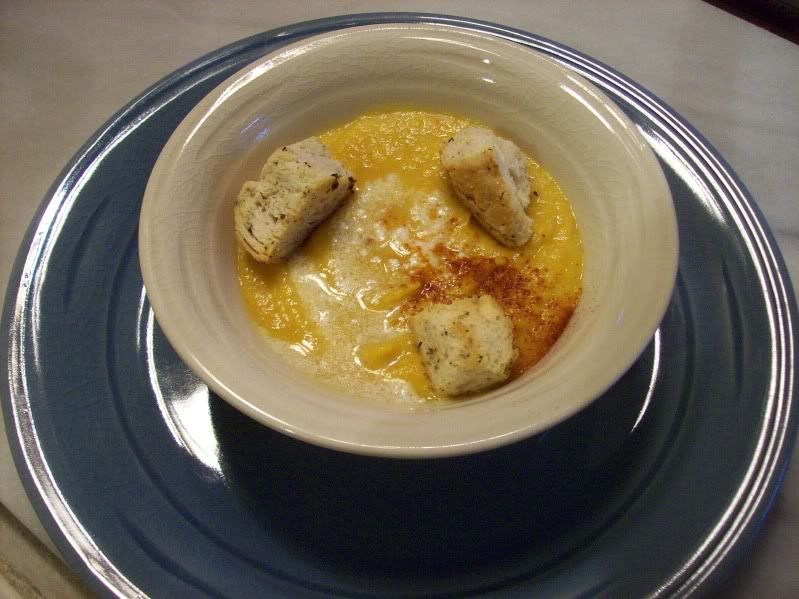 Homemade Croutons
Have you made croutons before? No? You should- they're easy and fun, and a great way to use up bread that might otherwise go stale.
Ingredients:
bread, cut into cubes
olive oil
herbs and spices
Toss the bread with a few T of olive oil (enough to coat) and herbs/spices of your choice. Make sure oil and herbs evenly coat the bread. Transfer to a cookie sheet, bake at 350F for 10-25 minutes, until they're as crisp as you want, and depending on the size of the cubes. Store in a ziploc bag.
I like to use herb blends or garlic salt. Penzey's Sunny Paris or Sunny Spain blends make good croutons. The croutons served with the soup are coated in a Stonewall Kitchens herb blend for poultry.