...to make posole?
Less than I used. gah, hot!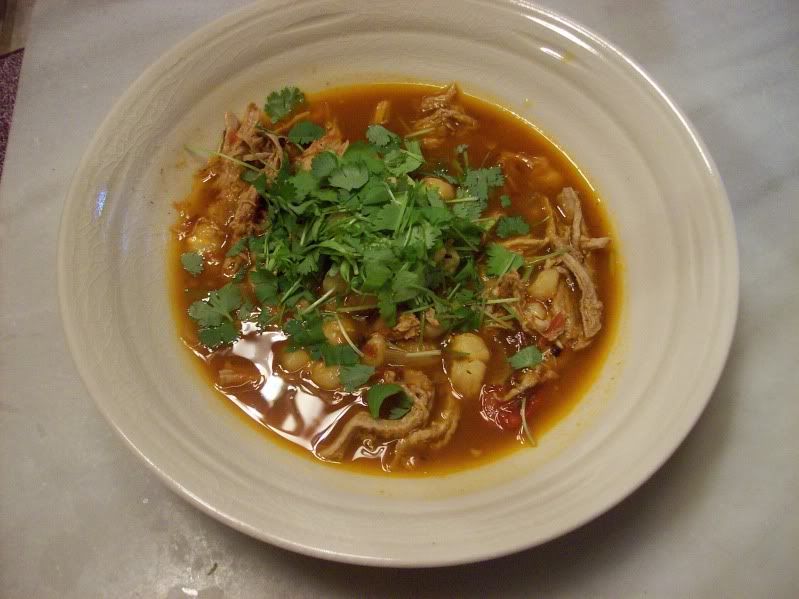 Hot, yet delicious. Just drink with milk (or be clever and use the recipe's suggested amount of chipotles)
For some reason, I have posole on my mind. I don't quite know why: I've never eaten it, I'd never even heard of it until it was in
Cooking Light
a month or two ago. But I read the CL recipe and immediately went out and bought hominy- another thing I'd never had (I tried to buy tomatillos too, but they didn't have any- they didn't even have an empty spot on the shelf where they might be). However, as luck would have it, a recipe for pork posole was featured in the newspaper's (otherwise meager) food section on this weekend.
And
we had all the ingredients on hand. So we decided that's what'd be for dinner the next night.
First, a note: lest you all get turned off by the spiciness of my first batch of posole, I must explain. I used over twice as much chipotles in adobo as the recipe said. Why? I apparently think I'm a little more macho than I really am. Well, and when I tried to transfer the rest of the can of chipotles to a tupperware container, they didn't all fit, so I decided to just add more to the soup. This was
dumb
. If this happens to you, just get a second container for the chipotles. Finding room for yet another container in your fridge is a better option than an overly fiery soup.
Chipotle Pork Posole
from the newspaper, originally from Fresh Flavor Fast, the new Everyday Food cookbook
makes 6 meal-sized bowls of soup
1T olive oil
1 pork tenderloin, about 1.5 lbs
salt and pepper
1 onion, chopped
2 garlic cloves, minced
1T chipotles in adobo, minced (or, you know, adjust according to your taste. 2T is pretty darn spicy)
3 cups homemade chicken stock (recipe follows)
3 cups water
2 cans hominy, rinsed and drained
1lb tomatoes, peeled (or 1 can of diced tomatoes)
1/2 cup cilantro, roughly chopped
Trim the pork of fat and the silver membrane thing. Season with salt and pepper, and heat 1T olive oil in a pot. Add the pork, brown on all sides (about 8min total). It will still be raw inside. Transfer to a plate and set aside.
Add the onion and garlic to the pot, cooked for 3-4 minutes, until softened. Add the chipotles in adobo, and
stand back!
The recipe said to cook for a minute, until it became fragrant, but what they really mean is that your eyes will water and you'll start sneezing. Your cat will go in the other room, and your sneezing husband will follow. However, it does smell amazing.
Then add the chicken stock, water, hominy, tomatoes to the pan, and the pork. Bring to a boil and then simmer, uncovered, for 15 minutes. (I wish at this point I'd added a dash of cumin)
Check that the pork has reached 150F, then remove the pork and begin to shred it (I just used 2 forks to pull it apart). Transfer the shredded meat back to the pot, mix around, and serve. Garnish with cilantro.
I've mentioned it's hot, but this soup is also really tasty. You can see from the instructions that it's very straightforward, and it doesn't take much time. I'm definitely making this again, possibly with chicken instead of pork (Clint likes to hoard all the pork so I can make the honey cumin chipotle glazed pork) and I will definitely use the recommended amount of chipotle instead of going crazy with the stuff.
Ok, a note on the chicken stock.
I made some! I froze it! I thawed and used it!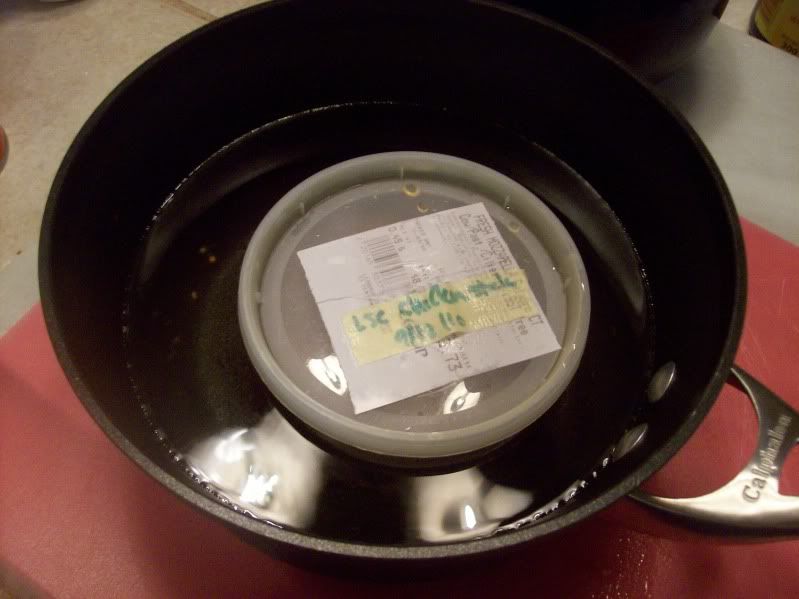 It was exciting.
Someone online mentioned crock pot chicken stock a while ago, and I was instantly intrigued. What was this? Why was it better than on the stove top? You wanna know why? Because it tastes amazing. My stove top chicken stock puts the canned stuff to shame, but the first batch I made in the crock pot makes my stove top stock look like greasy water. You
must
make this.
Even more exciting, I realized I can make chicken stock out of any chicken meat! I can get the "buy more, save more!" packs at Big Y!
Crock Pot Chicken Stock
adapted from
The Way the Cookie Crumbles

4lbs chicken- I used legs and thighs, and took the skin off of all but 2 legs
1 large onion, quartered
2 carrots, cut into big chunks
2 stalks celery, cut into big chunks (I unfortunately omitted)
4 cloves garlic, peeled
3 bay leaves
enough water to fill the crock pot (and really fill it, it won't bubble crazily, and the water will evaporate over time)- about 12 cups for me
(I didn't add any salt- I figured I'd add that when it came time to use the stock)
Combine everything in the crock pot (mine's the standard large size). Cook on high for 2 hours, then turn to low and cook for another 20 hours.
Once cooking is done, remove all the solid bits. Save the meat of the chicken for something else (2 nights of chicken tacos, and 2 nights of chicken pizza for us). Discard the bones and veggies. Strain the liquid in a mesh strainer, transferring into Tupperware. Refrigerate overnight.
The next day, skim off all the fat (which has floated to the top and solidified). Now either keep the stock in the fridge for use in the near future, or (what I did) transfer 1 or 2 cup aliquots into smaller containers, and freeze to use as needed.
*
When I use this stock in recipes, I dilute it: one part stock, one part water.
It's not necessary, but the stock is so rich that I can stretch it this way without taking away any flavor. (I could probably dilute it 1:8 and it'd still be more flavorful than College Inn). This dilution is not mentioned in the posole recipe, so really I used 1.5 cups stock and 4.5 cups water.
Unlike stove top stocks, this stock did not became gelatinous, but it had a much darker, richer flavor and color than any stock I've made before. I highly recommend this recipe. The only drawback is that anyone home during the cooking portion will be hungry the entire time, after smelling the deliciousness.