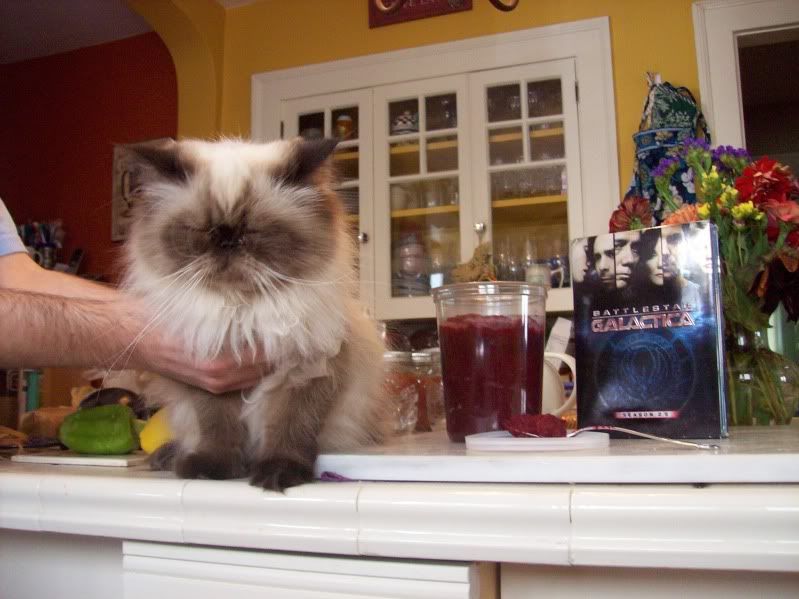 As much as I love the corny title, this was my husband's idea. And yes, we realize that that's not a bear, it's Tiny Kitten, but it's close enough.
We had to photograph quickly, Miss Tiny was
not
pleased to be up so high. One funny bit about her: she lives in a 2-dimensional world. She really has to be coaxed to even look up, and she doesn't like to go higher than chair-height (unless I'm making her fly, when she looks around with great interest before my arms get tired and I put her down). She spends most of her time on the ground, or on a box 3-6 inches above the ground.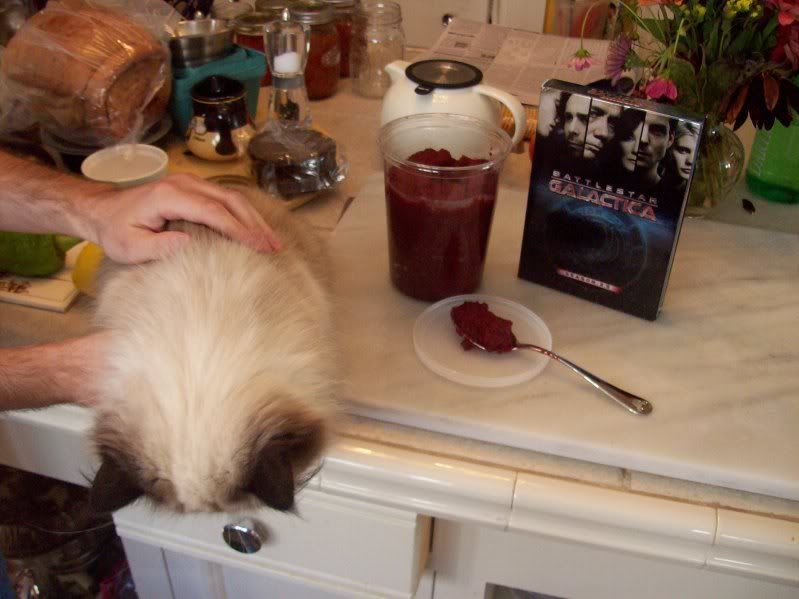 All summer we've had a ton of beets. I buy them, mom buys them, the CSA has had a bumper crop of them this year. I'm the only one that eats them, and I pretty much just eat them the same way every time: boiled, peeled, sliced, topped with chevre, honey and black pepper and heated in the oven. It's good, but it gets boring. I've tried other ways, but they're not that exciting. So when I saw this beet pizza crust recipe on taste spotting, I was pretty darn excited. When I tasted it, I was even more excited- it's really
good
.
Beet Pizza Crust
from (Never Home) Maker
First, make beet puree.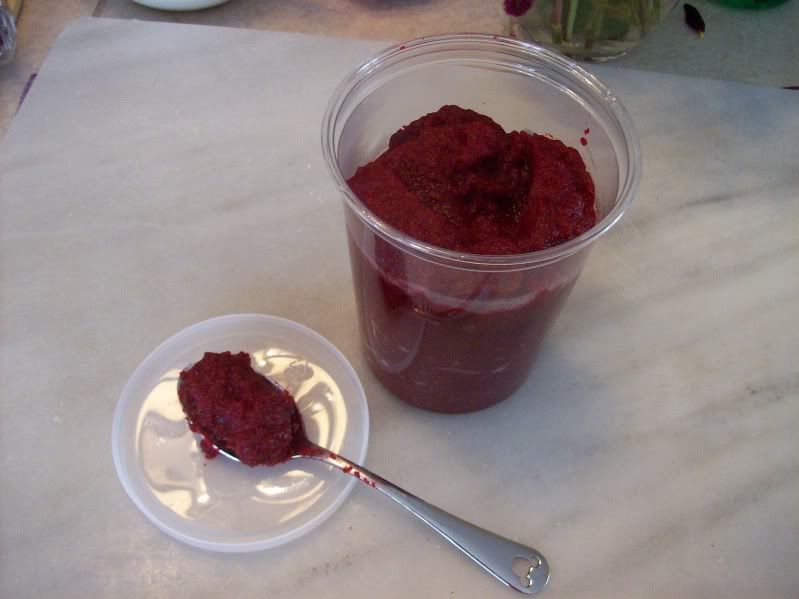 I used fresh beets, but canned are fine and are probably easier. I, um, don't remember how many beets I used, but I'd say 2 really big ones, 3 or 4 regular-sized ones, and several tiny ones.
1a (fresh beets). Wash beets, cut the greens off (save and cook as you would chard) (and maybe cut any enormous beets in half). Place in a large pot of water and bring to a boil. Boil about 45-60 minutes. Remove from water (but don't discard the water yet) and when cool enough to handle, simply rub with your hands to remove the skin.
1b (canned beets). Open the can.
(easier, but so not as tasty)
2. Puree. Dump the beets (without liquid) in a blender (cut the larger ones into chunks), add some of the cooking water (or canning liquid) and puree. For about 3cups of pureed beets, I used about 3/4 cup of water, just enough so that my blender could blend.
3. Store the puree in the refrigerator (or freezer) until you use it up.
Now, to the pizza dough!
1 cup warm water
1 T active dry yeast
Combine the bowl of your mixer (or any bowl, if you're doing this by hand), let the yeast wake up, about 10 minutes.
Then add:
2 T honey
(but I'd do 1T next time)
1/2 cup beet puree
1T olive oil
Mix til combined (I used the paddle on the mixer)
Then add:
1 and 1/2 cups whole wheat flour
1 and 1/2 cups all purpose flour
Mix to combine. Giggle gleefully over the awesome pink color (sadly, I did not photograph this, but my shirt just happened to match the dough nearly perfectly. You are what you eat!).
Add
1- 1 and 1/2 cup flour
more, until the dough is workable. I found the dough to be fairly soft and sticky (but not overly so) after adding 4 and 1/2 cups flour total. Note: the original recipe called for 3 and 1/2 cups bread flour. Knead (in the mixer or by hand) for a few minutes, 5-7? I did it until I got bored.
Lightly oil the bowl, let the bread rise for 1-2 hours. When ready, divide dough in two or three pieces, depending on how big you want your pizza (half the dough gave me a 16 inch pizza), and roll out into a somewhat circular shape. Freeze the remaining dough (wrapped in plastic wrap) if not using.
Now, assemble the pizza!
CPK Thai Chicken Pizza (a copycat recipe, not exact but still tasty)
Pizza Sauce*:
(this makes enough for 2 16 inch pizzas. I made one pizza and have the leftovers waiting for the second)
In a saucepan, combine:


1/2 cup peanut butter

(I used smooth, but I can imagine chunky being nice)


1/2 cup hoisin sauce




1 T. honey




2 t red wine vinegar




2 t grated ginger




1 T sesame oil




2 t soy sauce




1 t chili sauce

(I used some random "chili and garlic sauce" I had, but I think sriracha would have been better- see *)


1 T oyster sauce




2 T water



Bring to a boil over medium-high heat, then boil 1 minute. Set aside.
*it's called "spicy peanut sauce". It's not spicy at all, not one bit. I should have used sriracha.
Additional pizza toppings (for 1 pizza):
1 carrot, grated
2-3 scallions, cut on the diagonal
1/2 cup bean sprouts
(I omitted, we didn't have any)
1 cup mozzarella cheese
1-2T cilantro
2T cup roughly chopped peanuts
6oz chicken
, see below
Chicken:
Use leftover chicken (I used the meat from about 1-1.5lbs of legs and thighs that I'd used recently to make crockpot chicken stock. The chicken was cooked in a crockpot for 24 hours along with water, onions, carrots and various herbs. The meat was picked off the bones and saved.), the meat from a rotisserie chicken or stir fry some meat (white or dark, whatever) cut into small bite-sized chunks.
Combine about 6oz chicken with 1/3cup of the above pizza sauce. If you use leftover chicken, it might take on a pulled-chicken appearance, this is fine. Chunks of chicken might taste better, but chicken is chicken.
To assemble the pizza (it does look bizarre with these non-traditional colors):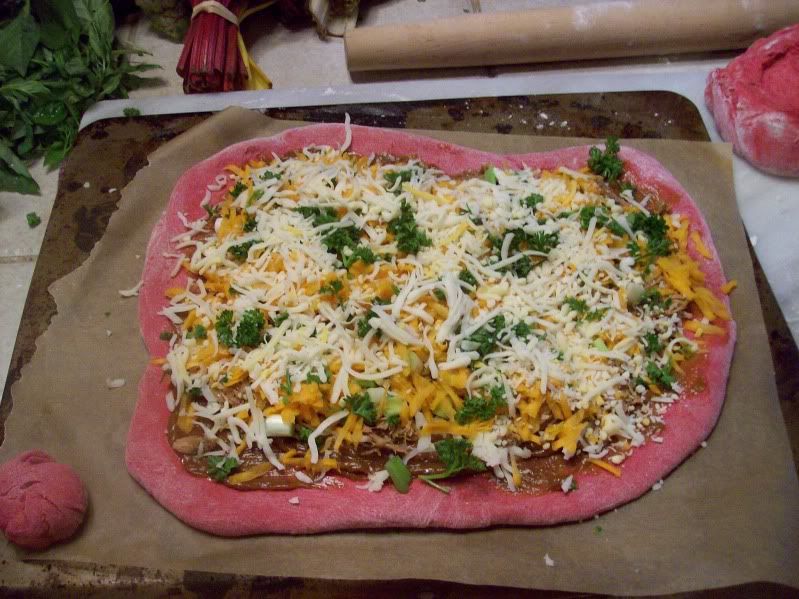 Roll out the dough. Place it on a baking sheet or on a pizza peel if you're using a pizza stone (our pizza stone was too small for this :( ). Spread about 1/3cup of the pizza sauce all over the pizza. Add chicken, then carrots, then scallions, then bean sprouts, then cheese, then cilantro and peanuts. Bake about 450F for about 25minutes.
This pizza dough is really soft, very different from the crusts I've been making lately. I loved it. Despite the awesome vivid pink color, the beet flavor is very faint but undetectable when you eat it with toppings. I can't wait to make this again. The developers of this recipe have also made pumpkin pizza crust, and you know I'm just itching to try that one next- especially since they used it to make
pumpkin garlic knots.
Oh my!
I'm eager to experiment with other purees- apple pizza dough, perhaps?