And with that, we reach September. Where did the summer go? At least it's still oppressively hot, so we won't miss it too much.
CSA #12 brought us a nice stash, including one veggie I've never cooked before.
2 peaches, 3 summer squash, 3 cucumbers,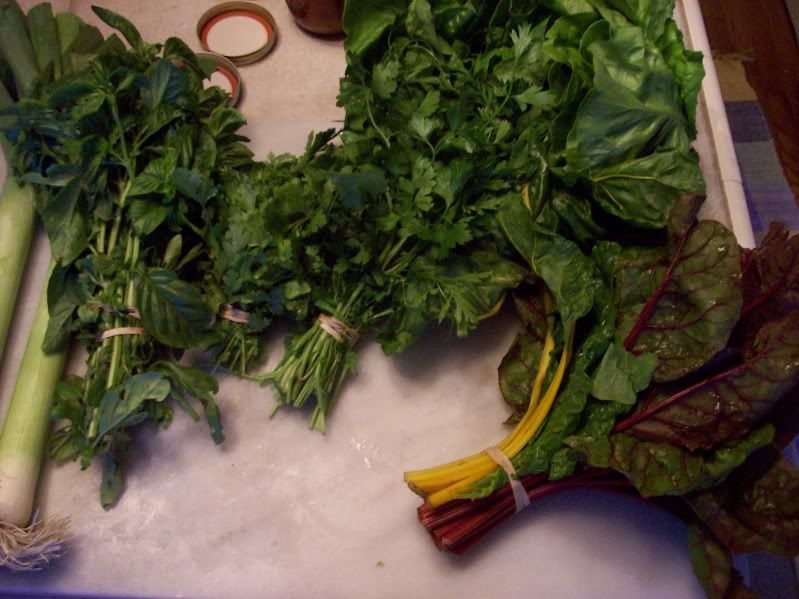 2 large leeks, basil, cilantro and parsley, 2 big beautiful heads of lettuce, some rainbow chard,
an EGGPLANT (oh my!), beans, and some awesome tomatoes,
and flowers, which seem a little sad in this heat (it was nearly 100 here today, and apparently over 100 yesterday- poor flowers!)
What will I do with it all?
Well,
salsa
. I have to make more, of course! More pesto (which I haven't told you about yet, because I made and froze it, I haven't actually used it) with the basil and this time, with the chard. The lettuce is calling out "lettuce wraps!", the leeks will go in the crisper until chicken soup season begins, the squash we'll probably boil and eat, the peaches will be eaten plain, which leaves us with... the beans and the eggplant. I may freeze the beans, but I have no clue about the eggplant. I've never cooked an eggplant before, but I know there's quite the variety of eggplant uses out there, so I plan to have some fun with it.