Wow, I'm behind! When I got my snazzy new computer, which has its own little SD card slot, so I don't have to mess around with extra cords, I thought I'd upload my photos instantly and blog promptly and often. But... life still gets in the way. And I still have to upload all the photos to photobucket, which is slow on our DSL.
Anyway, on September 8th, week #13 of the CSA, we received the following:
3 onions, celery (first time for that!) beets, red leaf lettuce, tomatoes,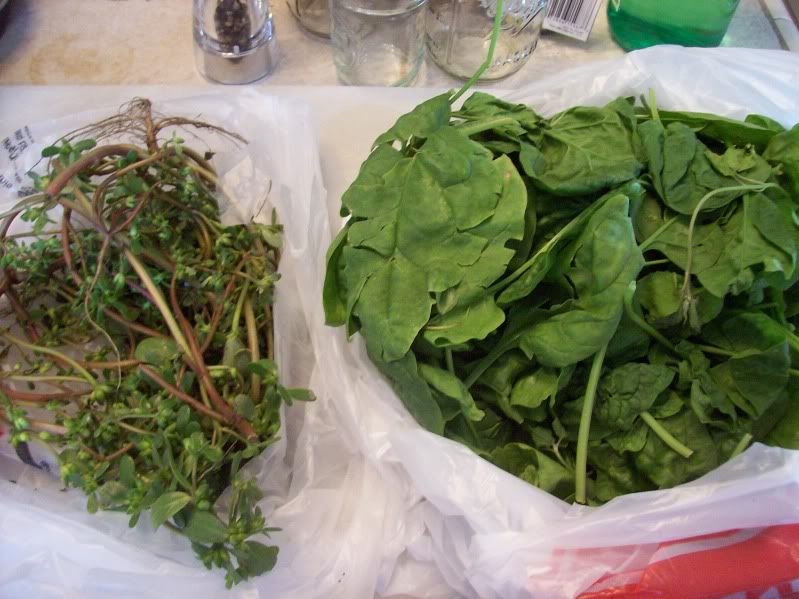 8oz spinach, purslane,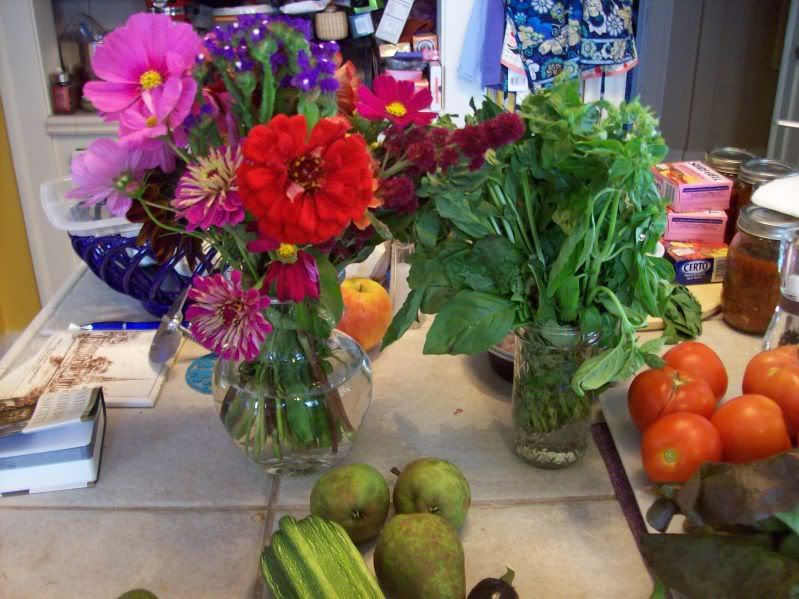 flowers, a big bunch of basil, 3 pears, and (not pictured, not sure what happened to that photo!) a big green stripey squash, 2 small yellow squashes, 2 cucumbers, a small black hot pepper, a green bell pepper, and 3 pears.
What did I do with it all? The tomatoes turned into one last batch of salsa (using 2 habeneros, but I wish I'd also added in some jalapenos and/or chipotle- it was a decent amount of spicy (could have been hotter) but the spiciness was very 1 dimensional and uninteresting.). The lettuce became lots and lots of salad, as did the cucumbers, some of the basil turned into
salad dressing
(which was pretty good, although rather heavy on the mustard flavor), and the squashes got steamed and were eaten plain.
The beets turned into the beet puree I mentioned in the last post, and I unfortunately failed at saving the greens :(, I just didn't act quickly enough.
I sauteed the spinach for dinner just last night (for the most part, the food from our CSA has a much longer shelf life than grocery store veggies- once we figured out how to properly store it! The carrots are the only thing that don't last as well, a couple weeks in the crisper turn them very floppy. However, these are the most carroty-tasting carrots I have ever had, so the shorter shelf life is worth it.).
Sauteed Spinach
Ina Garten's Recipe
, reduced for our 8oz of spinach
8oz spinach, washed
1T olive oil
2 cloves garlic, sliced thinly
1/2t salt
3-4 grinds black pepper
Wash the spinach, dry it a little, it doesn't need to be super dry. In a large pot, heat the olive oil and garlic over medium-high heat, cook for a few minutes but don't let the garlic brown. Add the spinach, salt and pepper, stir and cover pot. Cook 2 minutes, then uncover and cook 2 minutes more. Serve immediately. Optional: add a dash of lemon juice and a pat of butter when transferring to serving bowl (we didn't, it was fine without).
Ever wonder how much spinach reduces?
Before: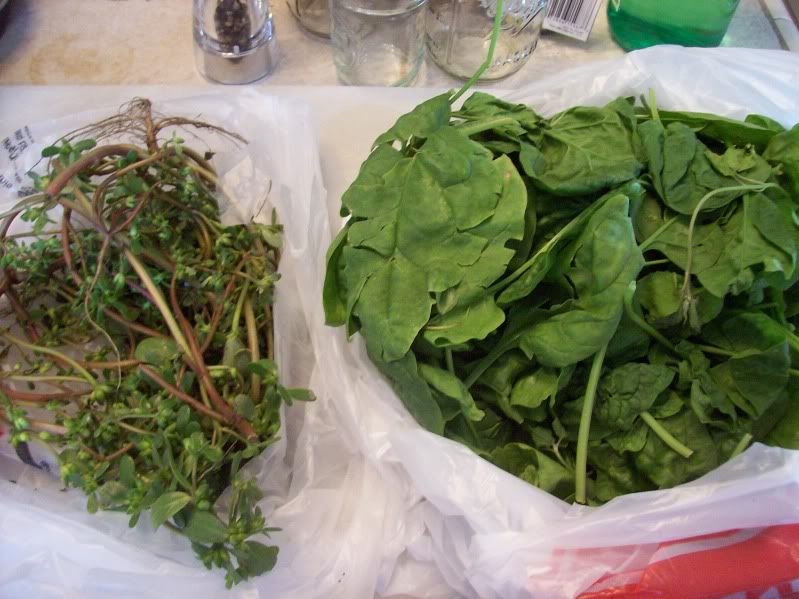 After: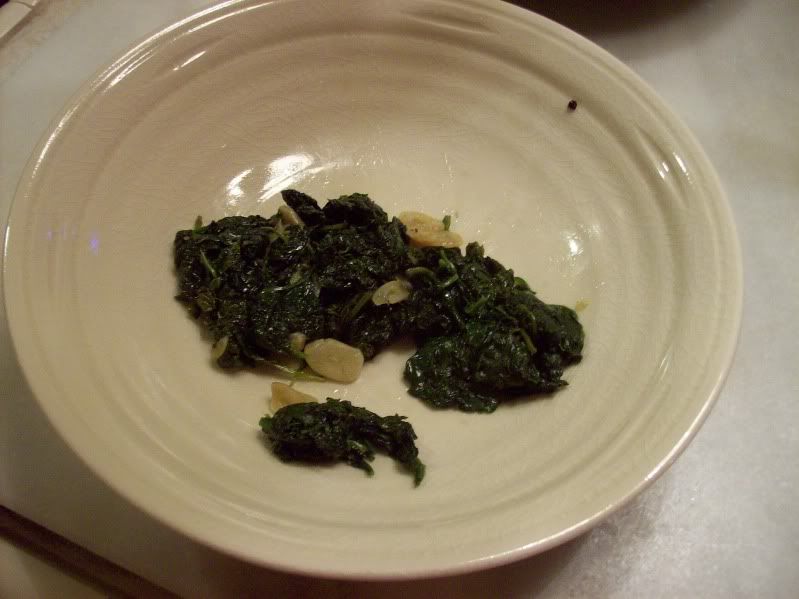 And that was supposed to serve 3 people. Oops! I should have added in some chard or beet greens.