This month our What's Baking? theme is very appropriately Valetine's Day colors, hosted by
She Cooks and Bakes
. I love color-themed holidays, so I was excited by this. I also got a little lucky, as we had our annual DAR Good Citizens awards meeting on the 25th, and those of us on the hospitality committee were requested to bring food for the tea that followed a Valentine's Day theme.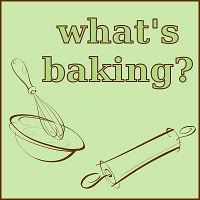 I assumed I'd make heart-shaped sugar cookies with pink and/or red icing, but as the month went on, I decided I'd made sugar cookies too often recently and I needed to do something different. I browsed tastespotting, but somehow I remembered a cupcake recipe Bird sent me well over a year ago- one that I couldn't wait to bake, but never ended up trying. I thought that might work. And wouldn't you know, I can't find her email with the link. But thanks to google, I found another recipe, and I'm really pleased with the results. Without further ado, my sweet in Valentine's Day colors....
Pink Grapefruit Cupcakes
recipe from
Alida's Kitchen
Cupcakes
(I doubled the original)
12T butter (1 and a half sticks), softened
1 and 1/3 cups granulated sugar
4 eggs
1t vanilla
1cup Greek yogurt (nonfat or low fat)
2 cups flour
1T baking powder
1/2t salt
zest from 1 or 2 medium-to-large grapefruits
Cream together butter and sugar, beat until fluffy. Beat in the eggs (1 or 2 at a time) until well-combined. Whisk together the flour, baking powder and salt, and add half to the butter/sugar/egg mixture, then stir in the yogurt and then the remaining flour, stirring only just til combined. Stir in the grapefruit zest.
Fill cupcake cups 2/3 full and bake at 350F until done- I baked mini cupcakes and it took about 16-18 minutes, for regular cupcake it'll be a bit longer.
Frosting
(I doubled the original)
1 8oz package 1/3 fat cream cheese, cold (take it out of the fridge and start the frosting immediately)
zest of 1 grapefruit
2T grapefruit juice
1t vanilla
4-6 cups powdered sugar
1t grapefruit zest, plus more for garnish
Beat together the cream cheese, juice, vanilla and 2 cups of powdered sugar until combined. Continue to add the sugar, 1 or 1/2 cup at a time, until the frosting is stiff, and stir in the zest. I piped using a large star tip, from my special giant tip collection my friend gave me for my 30th birthday- what a perfect present, right? She works in admissions at a culinary school so she knows where to get the good stuff!
The results: delicious!
I've never piped cream cheese frosting before, it's always been a little too runny. But I recently read on Annie's Eats about cc frosting and I followed her recommendation of using chilled cc instead of softened/room temp, and I'm not sure if that's solely the trick, but I was able to pipe this! I'm also used to having butter as well as cc, so maybe not having butter in this recipe helped. But even better, no butter and using low fat cc means it's low fat frosting! High in sugar, but hey, you can't have everything. The frosting is a little liquidy, but after a couple hours there's a nice, thin shell, which has a texture on the cupcakes I really enjoy.
The cake recipe is very similar to my old stand-by, the Magnolia Bakery vanilla cupcake recipe, but uses yogurt instead of milk. The result is a hardier but still light cupcake and I actually think I may like it better... I feel awful saying that! But maybe it's nice for winter, when you want more substantial food. We'll save the light and fluffy cupcakes for a hot July day!
Now, the grapefruit. I adore grapefruit. It's kind of crazy. Back in grad school, the grocery store would have a citrus case lot sale. 40 grapefruits would be around $20-27, depending on the year. I'd go and buy one.... and a week later, go and buy another. I actually used to be allergic to citrus (not like anaphalactic allergic) but I think I ate so many grapefruit my senior year that I simply overcame that allergy. Is that even possible? Even if not, grapefruit has no ill effects on me anymore, and I'll eat 3 or 4 in one sitting. So of course the idea of putting grapefruit in a cupcake just seems heavenly.
I would say that for these, you might want to go light on the zest. 1 and a half grapefruits worth of zest might be best, they can get a little bitter with too much zest. With that in mind (since I ate the batter before making the frosting), I went light on the frosting zest, but I did increase the juice in the frosting.
As for Valentine's Day colors, it's not obvious. This might be more of an interpretation of the theme. It's not day-glo pink or in-your-face red velvet. I actually intended to add some pink food coloring, but as I spooned the frosting into the piping bag, I realized I'd forgotten.... and left it at that. The grapefruit
is
pink, and the frosting has kind of a pink tinge... So I add the Valentine's sanding sugar to drive the point home. But however you choose to interpret this theme, I definitely recommend these cupcakes.
I'm also glad I made them mini, so I can just have one bite of grapefruity cream cheesey deliciousness a few times a day and not feel quite so guilty... I love mini cupcakes!