Exciting day today! my, my. I decided today was the day I was going to run over to E.A.Davis in Wellesley to see the new Lilly Pulitzer spring line for myself. I had a nagging fear in the back of my mind that they might not even
have
spring out yet... since it'd only debuted a few days ago. I was tempted to call and check, but then I decided there was still quite a bit of resort I hadn't tried out, so it wouldn't be a total loss.
Well. I walked in and spring was there! yippee! Straightaway I saw a rack with Ricci shifts in the new State of Mind print, so I immediately grabbed my size. A sales associate was standing there and said something along the lines of "well you know exactly what you want!" The people that work there are lovely, but they don't seem to understand the mind of a true Lilly Lover. She was flabbergasted when she saw all I wanted to bring into the fitting room- she actually said she wasn't sure it would fit! There were 3 hooks and a small bench, so she did have a point...
I'm doing this post in 2 parts... there's just far too much to say to fit into one post. Let's start with the dresses, and this weekend I'll tell you about the tops and bottoms.
Let's get started.
Oh first, here's what I wore yesterday: my Let's Get Gingky Jonah, purchased from RLL last fall. LOVE this print, I'd been searching high and low for a Blayney in it, but once I found the Jonah I was content (except... every so often I see a Vivi-like top in this print and I would very much love to have that! If you come across one in M or L, let me know!!) I'm also sporting my dear Not Just Fringe necklace, an ebay purchase, and my brown suede boots. I generally wear boots with this to try to winterize it- I worry that it's a little light for winter. Come April I'll pair some ballet flats with it.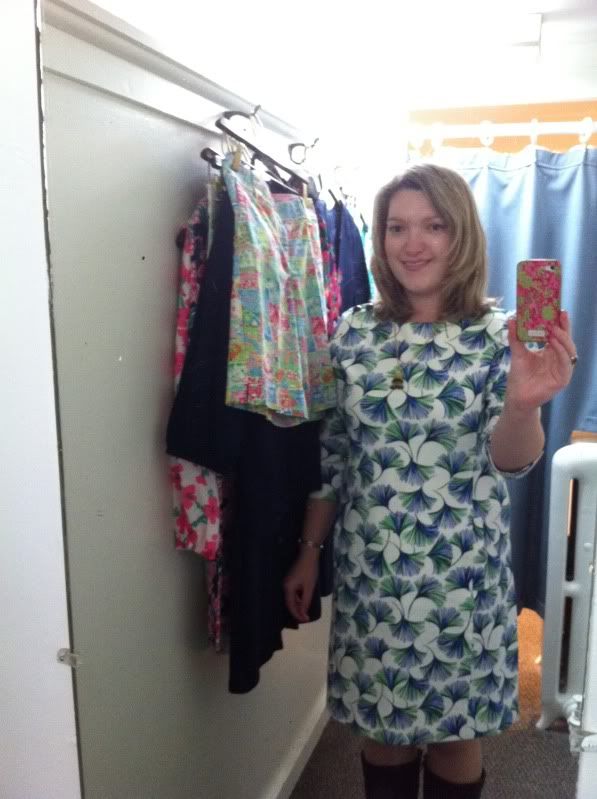 Here's my dressing room... lots of clothes! And not that big!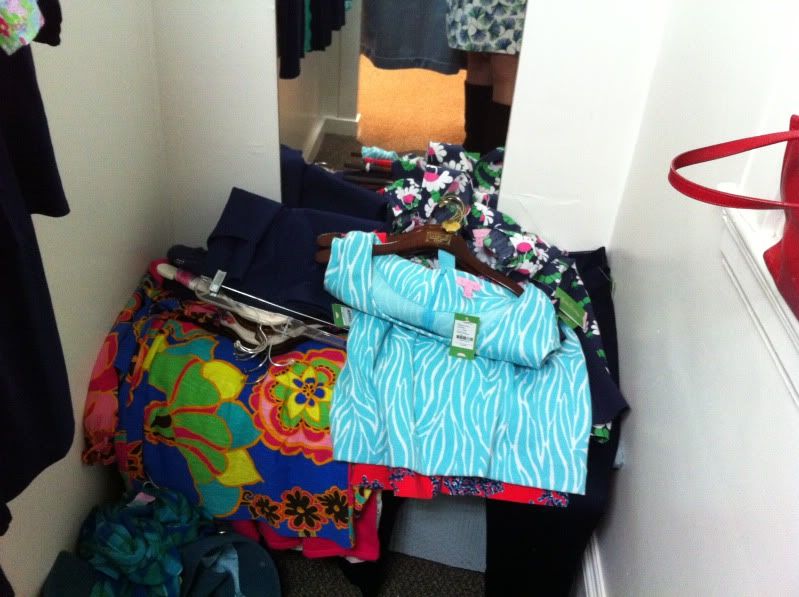 In this trip, I didn't end up going back for round 2, the saleslady helping me was very confused by the amount of clothes I was trying on in round 1, and I just felt kind of awkward about it. Also, there were actually other customers in there, unlike the other times I've been for my try-on-clothes-for-my-blog trips.
Ditra, size L, in Shorely Blue Purring Jacquard. Resort 2011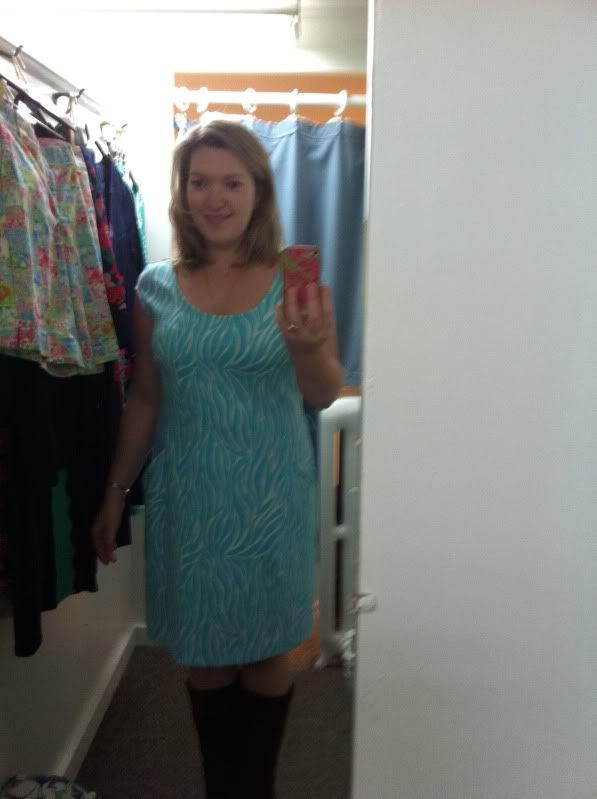 I thought I'd hate this. I'm not wearing the belt because belts don't work on me (I should probably take a picture of me in a belt so everyone can see how ridiculous it looks), but I actually kind of liked this. It's a little roomy, but I like the little cap sleeves. It's a heavy knit. I won't buy it, I didn't like it
that
much.... well, unless it shows up on smartbargains or RLL for $30!
Another Resort dress, Jia, size L in Coral Siesta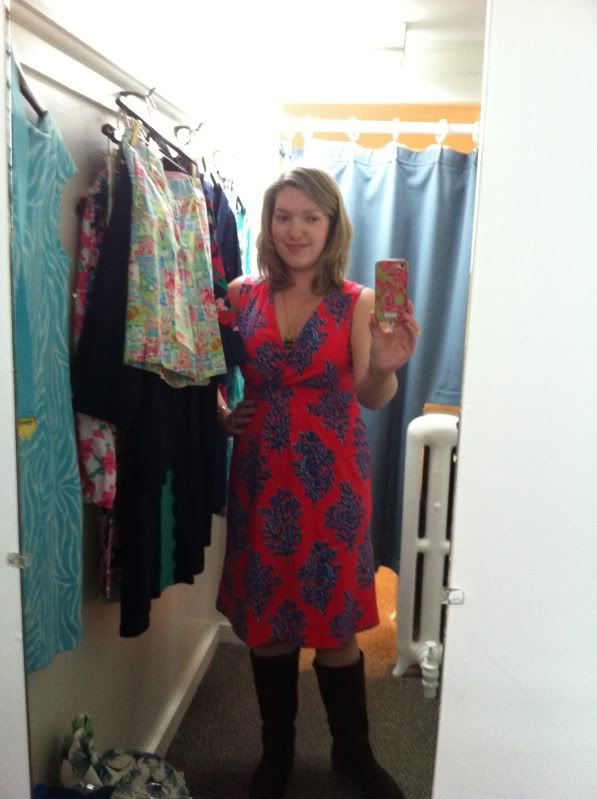 Hmm. Kind of sad about this- the L is a little snug, and it requires spanx. It's definitely cute and flattering, I just wish it were looser. I think I may be between sizes! They didn't have an XL to try. But I'm definitely thinking about buying it- I can deal with spanx!
Here we go with some spring!
Whinnie, size L
oh love! This is so cute!! I'm not a huge fan of the Whitaker, I think the one long sleeve and one bare sleeve doesn't really work on me, but a one shoulder ruffle does. This reminds me of the Sondra, from my last trying-on-clothes post from VT, which I did like, but the ruffle was kind of huge and accentuated my broad shoulders. I thought this smaller, more delicate ruffle worked on me- sorry the picture doesn't show it better! I'm definitely trying for that big dressing room next time. This size L was just roomy enough, I think it's TTS. I'm not in love with this print though- I mean, it's pretty, but it's not very Lilly. However, I wouldn't mind owning this dress.
Allura, size 10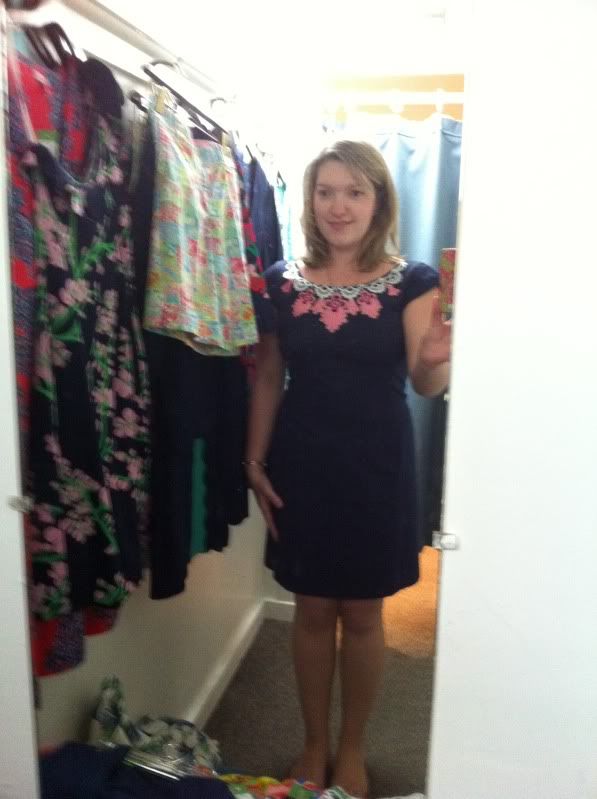 AHHHH LOOOVE!!!! The 10 is too small, but they didn't have a 12 :( You know, I used to hate these stupid little cap sleeves. I don't know if Lilly just does a better job or I've changed my mind, but I'm loving the little capped sleeves these day. I think this dress has a great structure- look, I have a waist! Granted, it's too small, but still. I would be very happy to own this- it's be awesome for DAR meetings!
Here comes my favorite style!!! Mariana, in Bright Navy Yum Yum.
size 12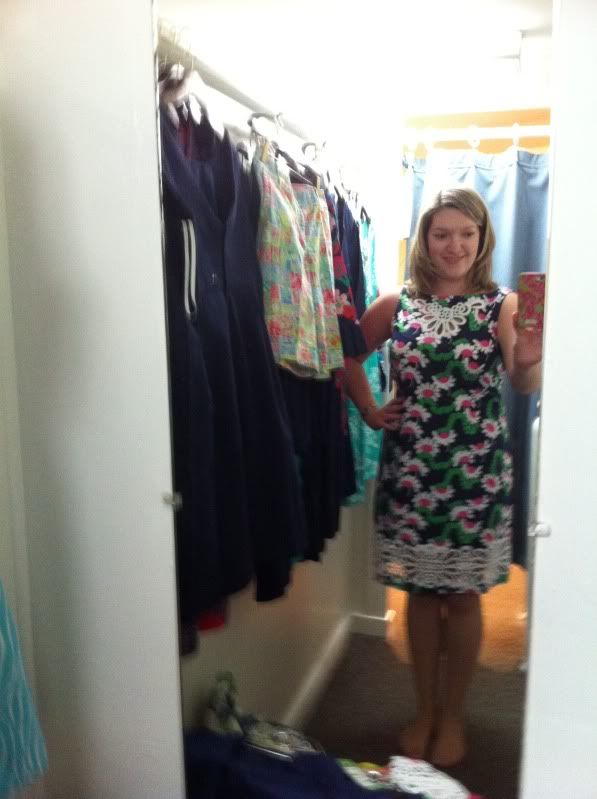 and size 10
This dress feels exactly like my Navy Look Lady Ricci- the fabric is the same, the dress fits the same, etc. Oh I love it. I was surprised at how it fit, however- the 12 wasn't huge, but for some reason I'd also grabbed a 10. I don't know why... ESP? The 10 was even a little roomy in the waist/hips but the bust was just barely right. Honestly I think I'd probably by the 10 and wear a different undergarment, rather than buy the 12 and take it in. But I'm not sure.
And that leads me to the next dress,
Mariana in State of Mind Patch, size 12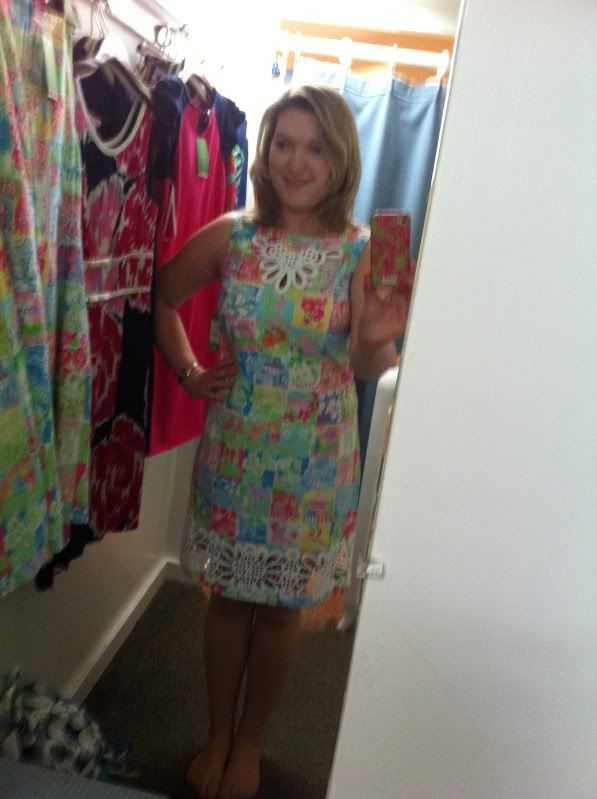 This is the one I hope to buy. You what's funny? I didn't look at a single price tag. I have no idea how much this costs- yes I know I can go on lp.com and look. (ok, $228). I wish I could wait til this is on sale, but I'm very afraid it won't stay in stock long enough to go on sale. So... I may tell everyone this is what I want for my birthday. I think this is a fab, very Lilly-like print (I think navy yum yum is Lilly-like too, although for some reason, caterpillars freak me out, and I don't think I could wear them. It's like bees, I can't wear anything with bees). Many people have been concerned about the length of Mariana. I'm 5'6, and I think it's a nice length. It's see-through up higher because of the lace, but for my, not *too* high.
And speaking of State of Mind patch, here's Ricci, size 12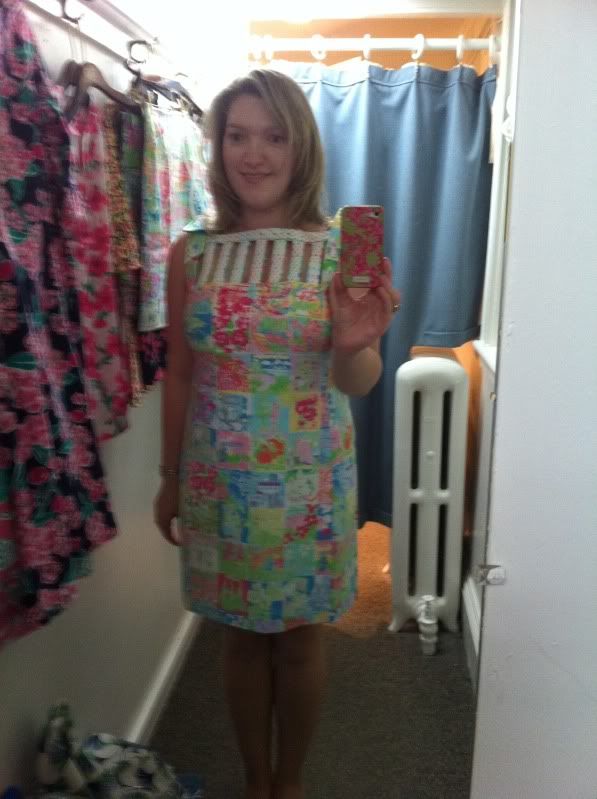 I have to say, I don't much care for the neck of this Ricci. The whatever they are kind of looks like my upper chest is in jail. I do, however, love the little bow on the shoulder. And I did like it better on me than on other Lilly lovers, models and the hanger. I think you need broader shoulders to pull the jailbars look off.
And... I don't really remember how this fit, I was so focused on the jailbars! The 12 fit, I know that- in the picture it looked like it fit fine, so perhaps it's a tad smaller than last year's Ricci? I'm not sure.
Unfortunately, they didn't have any Adelsons in State of Mind, and I didn't notice that they had any at all until I was paying- so I couldn't finish the State of Mind shift trifecta. Hopefully next time!
Shailene, size 10
Going into the store, Shailene was at the top of my list. But I think I'm between sizes! This is a 10, and it just barely fits. I can zip it up fine (usually I have a problem zipping anything with sleeves, and then once it's on it's ok), but the hips are a little snug- which is rare for me. But I do love the placed floral print. Like other things this spring, the floral isn't super Lilly, but I think the placement is. They are very clever at creating these slimming lines! Geniuses.
Adelia Dress, size 12 (I think?)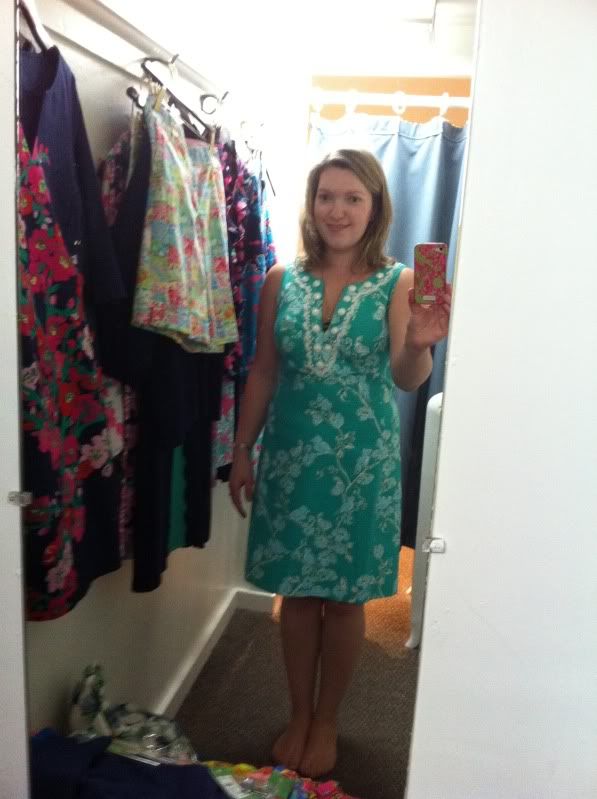 Oh this one's so pretty! Pretty print, great structure and silhouette... only... SUPER low-cut V there. That dark thing you see in my cleavage is my Not Just Fringe necklace. My Not Just Fringe necklace should not be higher than my neckline. I'd probably need a plunge bra with this. Which means... not for me. (unless I wear a boob tube, I just bought a couple on Hautelook today! Thanks to McKenzie for announcing that sale was coming up!) Or I might just sew up that V, because oh man I do love this dress.
Somerset, size L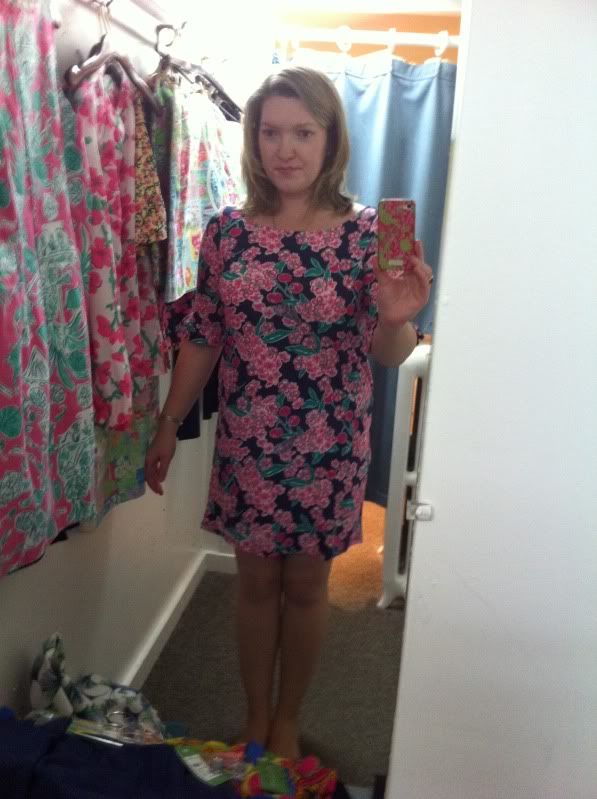 yech. Notice my pursed little mouth, I am not pleased with this dress. I was hopeful, because I love the little ruffled sleeves! But I will say, if you love the Cassie, you will love this dress. I hate the Cassie, I'd do better to wear a potato sack. I feel gross and fat in this. The Somerset is not for me.
Kariana Sweater Dress, size L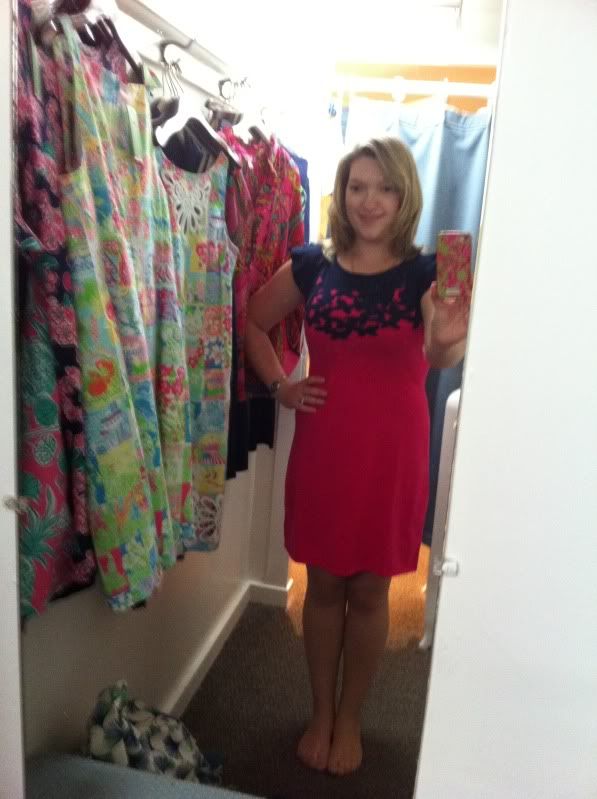 I don't love this enough to buy it, but I liked it far better than I expected to. It's so cute on the models! But I think it accents all the wrong things on me. It's also a bit tight, but I don't think tight enough to size up. It's a pull-on style and there's ribbing along the waist to nip in but still be stretchy.
And unfortunately, that's the end of spring. The remaining dresses are from Resort, and one from Fall I never tried on before. If you're only looking for Spring, stay tuned for my tops and bottoms post, which will hopefully pop up early next week. I'll post on Lilly Love when it does!
Resort Ricci, size 10 (i think? I knew I should have written this down!)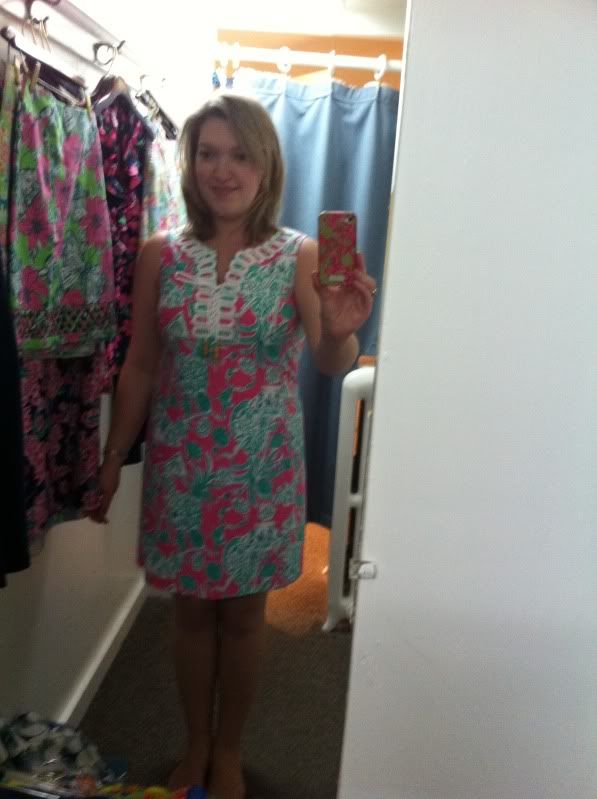 Cute!! I love this one. Hoping it goes on sale. You know, I think I am in a size 10 here, because the 12 would probably be looser.
Joy Knit Tunic, size L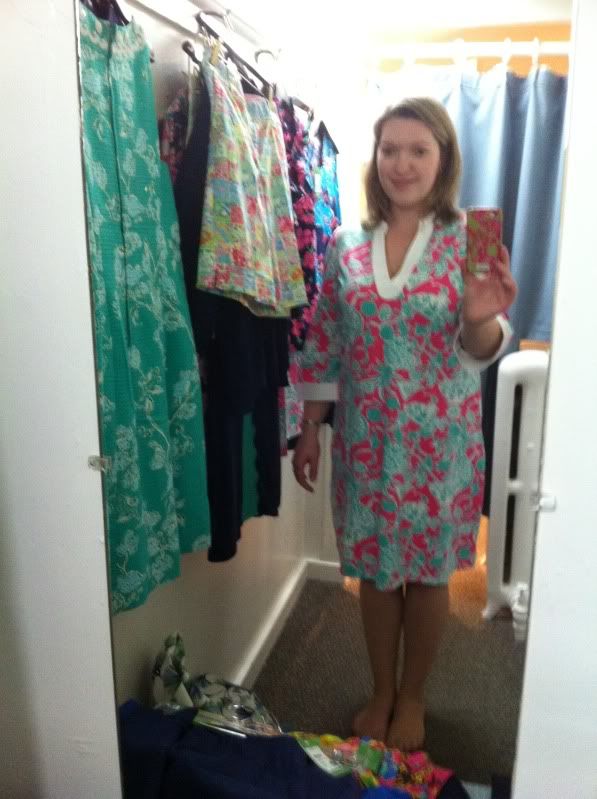 Not in love. It's cute, but it looks like a beach coverup, not even like a run-to-the-grocery-store kind of dress. Perhaps I should have tried a M.
Kris dress, size L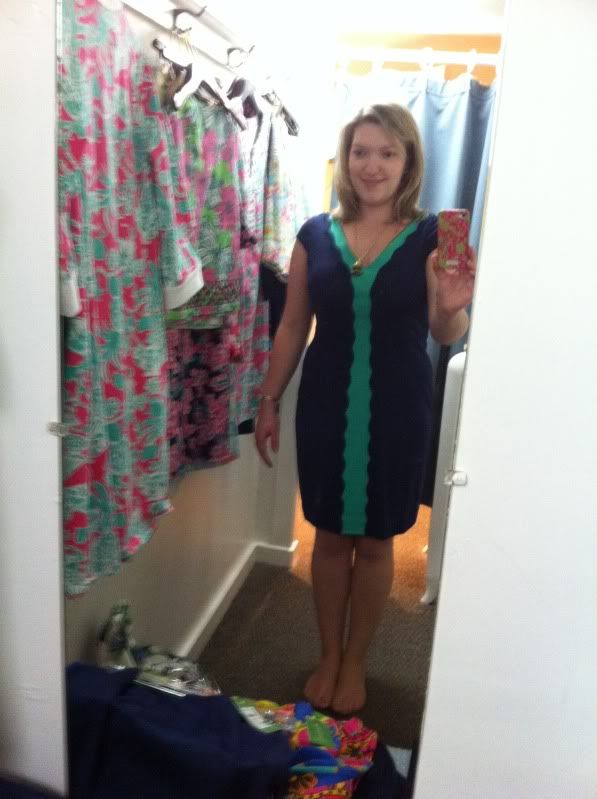 I love the colorblock line on this one, but it's too tight! Size up, size up! They didn't have an XL, though. It seems like an easy dress to throw on in a hurry and still look cute for dinner.
And last but not least (well, kind of, because it didn't fit), .... Sage, size 10.
I've wanted to try this on ever since J bought it in the New Year Cheer sale and sent me a picture of her in it- she looks fabulous!! I look similarly fabulous, although not quite as much because I couldn't zip it at the waist. So now I'm on the hunt for a size 12.
Unfortunately, I didn't walk out of there with a dress, my budget couldn't handle it. But never fear, I did get a top! I'm even wearing it as I type this. Don't get too excited, it was on the 70% off rack so it's nothing new or exciting- well, I guess 70% off would make anything exciting.
So stay tuned for my Spring 2012 tops and bottoms report! I may need to visit another store after I compile a list from lp.com of all the other things I need to try. Such as Adelson, Parker, the white dresses, and I still have not tried on the Adriana from Resort.