Tops and bottoms!
The fun did not stop with the shifts, oh no! I'd heard that the State of Mind Patch was available in Callahans, but little did I know, it's also available in Bermudas! I am not a callahans girl, I don't do short shorts (when I was a size 6 I did a bit, although to be honest, I mostly wore short skirts when I was a 6), so you can't imagine how happy I was when bermuda shorts started coming back. I feel like I should share a photo of me in my fave cut-offs from 1993, but aside from it being potentially embarrassing (you know that awkward phase all kids go through? yeah, it lasted til I was about 20, but age 13 was probably the height of the awkwardness), it's not digital and not in my house. But bermudas, love.
My favorites from this collection (i.e. stuff I do plan to buy, and possibly even (gasp!!) pay
full price
for:
State of Mind Bermudas
Via Tunic
I unfortunately didn't try on a huge number of Spring tops and bottoms. I think I got a little overwhelmed! I tried on stuff that had caught my eye, not really stuff that others might like to see on a non-model..... I guess I'll just have to go back for round 2!
Roslyn Skirt in Bloomin' Cocoonin', size 10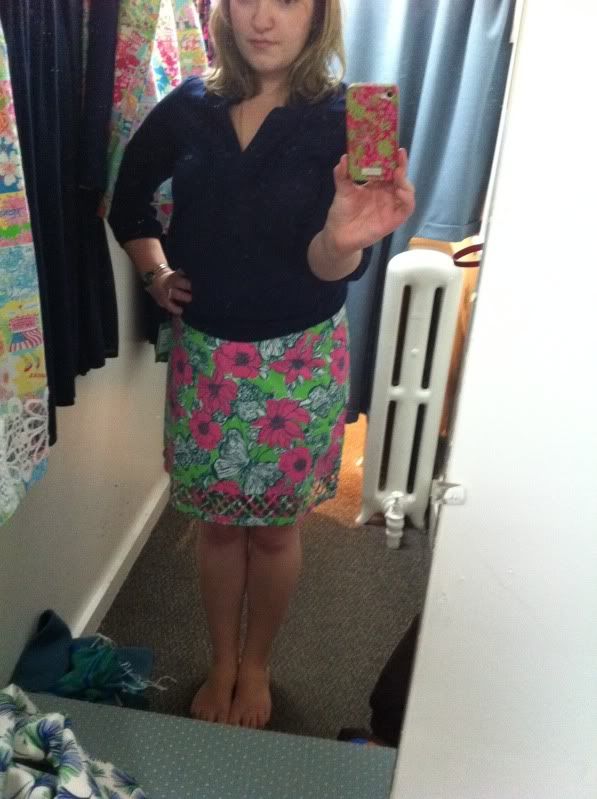 and a Roslyn skirt in State of Mind Patch, size 12
I love the little open latticework detail on the top one, so cute! I'm not sure what size skirt I'd need. I often size up so that it doesn't sit too high on the waist, but I think the size 10 looks better. They both felt fine- although since the bench was covered in clothes, I didn't do a sit-test. But really, I probably wouldn't buy either- I'm bad at skirts, I never know what top to wear with them, since tucking in tops looks awkward on my frame.
Bermudas in State of Mind Patch, size 10
Sorry for the blur! But I do love these. They fit like the bermudas I bought last summer. The material's thinner than the solid green beans ones I have, but not as thin as the green bean daisy print. Very comfortable and the rise is perfect for me. All around awesome.
I am also wearing the Via tunic in size L (... I think. ugh I knew I should have written it all down!) Well I love the Via tunic. It fits me like the cotton Elsa (which is why I think maybe it's a M), has cute cotton ruffles along the neck opening and 3/4 sleeves. Slub cotton. Love love love!
Alima tunic, size L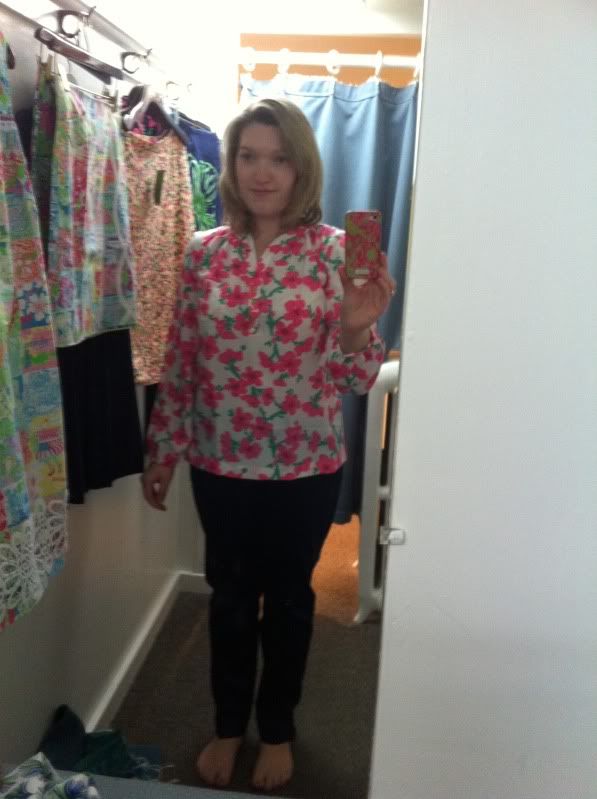 I really can't remember what size this is! Oh no! However, I didn't like it. The shoulders are VERY tight, in a really weird way- at my shoulder caps they're tight, not like across the shoulders their tight. It just felt really uncomfortable. I was disappointed!
Bella top, size L
I thought this would be like a Cassie with cute ruffles on the sleeves- like the Somerset is a ruffled sleeve Cassie. It may be the print, but I don't really love this top. It runs a little small, and it seems awfully long.
Allison top, size M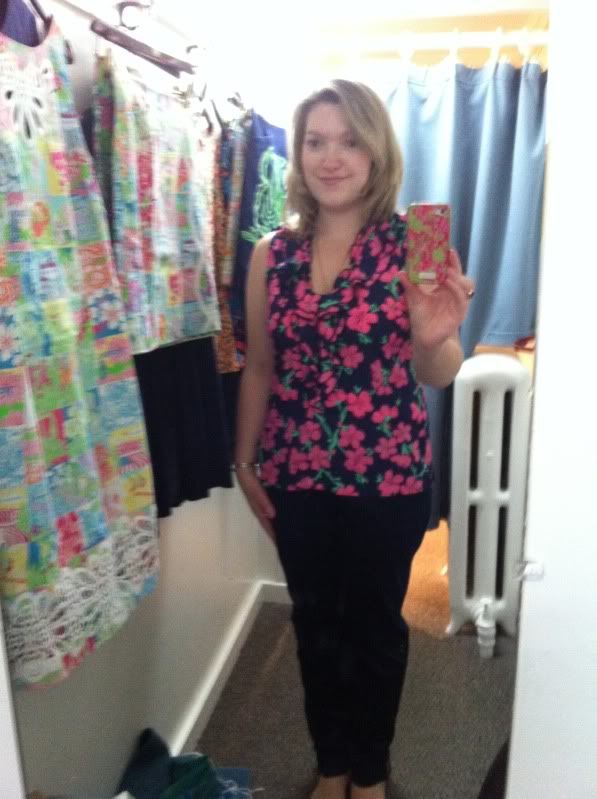 I grabbed a M because they didn't have a L, and I think it's just a hair tight. The L would definitely be too big. Aside from that (which is only a problem if I move around too much, anyway!) this is a super cute top!
The pants I'm wearing are the Elaina Cigarette pants, size 12. not in love. They're kind of baggy in the thigh but fit nicely in the waist. I didn't bother trying the 10s because I thought they would just annoy me. ;) I have to say, however, normally pants are too big in the waist and tight in the thigh. So this was just weird.
Ok, now some non-spring!
Joycee Tunic in Reef Me Up, size M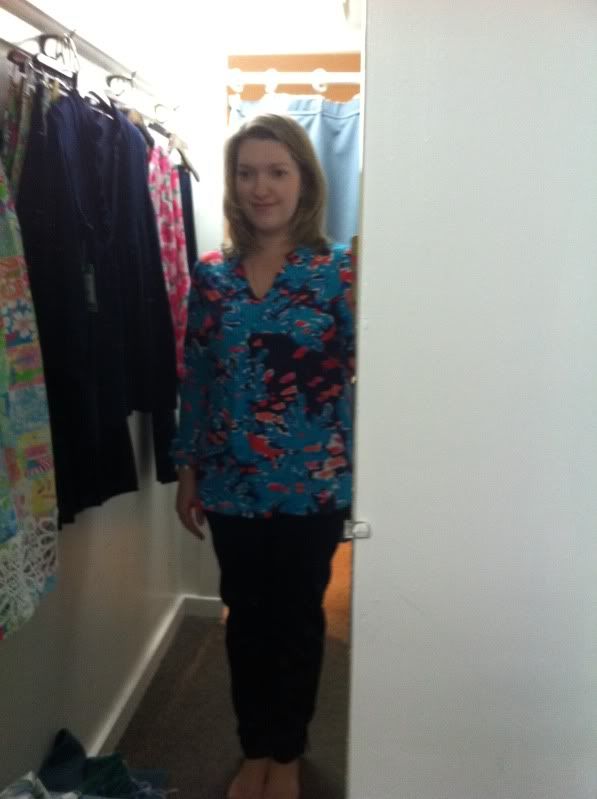 oh man, this made me sad. I was SOOO excited to try this on, finally. I see all these pictures of people in them, and they're so cute. But the upper arms/shoulders were ridiculously tight on me! I think the body fits me perfectly, so sizing up wouldn't fully make sense. I could wear it if I stretched out the arms and shoulders, and I do that that's a valid option, but after taking off the lovely and perfect Via tunic, the Joycee was a disappointment. I will still get one if I can find a M on sale, but I may just start hoping they come out with a printed Via.
Standing Ovation Roslyn, size 12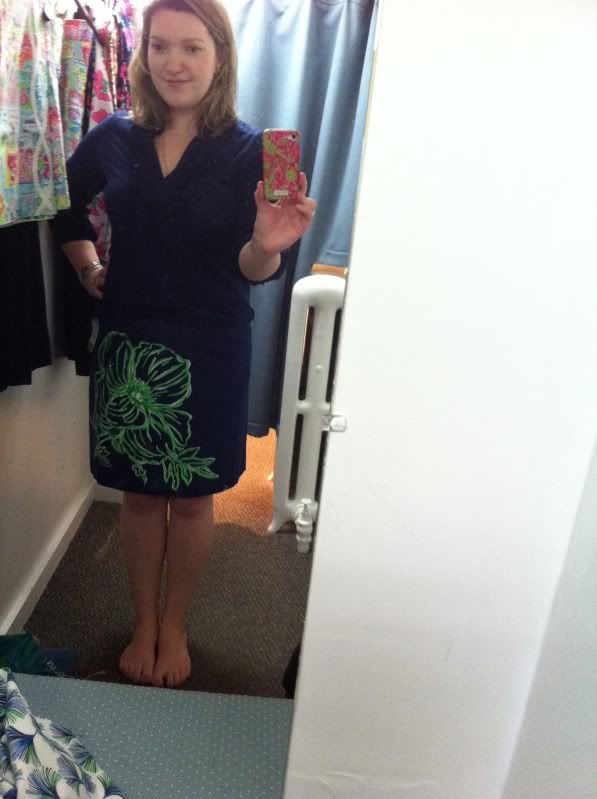 Oh it's so cute!! I totally would have gotten this if I could afford it. Even with 70% off, it was still more than I could realistically spend.
Silk Elsas, size M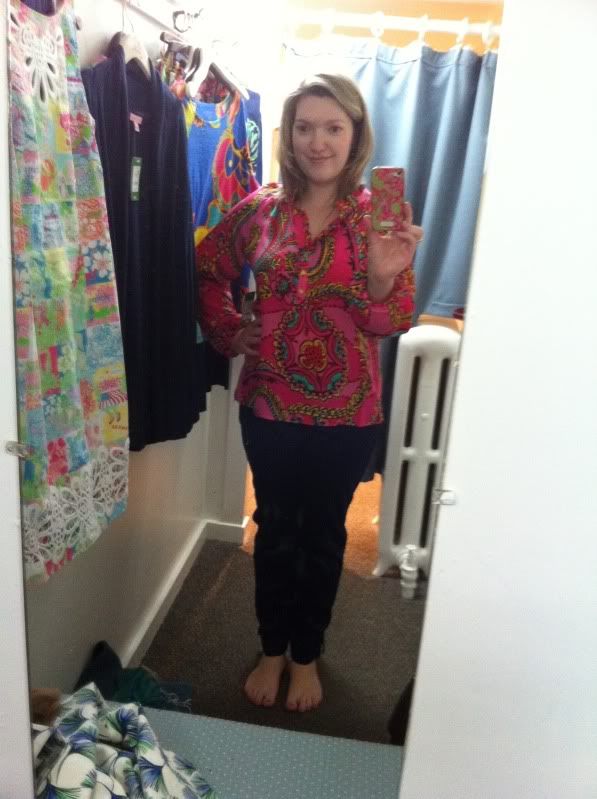 Boy, I love the Follow the Pink Road print!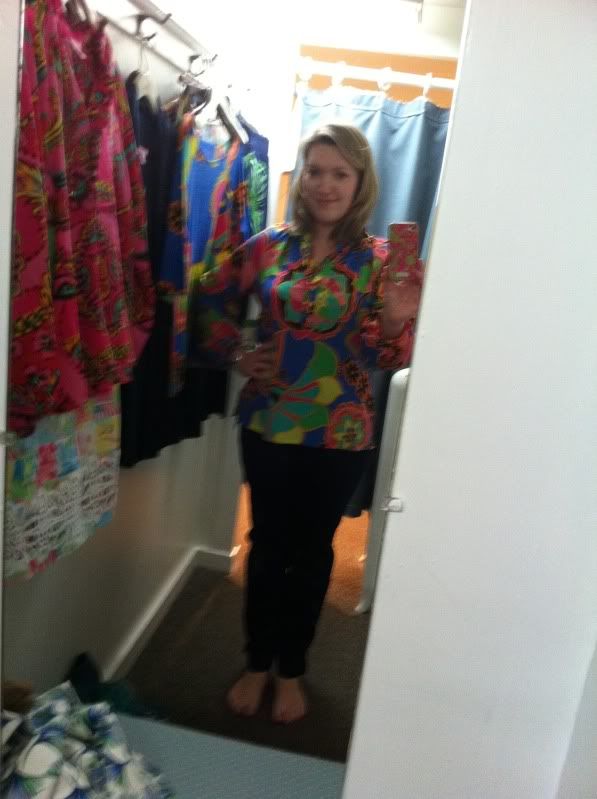 These were marked down to $47 each, so I got all excited. But... I just don't love them! I don't know. I felt like the sleeves were just too huge and they looked all balloony on me. But was I crazy or just tired from a long day of shopping? Because I loved the resort pintuck Elsa: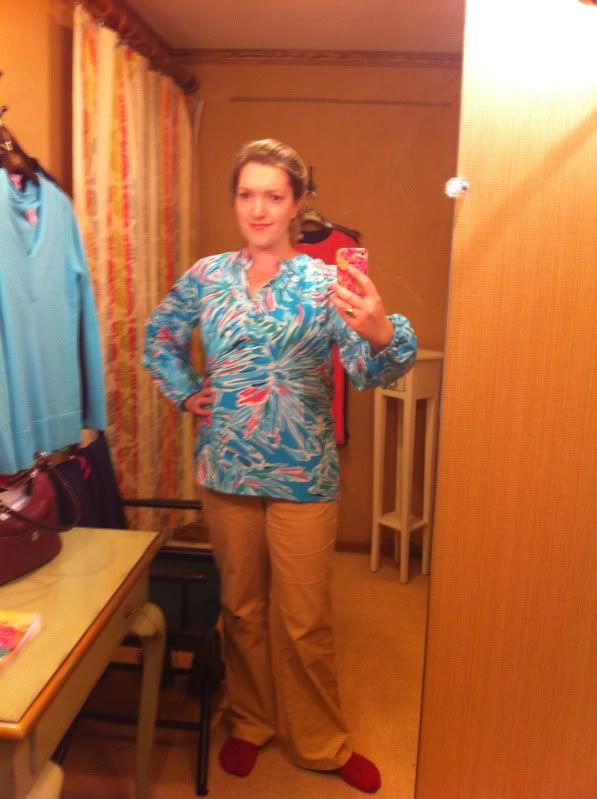 Maybe I was crazy. or maybe all the ruffles were just too much- even for this ruffle-lover!
Then I tried on a Connell Wrap sweater, size L
I'm on the hunt for this now! I loved it. But it was still $50, which, yes, is a good price, but not for me that day. It won't be great in winter, but in late spring it'll be perfect! I loved the drape and the fact that it just feels like an expensive sweater.
And last but not least, the item I actually took home with me :)
Cassie in Drama Queen, size XL
yes, it's too big, but it was also $19, and I've been looking for this print.
But here's something exciting:
I threw it in the dryer! And look, it's now the same size as my Thrill of the Chaise size L!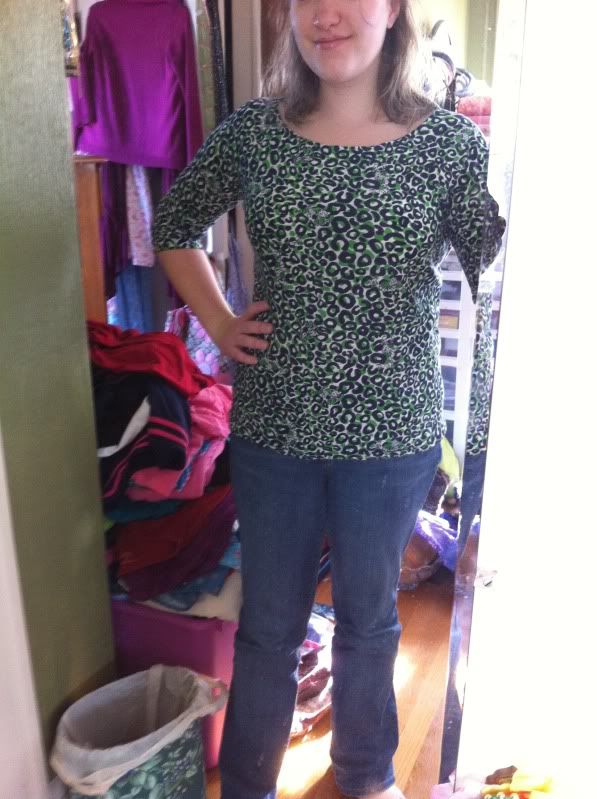 So now I'm on the hunt for an XL Cassie in Dress Rehearsal.